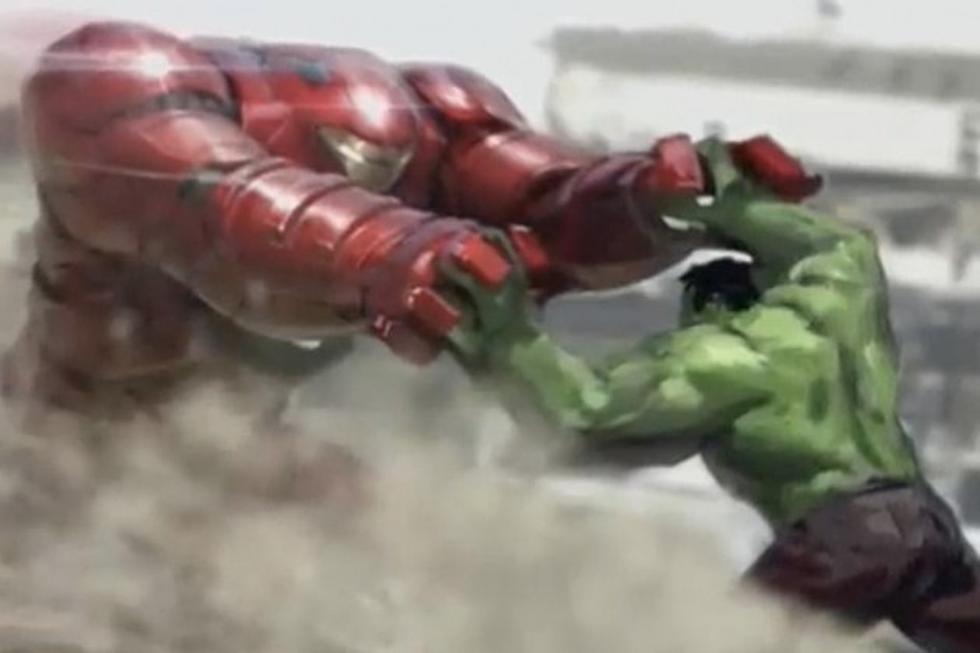 'Avengers 2′ Trailer Sneak Peek! First Look at Hulkbuster, New Look at Ultron
Marvel
Update: Marvel has released the official 'Avengers: Age of Ultron' trailer, which we've included for your viewing pleasure! Can't wait until next week's episode of 'Agents of S.H.I.E.L.D.' to see the 'Avengers 2' trailer? We feel your pain. While we can't make the 'Avengers 2' trailer magically arrive like some kind of Scarlet Witch, we can offer you up this very cool sneak peek at the new footage. How about a first look at Tony Stark in the new Hulkbuster Iron Man armor, plus an all-new look at Ultron? 
First, the new, official trailer:
Previously: These screencaps from the upcoming 'Avengers 2' trailer surfaced on Twitter, but other than being from the trailer itself, their source is unknown. (But, having seen the 'Avengers 2' footage at Comic-Con, we can confirm their veracity.)
We'd previously gotten a heads-up that the Hulkbuster armor would formally appear in 'Avengers 2' via the concept art above, which coincidentally enough also came from an ABC TV appearance. The better question is, Why does Iron Man need to stop Hulk?
If you'll allow us this brief tease, you'll also want to stay tuned to ScreenCrush.com on October 28 (the same day as the trailer reveal) as we slowly start pulling back the curtain on our trip to the 'Avengers 2' set in London. There are a lot of secrets, but if you want to learn more about the relationship between Iron Man and Hulk in this film, you'll want to tune in.
Here's what the official plot synopsis has to say about the film:
When Tony Stark tries to jumpstart a dormant peacekeeping program, things go awry and Earth's Mightiest Heroes, including Iron Man, Captain America, Thor, The Incredible Hulk, Black Widow and Hawkeye, are put to the ultimate test as the fate of the planet hangs in the balance. As the villainous Ultron emerges, it is up to the Avengers to stop him from enacting his terrible plans, and soon uneasy alliances and unexpected action pave the way for an epic and unique global adventure.
You can click on both of the images below to enlarge. Let us know what you think in the comments. 'Avengers 2' opens in theaters on May 1, 2015.