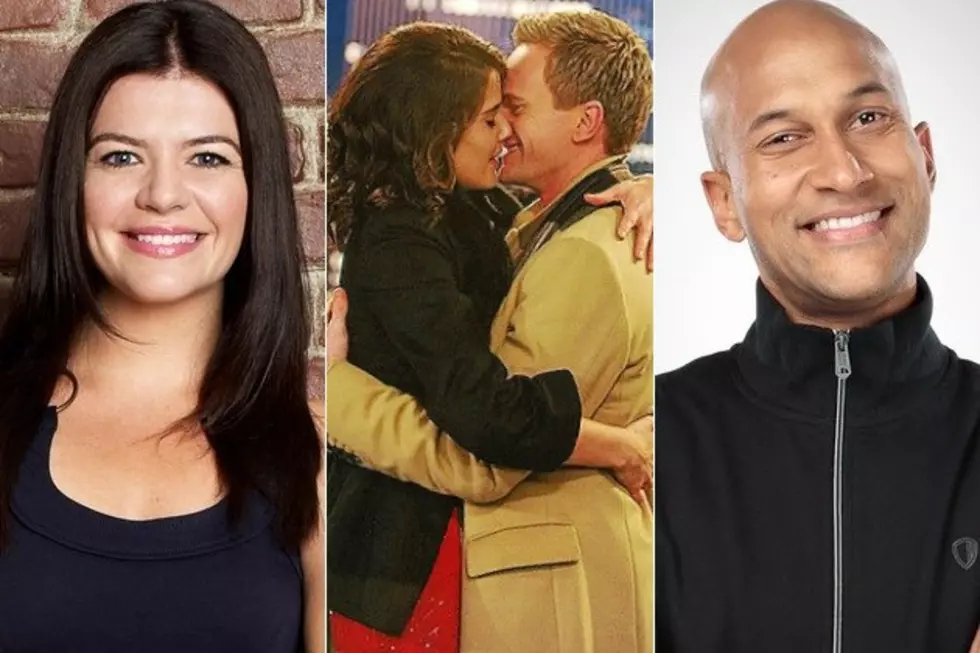 'How I Met Your Mother' Season Finale First Look: Casey Wilson and Keegan-Michael Key Bring "Something New"
ABC / CBS / Comedy Central
We're still waiting for an indication of how 'How I Met Your Mother' plans to ring in its eighth season finale, especially given Barney and Robin's impending nuptials and the big meeting Ted has been prophesied to have. If nothing else, CBS has offered our first look at 'Happy Endings' star Casey Wilson and 'Key & Peele's Keegan-Michael Key as a couple that catches Barney and Robin's attention, but will it throw off the wedding plans? Catch an early sneak peek inside!
It won't belong until May 13, wherein 'How I Met Your Mother's season finale episode "Something New" will take us to the long-foretold day of Barney and Robin's wedding, but just how many roadblocks can the CBS series put in front of the big day? With return episode "The Bro-Mitzvah" set to air this Monday, CBS has released a new press description of the May 13 finale episode "Something New!" See for yourself:
AS THE GANG PREPARES TO LEAVE FOR BARNEY AND ROBIN'S WEDDING, THE BRIDE AND GROOM-TO-BE'S RELAXING NIGHT OUT IS COMPROMISED BY THE WORLD'S MOST ANNOYING COUPLE, ON THE EIGHTH SEASON CLIFFHANGER FINALE OF "HOW I MET YOUR MOTHER," MONDAY, MAY 13

"Something New" — As the gang prepares to head out to Robin and Barney's wedding, Ted invites Lily to see the house he's finally finished fixing up. Meanwhile, Robin and Barney's night of relaxation is ruined by an obnoxious couple, and Marshall takes the baby on a last-minute trip to Minnesota to see his family, on the eighth season cliffhanger finale of HOW I MET YOUR MOTHER, Monday, May 13 (8:00-8:30 PM, ET/PT) on the CBS Television Network. Casey Wilson and Keegan-Michael Key guest star as a couple having dinner at the same restaurant as Barney and Robin.
Along with the press release came our first look at Casey Wilson and Keegan-Michael Key as the couple in question, but surely an annoying pair wouldn't be enough to throw off the wedding of Barney and Robin for another season, right? After all, isn't Ted destined to meet the mother in a few weeks time, extra season or no?
Check out the latest photo from 'How I Met Your Mother' season finale "Something New" below, and give us your predictions in the comments!