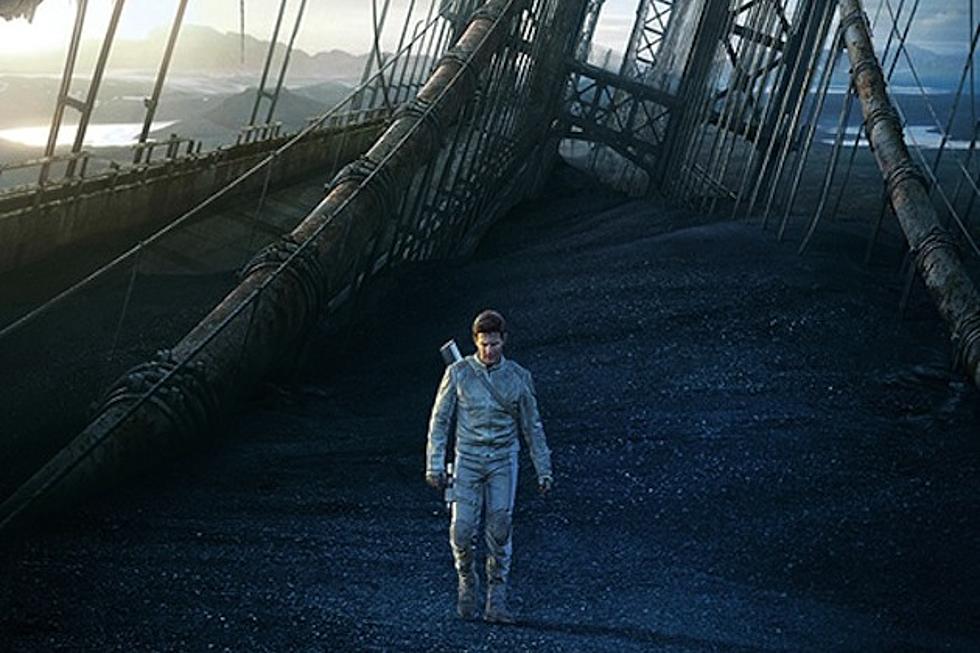 New 'Oblivion' Posters: Tom Cruise and Morgan Freeman Face the End of the World
Universal
The seemingly immortal Tom Cruise has a lot to prove with 'Oblivion,' his upcoming science fiction epic and the subject of two fancy new posters. After the solid-but-not-spectacular box office performance of 'Jack Reacher,' Cruise's superstar status has been called into question, but there's no better way to combat that then headlining a major sci-fi action movie. The two new posters feel like they're hedging their bets: one relies almost entirely on Mr. Cruise's star power while the other relies on some nifty apocalyptic imagery to get butts in theater seats.
The posters come courtesy of EW, who also supplied this synopsis:
"On a spectacular future Earth that has evolved beyond recognition, one man's confrontation with the past will lead him on a journey of redemption and discovery as he battles to save mankind. Jack Harper (Cruise) is one of the last few drone repairmen stationed on Earth. Part of a massive operation to extract vital resources after decades of war with a terrifying threat known as the Scavs, Jack's mission is nearly complete. Living in and patrolling the breathtaking skies from thousands of feet above, his soaring existence is brought crashing down when he rescues a beautiful stranger from a downed spacecraft. Her arrival triggers a chain of events that forces him to question everything he knows and puts the fate of humanity in his hands."
The first poster is all about TOM CRUISE: MAN OF ACTION, placing the star front and center with a gun in his hand, a determined look on his face and a mysterious Morgan Freeman on his shoulder. It doesn't tell you much about the movie other than Tom Cruise is in it and he's probably going to blow stuff up and kick some ass.
Meanwhile, the second poster pulls away from Cruise, placing their star in the middle a wrecked (but still recognizable) slice of American iconography, similar to the first one that hit a while back. If Tom Cruise shooting bad guys doesn't get your attention, then maybe a post-apocalyptic sci-fi movie that features the destruction of entire cities will!
'Oblivion' hits theaters on April 19th. What's bringing you to the theater: Cruise or the setting?