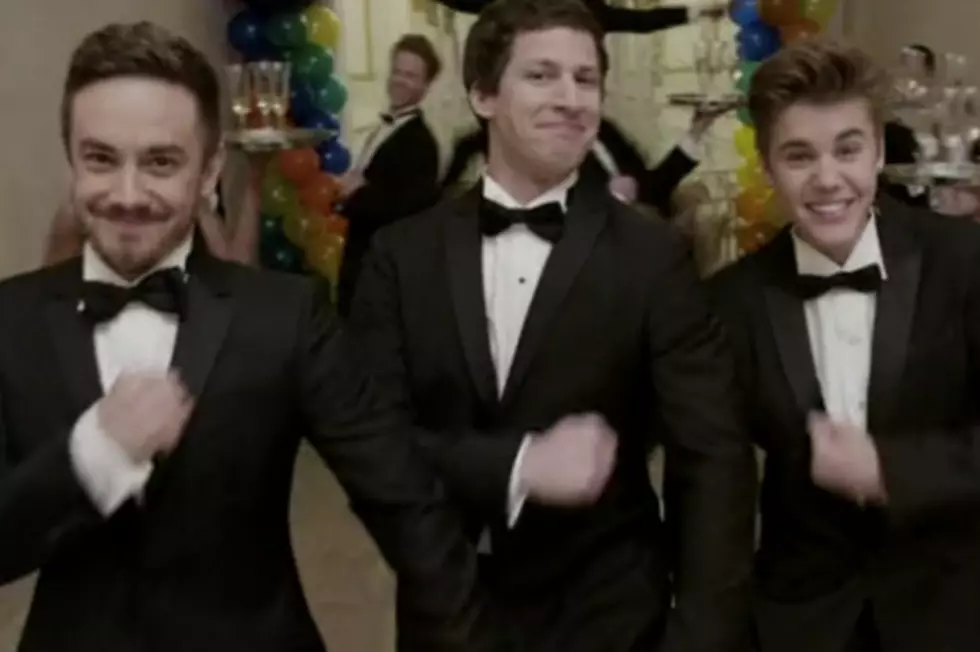 'SNL' and Justin Bieber Celebrate the 100th Digital Short
On last night's 'SNL' the boys from Lonely Island celebrated their 100th Digital Short...except member Akiva Schafer couldn't make it (he's off directing 'The Watch' with Ben Stiller and Jonah Hill). So Andy Samberg and Jorma Taccone brought in a ringer: Justin Bieber.
Bieber and some other special guests - Justin Timberlake, Julian Casablancas, host Will Ferrell and Natalie Portman among them - came together to celebrate the milestone in a very, uh, intimate way.
Hmm, how to describe this short without a) giving away the joke, and b) not being completely R-rated?  Let's just say that the Jorma and Andy are feeling self-congratulatory and want to give themselves a pat on the back...but not on the back and not with their hand.
Let's just say if you ever wanted to see Jon Hamm dry hump Justin Bieber, you'll be happy.
The clip features a look back at all the best moments from the Digital Shorts over the years - a hilarious and possibly poignant moment as after next week's episodes, all three members of the Lonely Island will no longer be on 'Saturday Night Live' and the Digital Shorts (at least as we know them) may go with them.
For now, celebrate their works with this 100th Edition version that luckily bleeps out all the dirty parts.