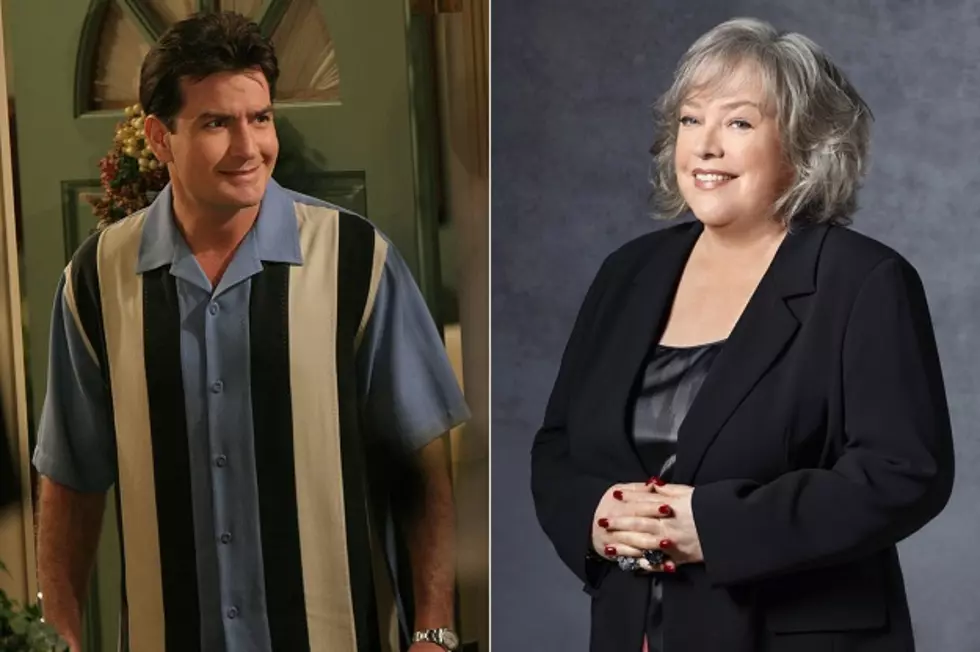 'Two and a Half Men' Resurrecting Charlie Sheen as Kathy Bates…Huh?
...It's been something of a long day and our heads might not be screwed on correctly right now, so bear with us as we try to get out this next sentence:
'Two and a Half Men' is bringing back Charlie Sheen, but giving the role to Kathy Bates.  Nope, it didn't sound any less crazy that time either.
To clarify, 'Two and a Half Men' will be bringing back the character of Charlie Harper, but certainly won't be bringing Charlie Sheen himself back on to the show any time soon, given his still-tender exit and extraordinarily public meltdown.  Instead, according to The Hollywood Reporter, that honor will fall to current 'Harry's Law' star Kathy Bates, for...some...reason.
Bates will be playing the role of Charlie Harper's spirit, who comes to visit Alan (Jon Cryer) in the hospital following a heart attack in the show's April 30 episode.  As those with human senses and an occasional glance at pop culture will remember, Sheen's character was famously "exploded like a meat balloon" by an oncoming train in 'Two and a Half Men's' ninth season premiere, following his very public falling out with 'Men' creator and sitcom mogul Chuck Lorre.
In his place was introduced internet billionaire Walden Schmidt (Ashton Kutcher) to fill the lead, a role that fans are waiting to see if Kutcher agrees to for another season.    This isn't the first time 'Men' has toyed around with Sheen's character even after death, as earlier this season Alan had something of a mental breakdown that led him to believe he was in fact his brother Charlie.  It continues to remain unlikely that Sheen himself could ever return to the series, given his relationship to Lorre and upcoming FX project 'Anger Management.'
So that's it, really.  I have nothing further to say.  The same day that saw 'Jersey Shore' being renewed for a sixth season saw Kathy Bates replacing Charlie Sheen on what inexplicably continues to be one of the most-watched series in the country.  I'm going to take my crazy pills now, have a nap, and see if this makes any more sense in the morning.
(Kevin goes to sleep, while the still-living ghost of Kathy Bates, as played by Charlie Sheen, continues typing)  What do you think, gentle viewers?  Do you like the idea of bringing back Charlie Harper as a middle-aged woman?  If Charlie's spirit returns next season, should another famous actor take the role?  Let us know your reaction to this bizarre turn in the comments below!