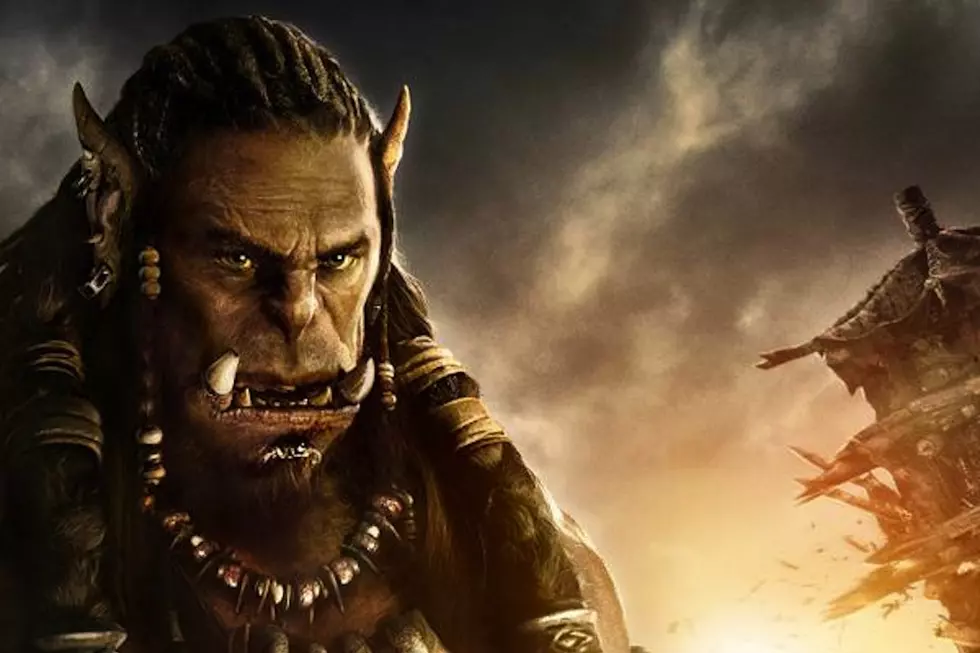 Comic-Con 2015: New 'Warcraft' Posters Reveal Lothar and Durotan
Legendary
After years of development and a lot of extensive post-production, Duncan Jones' Warcraft movie is officially less than a year away. Lucky Comic-Con attendees will probably get to see a trailer this weekend, but those of us at home get a consolation prize: two new posters depicting the human warrior Anduin Lothar and the Orc chieftain Durotan.
The simultaneous reveal of these two posters (below) reflects the philosophy of Jones' approach to this material. When he first boarded the project, the members of the Alliance (humans, elves, etc.) were the heroes and the Horde (orcs, monsters, etc.) were the villains. Realizing that players of the original Warcraft games loved both sides equally, he rewrote the screenplay to put both sides on equal footing. Neither are hero or villain and the film will paint both in shades of grey. This is even reflected in the film's apparent tagline: "Two Worlds, One Home." The fact that Jones respects Orcs enough to give them as much screen time as the humans is all the evidence we need to know that he is the right man for this job.
Here is the official synopsis:
The peaceful realm of Azeroth stands on the brink of war as its civilization faces a fearsome race of invaders: Orc warriors fleeing their dying home to colonize another.  As a portal opens to connect the two worlds, one army faces destruction and the other faces extinction.  From opposing sides, two heroes are set on a collision course that will decide the fate of their family, their people and their home.

So begins a spectacular saga of power and sacrifice in which war has many faces, and everyone fights for something.
Anyway, Lothar is played by Travis Fimmel and Durotan is played by Toby Kebbell plus pixels (thanks, motion capture!). You may know Fimmel from the History Channel series Vikings and you may know Kebbell from his exceptional work as Koba in Dawn of the Planet of the Apes. In other words, both are right at home playing warriors and motion capture creatures.
It's been a long time since we've gotten a proper, old school fantasy epic (no, the Hobbit movies don't count) and Warcraft could scratch that itch something fierce. The fact that these posters show off characters who look unashamedly like old school RPG characters fills us with hope.
Warcraft opens on June 10, 2016. Check out the posters below and look for our coverage of the film's Comic-Con panel soon!