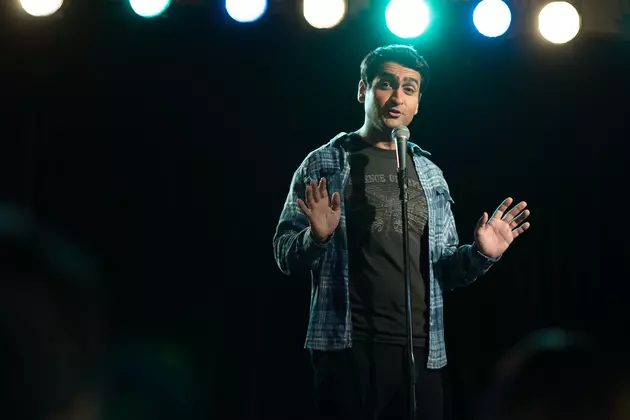 Watch Kumail Nanjiani Banter About Tiny Food in 'The Big Sick' Outtakes
Amazon Studios
In a time of the year usually reserved for gigantic explosions and killer robots, Kumail Nanjiani and Emily Gordon's The Big Sick was one of the surprise hits of the past few months. Not only did the film clean up on its limited release, it also broke through with mainstream audiences; my own in-laws declared it "hilarious" after I frantically convinced them to abandon their original plans to see The Beguiled. If every year needs a razor-sharp comedy you can put on at holiday gatherings without causing much of a fuss, then The Big Sick is the perfect choice for 2017.
And like all good comedies, not everything filmed for The Big Sick made its way into the final cut. Yesterday, Nerdist (via /Film) offered an exclusive premiere of the film's hybrid outtakes and gag reel, with a slew of jokes that didn't quite make their way into the film. Affectionately referred to in the credits as "the other stuff," this gag reel is no less hilarious than some of the material we saw in the movie. Give great comedians some latitude to riff and even their "bad" jokes will make someone laugh.
Here's the full plot synopsis for The Big Sick:
Based on the real-life courtship between Kumail Nanjiani and Emily V. Gordon, The Big Sick tells the story of Pakistan-born aspiring comedian Kumail, who connects with grad student Emily after one of his standup sets. However, what they thought would be just a one-night stand blossoms into the real thing, which complicates the life that is expected of Kumail by his traditional Muslim parents. When Emily is beset with a mystery illness, it forces Kumail to navigate the medical crisis with her parents, Beth and Terry who he's never met, while dealing with the emotional tug-of-war between his family and his heart.
In addition to Nanjiani, The Big Sick stars Zoe Kazan, Holly Hunter, and Ray Romano. The film will be available to stream on September 5 before hitting Blu-ray and DVD on September 19.