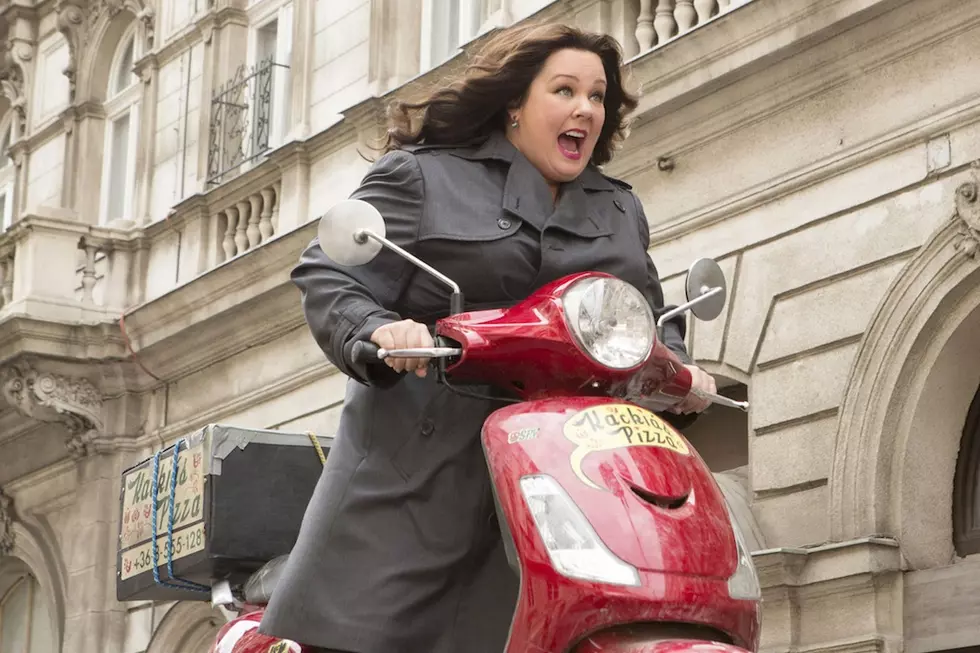 Weekend Box Office Report: 'Spy' and 'Insidious: Chapter 3' Overtake 'Entourage'
20th Century Fox
This weekend already had internet pundits readying their thinkpieces. What would come out on top: the female-friendly Spy with its hilarious leading ladies or the bro-tastic, testosterone-fueled Entourage? It turns out that this showdown was barely a showdown at all, with Paul Feig's espionage comedy slaughtering the resurrection of HBO's most divisive show. Oh, and Insidious: Chapter 3 just hung around, happy to be there.
Film
Weekend
Per Screen
1
Spy
$30,000,000
$8,084
$30,000,000
2
San Andreas
$26,440,000 (-51.6)
$6,936
$92,163,000
3
Insidious Chapter 3
$23,000,000
$7,662
$23,000,000
4
Entourage
$10,420,000
$3,353
$17,805,000
5
Mad Max: Fury Road
$7,970,000 (-43.8)

$2,930
$130,804,000
6
Pitch Perfect 2
$7,700,000 (-48.1)
$2,263
$160,982,000
7
Tomorrowland
$7,022,000 (-50.9)
$2,331
$76,236,000
8
Avengers: Age of Ultron
$6,201,000 (-45.6)
$2,510
$438,015,000
9
Aloha
$3,300,000 (-65.9)
$1,172
$16,342,000
10
Poltergeist
$2,850,000 (-64.6)
$1,279
$44,452,000
As far as Feig/Melissa McCarthy joints go, Spy falls somewhere in the middle. With its $30 million opening weekend, it opened bigger than Bridesmaids but trailed The Heat. Still, if audiences like the movie (and they certainly seem to like it), $100 million seems like a fairly acceptable expectation. People love McCarthy and they especially love her in Feig movies. Once again, expect a bunch of "Hey! Movies starring women can do well!" articles to arrive in the coming days because no one seems to remember this fact after a few weeks.
Meanwhile, Entourage made the exact amount of money you'd expect when you remember the shrugs that surrounded the series' conclusion in 2011. Sure, its Wednesday opening tossed another $7 million onto its opening numbers, but $10 million for the weekend is awfully weak for a movie that many expected to handily take the weekend. Entourage never even got the chance to have its Sex and the City moment — it skipped straight to its Sex and the City 2 moment. It's a huge flop considering the money involved.
The third new release of the weekend arrived in third place, comfortable in its modest success. Insidious: Chapter 3 opened higher than the first film but below the second, but it should be fine in the end. These movies are made for the Hollywood equivalent of pennies, so it's probably already in the black. Even when it plummets next weekend, it will still be a success. Anyway, it should have a shot at $50 million or so, which is pretty standard for a Blumhouse release.
That brings us to the number two film of the week, San Andreas. With a $26 million second weekend, the Dwayne Johnson disaster film took a 50 percent drop but has brought its grand total to $92 million. It'll cross $100 million within the next few days and should reach $150 million without too much effort. Still, it's going to take those international grosses to make this thing a genuine, profitable hit at this point.
But let's take a moment to examine the genuine, profitable hits elsewhere in the top 10. Pitch Perfect 2 has grossed an astonishing $160 million and Mad Max: Fury Road has hit $130 million, both of which exceed all expectations. Then there's Avengers: Age of Ultron, which is undoubtedly going to hit $450 million within the next week or two. Sure, it may trail the first film, but there's nothing wrong with a gross like that.
That brings us to the bottom of the barrel. Tomorrowland is currently engaged in a life-or-death struggle for $100 million, which is really just a pride thing at this point. It's a disappointment no matter what, but a nine-figure gross will help everyone save face. However, nothing is going to help Aloha and Poltergeist, which really settled into their respective roles as "massive bomb" and "big disappointment" this weekend.