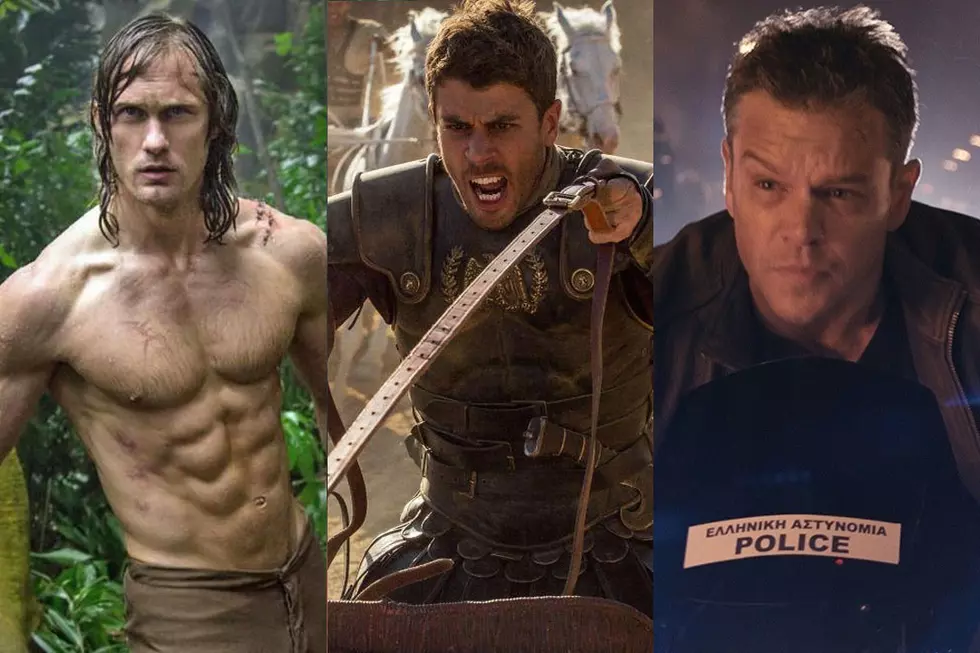 2016 Was the Worst Summer for Big Movies in 15 Years – But That's Not the Whole Story
Warner Bros. / Paramount / Universal
At that time, I looked at the Rotten Tomatoes ratings for hundreds of wide releases from the last decade, and found that while the overall scores from 2016 were basically in line with those from each of the last five years, the scores for just the biggest movies — the ones like Tarzan or Independence Day with budgets in excess of $100 million — were way lower this year.
But that was early July. Now it's September. In that first post, I held onto a sliver of hope that things might rebound in August, citing promising upcoming titles like Ghostbusters, Jason Bourne, and Suicide Squad. Maybe when all was said and done 2016 wouldn't be such a bad summer?
Orrrrrrrrrrrrr maybe it would be the worst in 15 years.
Statistically, that's how things turned out. I took the average Rotten Tomatoes score of every movie released between May 1 and September 1 for every year since the turn of the century and found that 2016's score (49.8) was the lowest since 2001, the year that gave us The Mummy Returns, Pearl Harbor, Final Fantasy: The Spirits Within, and Tim Burton's Planet of the Apes.
2001 really might be the worst summer for blockbusters ever. But 2016 wasn't that far off. It yielded two very popular tentpoles, Captain America: Civil War and Finding Dory, both of which were released by mid-June. For the last 12 weeks, it's been one disappointment after another. And late July and August's $100-million movies were arguably even worse than the ones that preceded them: Ice Age: Collision Course, Jason Bourne, Suicide Squad, and the remake of Ben-Hur.
As you can see from the graph, 2016 squeaked out two other crappy summers, 2004 (The Day After Tomorrow, King Arthur, Catwoman) and 2009 (X-Men Origins: Wolverine, Land of the Lost, G-Force), for the title of the worst big-movie summer since 2001. It also followed two relatively successful summers that delivered crowd-pleasing hits like Mad Max: Fury Road, Mission: Impossible – Rogue Nation, How to Train Your Dragon 2, Edge of Tomorrow, Dawn of the Planet of the Apes, and Guardians of the Galaxy. So 2016 was bad, but when compared with the recent past, it felt even worse.
There's one surprising and somewhat confusing silver lining to this whole thing: While August's tentpoles were a near-total disaster, August's smaller wide releases were unusually solid: Sausage Party, Pete's Dragon, Florence Foster Jenkins, Kubo and the Two Strings, and Don't Breathe all received Rotten Tomatoes ratings of 80 or higher. When all was said and done, there were 42 wide releases this summer, with an average RT score of 57.1. That's a better overall average than any movie of the last five years. (Granted, none of those movies have made more than $100 million, though that may have to do with rising ticket prices and audiences who felt burned one too many times by the summer's early flops.)
It's a pretty stark contrast: If you only paid attention to the blockbusters, it seemed like 2016 was one of the worst years for summer movies in memory. If you broadened your moviegoing to see smaller fare, you could have had a great summer — and that's before taking into account acclaimed limited releases like Don't Think Twice, Tickled, and Hunt for the Wilderpeople.
It might be worth noting a significant shift in Hollywood that's occurred since the catastrophic summer of 2001. Back then there were just eight summer movies with budgets of $100 million; the year before, there were only six. By 2016, that number had ballooned to 15 $100 million-budgeted blockbusters. Movies of that scale used to be events; their size lent them an air of uniqueness and importance. If they were terrible, they still represented a fraction of the summer movie season. Now "events" like Warcraft or X-Men: Apocalypse happen every two weeks, and they make up more and more of each major studio's output. As a result, they feel less special and more oppressive. They crowd out the smaller movies in multiplexes and the culture sections of newspapers and websites (and, yes, that includes this one).
No one sets out to make a crappy movie. Bombs happen to filmmakers with the best of intentions and the largest of talents, and to some extent every movie, large and small, is crap shoot. (Even Steven Spielberg produced a misfire in 2016.) But the focus on giant films, both in Hollywood and amongst the audience, is a deliberate choice. We've been conditioned to think summertime means big movies, and by that measurement, it really was a bad summer. But that's just one measurement, and by others it's been a pretty good year for movies already, with many of the best still to come.