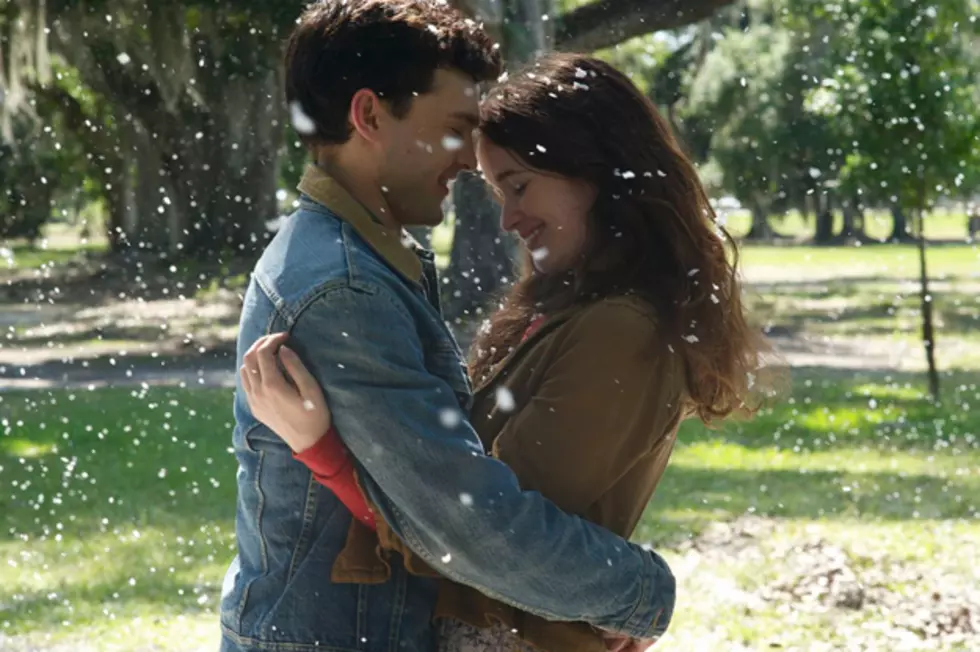 First Look at 'Beautiful Creatures' With New Photo and Details
Back in May, we were lucky enough to visit the Louisiana set of director Richard LaGravenese's latest film 'Beautiful Creatures,' and we're thrilled to give you a first glimpse at it's two talented young stars Alden Ehrenreich and Alice Englert, as well as some hints of more details and interviews to come!
Based on the wildly popular young adult novel of the same name (the first of the four-book Caster Chronicles series by authors Kami Garcia and Margaret Stohl), 'Beautiful Creatures' is set in fictional Gatlin, South Carolina. High school sophomore Ethan Wate has endured the oppressive, gossipy small-town atmosphere all his life, and yearns to break free -- especially after his mother dies in an accident and his bereaved father withdraws physically and emotionally, leaving him in the care of the family's housekeeper Amma.
But, when mysterious and alluring Lena Duchannes transfers to Gatlin's high school, Ethan finds himself drawn to the gorgeous stranger -- and the two eventually band together against naysaying townsfolk and classmates bent on ostracizing Lena to find themselves intertwined in hundreds of years of Gatlin and Duchannes family history. The tale weaves in casters (essentially witches with predisposed specialties), supernatural phenomena, and one pretty righteous curse plaguing the Duchannes women, wherein their fates -- being claimed on the dark or light side of their powers -- are determined on their 16th birthdays.
LaGravenese has assembled a phenomenal cast with newcomer Alden Ehrenreich as Ethan, Alice Englert (who happens to be Jane Campion's daughter -- quite a pedigree) as Lena, Viola Davis as Amma, Emmy Rossum as Lena's meddling dark caster cousin Ridley, the legendary Jeremy Irons playing Alice's uncle Macon Ravenwood (a man with his own set of surprising powers), Emma Thompson as stuffy, traditional Gatlin resident Mrs. Lincoln, and Margo Martindale as Lena's Aunt Delphine.
Our excitement at the opportunity to set foot on a beautifully-imagined LaGravenese production (this is the man who adapted the historically-detailed and haunting 'Water for Elephants' and 'The Bridges of Madison County' for the big screen, after all) was doubled by the fact that we'd get to see Irons, Rossum, Martindale and Englert in action -- and it all proved even more incredible than we'd anticipated. An hour and a half outside Baton Rouge, under the shade of ancient Spanish moss-covered trees in the courtyard adjacent to a massive historical plantation, we witnessed scenes from Lena's intricate 16th birthday party, and all the elaborately-costumed extras and impressive set pieces it entailed.
We'll have interviews with a bevy of the 'Beautiful Creatures' stars, as well as loads of details about what we witnessed, leading up to the February 13, 2013 release of the movie, but for now -- hardcore fans of the series and curious newbies, alike -- feast your eyes on this enchanting photo of Alden Ehrenrech and Alice Englert as Ethan and Lena in all their enamored splendor.
We can't wait to tell you more about the 'Beautiful Creatures' big-screen adaptation. The book is one of our favorites out there among the YA novel fare, and we have no doubt it's in expert hands with LaGravenese's proven vision and impressive cast. Keep it right here for the latest updates!