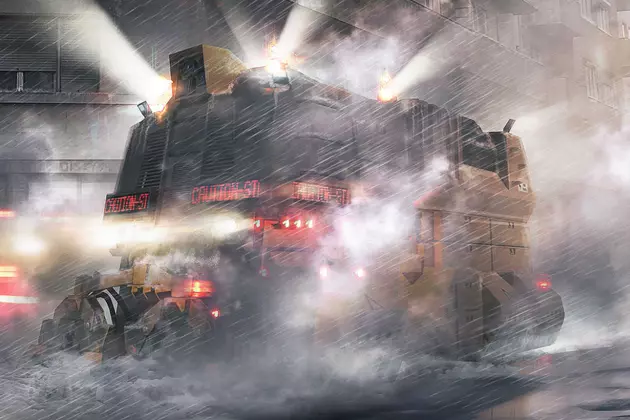 'Blade Runner 2' Concept Art Teases Denis Villeneuve's 'Toxic' Dystopia
EW / Warner Bros.
It's a huge day for sneak peeks at upcoming films, but if you're looking for something a little different (i.e. not Star Wars or superheroes or Dark Towers), we've got just the thing: Beautiful new concept art from Blade Runner 2, director Denis Villeneuve's sequel to Ridley Scott's sci-fi masterpiece, which sees Harrison Ford returning to yet another iconic role for one of our most anticipated films of 2017.
EW debuted two official pieces of concept art from Blade Runner 2 and spoke with Villeneuve about the ambitious project, which he says he almost turned down — until he spoke with original screenwriter Hampton Fancher, who knew just what to say to get Villeneuve on board:
He told me that Blade Runner was a dream. We just have to dream again and not worry too much about logic. That removed so much pressure and gave me the key to move forward.
As for Ford's return as Rick Deckard (which raises a few questions for fans, depending on which cut of Blade Runner you prefer), Villeneuve describes the much older version of the character as "full of wisdom and good advice." But not everything in the world of Blade Runner is so good — set several decades after Scott's original film, Villeneuve says the dystopian Los Angeles has only gotten worse: "The climate has gone berserk — the ocean, the rain, the snow is all toxic."
Yeah, about that…One of the things you can see in the new concept art below is a massive vehicle which Villeneuve describes as a "Canadian wet dream." That vehicle is like a snowplow on steroids, and its job is to eat up all that toxic snow. The other image gives us a nice skyline view of the futuristic city, quite similar to Scott's own version in the classic film: