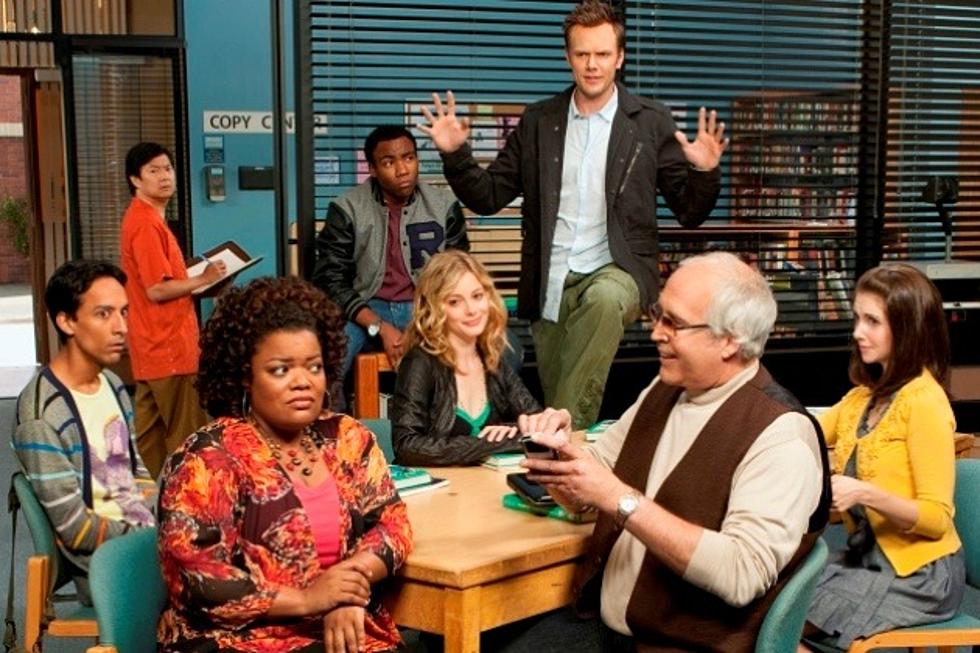 Comic-Con 2013: 'Community' Panel
NBC
'Community' is back and better than ever, and we've got the Dan Harmon to prove it! Sporting cardboard 'Iron Man' armor, the 'Community' creator arrived at the Comic-Con 2013 panel doing his best Tony Stark, leading the cast members in attendance to preview the coming season of NBC's beloved cult comedy. From syndication to an animated episode, we were on hand to hear everything the Greendale gang had to say about 'Community' season 5!
Once the initical celebrations of Dan Harmon's return and the show's season 5 renewal died down, the combined cast of Danny Pudi, Gillian Jacobs, Alison Brie, Jim Rash, and Yvette Nicole Brown took their places on the stage with returning creative minds Dan Harmon and Chris McKenna. Perhaps most importantly, Harmon promised a return to the less over-thought episodes of seasons 1 and 2, with a few concept episodes (animated episode!) thrown in for good measure.
Asked by moderator Chris Hardwick, Harmon previewed "new levels of anxiety that will no doubt trickle into the show. Nobody wants to not fail more than me at this point, because it's kind of a weird story. I really really have to make these 13 count. I don't consider them the last 13. I'm going to do everything I can to get us the sixth season."
All told, here were the best moments from the 'Community' season 5 panel at Comic-Con 2013, which also revealed Community's upcoming move into syndication:
In describing what the various actors have brought to their roles (Ken Jeong was just a "get" for the series), Harmon revealed that he hopes to see more of Shirley's outspoken and idealistic side as a successful businesswoman, mirroring his own occasional real-life public speaking problem.
Beginning September 20, the show will air Fridays on Comedy Central, and also stripped five nights a week on local stations. CommunityonTV.com will alert fans what channels to tune to.
Series star and former writer Dino Stamatopoulous (Starburns) appeared in the question line, joking about the show's writing and his own efforts to create a 'Community' graphic novel. The character could possibly return from his faked death, even as Stamatopoulos launches "High Shool USA!" on Fox.
Harmon revealed that the season 5 whiteboard tentatively has a slot for another Dungeons and Dragons episode! The creator also apologized for his comments on the quality of 'Community' season 4, pointing out that fans of the series might not necessarily be fans of his.
Ken Jeong's Chang will certainly be back, though Harmon hasn't quite cracked what role he wants the character to take this season, having been so across the map previously.
Jim Rash hopes to see the Dean continue his creepy fetishes, while Yvette Nicole Brown hopes to meet Shirley's previously mentioned sister, potentially played by Sherri Shepherd. Alison Brie hopes to see Annie more empowered and less focused on boys, while Danny Pudi would love to see Jamie Lee Curtis as his mother. During this, Jeong and Alison Brie sucked on one another's fingers, because why not?
We're not sure when NBC will place the fifth season of 'Community' still, but what say you? Were you excited to see Dan Harmon back with the cast for Comic-Con 2013? What new concepts beside an animated episode would you want to see in season 5?