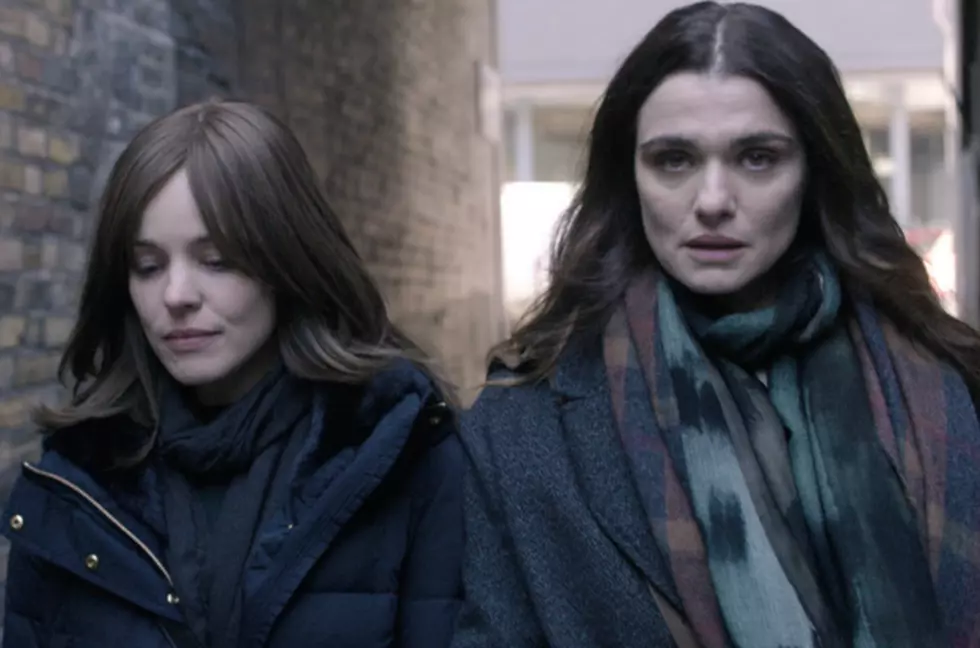 Rachel McAdams and Rachel Weisz Share the Best Sex Scene in Years in 'Disobedience'
TIFF
Let's talk about the sex scene between Rachel Weisz and Rachel McAdams in Disobedience. That's why you clicked on this article. (It's okay, don't deny it.) The film, which debuted at the Toronto Film Festival last weekend, features two Rachels in a sequence full of kissing, spitting, and a moment where Weisz unbuttons McAdams' bodysuit with her teeth. On its own, the scene is undeniably hot, and one of the best sex scenes I've seen in the movies in ages. But within the larger context of Sebastian Leio's film, a drama about forbidden queer romance in an Orthodox Jewish community, it's also a beautiful portrait of liberated female sexuality.
In Disobedience, adapted by Lelio and Rebecca Lenkiewicz from Naomi Alderman's 2007 novel, Weisz, who also co-produced, plays Ronit, a photographer living in New York City. After the sudden death of her rabbi father, Ronit returns to the Orthodox Jewish community in London that she fled from as a teenager. She reunites with her former best friends, Alessandro Nivola's respectable rabbi Dovid, and McAdams' Esti, whom she's both surprised and saddened to learn are now married. We're not initially sure why Ronit is so distraught over this news, but after the two woman exchange long, potent gazes and fumble through stunted conversations, it's clear they have a long-buried history.
As teenagers, Esti and Ronit had a secret affair, though the community's concerned reactions to Ronit's return suggests it wasn't so hush-hush in the first place. After the two spend a few days together, their repressed feelings float to the surface. Esti reveals she never stopped being attracted to women, while Ronit says she's never been with one since. Both actresses give rich and nuanced performances, but McAdams does some especially measured work as Esti, who slowly reckons with the heartache and yearning she's buried so deeply.
Then the moment you've been waiting for arrives. Esti and Ronit spontaneously hop on a train and check into a hotel room. Finally alone, they begin to kiss, as if picking up right where they left off years ago. Ronit removes Esti's sheitel and looks at her full face and natural hair for the first time since they were girls, a more symbolic and vulnerable gesture than merely removing their clothing. The sequence, shot in brighter, warmer light than the rest of the film's muted tones, is packed with heat. The women's previous chilly distance melts away as they voraciously consume one another. It's so impassioned and mesmerizing to watch you almost wish the rest of the movie was set inside that hotel room.
There's one moment people will definitely be talking about: Weisz slowly dribbling strands of spit into her co-star's mouth. The kinkiness of the spitting plays in stark contrast to a previous loveless sex scene between Esti and her husband, where the latter stares at the ceiling and sighs as Dovid mechanically thrusts on top of her. Physical intimacy with Dovid is passionless and habitual, a means to an end (pregnancy). With Ronit, she rediscovers the pleasure of sex and regains control of the desires she was forced to suppress. Here the transference of bodily fluids, previously a dutiful and perfunctory act of her hetero marriage, becomes erotic. Sharing spit is their way of rejecting the matriarchal, loveless roles expected of women in their community.
Leio's use of framing is interesting too. He employs a series of close-ups and off-center shots to isolate each actress, emphasizing their individual sensual experiences. He frames McAdams from the waist up in one shot, her head tossed back in total pleasure. You can clearly deduce from the set-up what's going on, but this is no Black Swan; Leilo doesn't cut to a graphic closeup of Weisz. Sex between two feminine bodies is so often exploited by filmmakers (especially male directors), and frequently shot with an icky, leering but-how-DO-lesbians-actually-have-sex curiosity. Not in Disobedience. The scene isn't meant to turn us on, but to capture his characters' most private moments of desire. It's about them, not him or us.
This isn't the first time Leilo has shown grace and respect in his framing of nude bodies. You can find that in his 2013 film Gloria, which has marvelously unvarnished sex scenes between actors in their 50s, and in his second film at TIFF 2017, A Fantastic Woman. In the latter, a story about a transgender woman played by trans actress Daniela Vega, Lelio shoots his lead in the nude in multiple scenes, but always in a dignified, respectful manner. In light of cinemas history of offensive portrayals of trans feminine characters, something that should be a given feels groundbreaking.
Again and again, Lelio has proven himself a true gem of filmmaker when it comes to telling stories about women rediscovering themselves. Disobedience may not be the strongest of his last three features, but its depiction of female desire makes it an excellent addition to the queer film canon. At the very least, it gives us a streamy love scene we'll be talking about for some time.