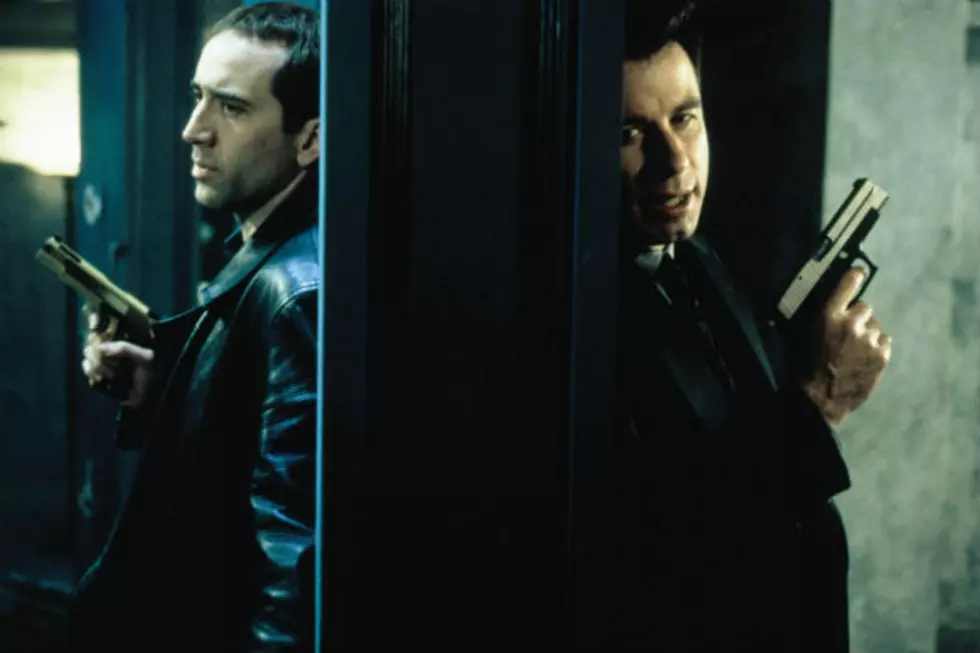 See the Cast of 'Face/Off' Then and Now
Paramount
Released in 1997, John Woo's 'Face/Off' starred John Travolta as an FBI agent who trades faces with a terrorist played by Nicolas Cage to try and thwart his latest plan. The action-packed film was a smashing success with both critics and audiences alike, and became an instant classic. Now, 17 years later, we revisit the cast of this awesome action flick and see what they're up to now. 
John Travolta, Sean Archer
Then: Following his career revival in Quentin Tarantino's 'Pulp Fiction,' John Travolta was drawn to action flicks, appearing in John Woo's 'Broken Arrow' and immediately following it up with a starring role in Woo's 'Face/Off' as FBI agent Sean Archer.
Now: Travolta has hit some bumps since then, appearing in flicks like 'Battlefield Earth,' 'Wild Hogs,' and 'Old Dogs.' He's also starred in 'Swordfish,' 'The Punisher,' 'Hairspray,' and reprised the 'Get Shorty' role of Chili Palmer for 'Be Cool.' More recently, he appeared in the action films 'From Paris with Love,' 'Savages,' and 'Killing Season,' though none have matched the success of his '90s streak.
Nicolas Cage, Castor Troy
Then: Nicolas Cage played terrorist Castor Troy, with whom Sean Archer swaps faces in an effort to thwart his latest plans. Cage was known in the '80s for roles in films like 'Valley Girl' and 'Raising Arizona,' and had just flexed his dramatic chops in 'Leaving Las Vegas.' 'Face/Off' wasn't the only awesome action flick he appeared in that year: he also starred in 'Con Air.'
Now: Since then, Cage has continued to keep things versatile, appearing in dramas like 'Bringing Out the Dead,' 'Family Man,' and 'World Trade Center,' the indies 'Adaptation' and 'Matchstick Men,' and darker fare like '8MM' and 'The Bad Lieutenant: Port of Call New Orleans.' And he's always down for action, starring in the 'Ghost Rider' films, 'Kick-Ass,' 'Drive Angry,' and 'Stolen.' More recently, he lent his voice to the animated film 'The Croods' and proved he still has dramatic chops in the David Gordon Green indie 'Joe.' He can be seen next in the new film adaptation of the popular Christian book series 'Left Behind.'
Joan Allen, Dr. Eve Archer
Then: Joan Allen played Dr. Eve Archer, Sean's wife who is unaware that Castor Troy is pretending to be her husband. Allen had previously appeared with Nicolas Cage in 'Peggy Sue Got Married' back in 1986, and was also known for her roles in 'Nixon' and 'The Crucible.'
Now: Since then, Allen has starred in 'Pleasantville,' 'The Contender,' and 'The Notebook.' She returned to action flicks in 2007 and 2008 with 'The Bourne Ultimatum' and 'Death Race,' respectively. She hasn't appeared in much recently, though she had a role in David Milch's short-lived HBO series 'Luck,' and a cameo in 'The Bourne Legacy.'
Alessandro Nivola, Pollux Troy
Then: Alessandro Nivola made his big screen debut as Pollux Troy, Castor's quieter brother. That same year, Nivola had a supporting role in the film 'Inventing the Abbotts.'
Now: You may have also seen Nivola in films like 'Mansfield Park,' 'Jurassic Park III,' 'Grace Is Gone,' or 'Howl.' He recently appeared in the films 'American Hustle,' and 'Ginger and Rosa' with Elle Fanning and Christina Hendricks, and can be seen next in 'Devil's Knot' and 'A Most Violent Year.' Nivola has been married to actress Emily Mortimer since 2003, and is a producer on the HBO series 'Doll & Em,' which Mortimer created, co-wrote, and stars in with her real-life friend Dolly Wells.
Gina Gershon, Sasha Hassler
Then: Gina Gershon played Sasha Hassler, Castor's ex-girlfriend and the sister of the man who supplies Castor's bombs. At the time, Gershon had just broken out with roles in 'Showgirls' and 'Bound.'
Now: Gershon has since appeared in the films 'Driven,' 'Prey for Rock and Roll,' 'P.S. I Love You,' and 'Love Ranch.' She had a recurring role on the FX series 'Rescue Me,' and in more recent years has appeared in 'Killer Joe' with Matthew McConaughey and 'LOL' with Miley Cyrus. Gershon has also had memorable guest spots on 'Curb Your Enthusiasm' and 'Eastbound and Down,' and recently guest-starred on 'Maron,' 'Community,' and 'Anger Management.' Up next, you can see her in the horror thriller 'The Scribbler.'
Dominique Swain, Jamie Archer
Then: Dominique Swain made her big screen debut as Jamie Archer, Sean and Eve's rebellious teen daughter who doesn't forgive her father for her little brother's death. Swain also starred in the 1997 adaptation of 'Lolita' with Jeremy Irons.
Now: Swain went on to appear in the minor teen flicks 'The Smokers,' 'Tart,' 'Pumpkin,' and 'New Best Friend.' She's most had roles in B-movies and indie flicks over the years with a few exceptions, including 'Alpha Dog' and the Monte Hellman movie 'Road to Nowhere.' She has several upcoming films, though most of them are more B-movies with titles like 'Skin Traffik' and 'Sharkansas Women's Prison Massacre.'
Nick Cassavetes, Dietrich Hassler
Then: Nick Cassavetes played Dietrich Hassler, the criminal who supplies Castor with his bombs and the brother of Sasha. Cassavetes, the son of filmmaker John Cassavetes and actress Gena Rowlands, had previously directed the films 'Unhook the Stars' and 'She's So Lovely,' and had appeared in the films 'Blind Fury' and 'Black Rose of Harlem.'
Now: Cassavetes went on directing, helming the films 'John Q,' 'The Notebook,' 'Alpha Dog,' and 'My Sister's Keeper.' He's also appeared in a few more films, including 'Life,' 'The Astronaut's Wife,' 'Blow,' and had a cameo in 'The Hangover Part II.' He also directed the upcoming woman revenge comedy 'The Other Woman,' starring Leslie Mann and Cameron Diaz.