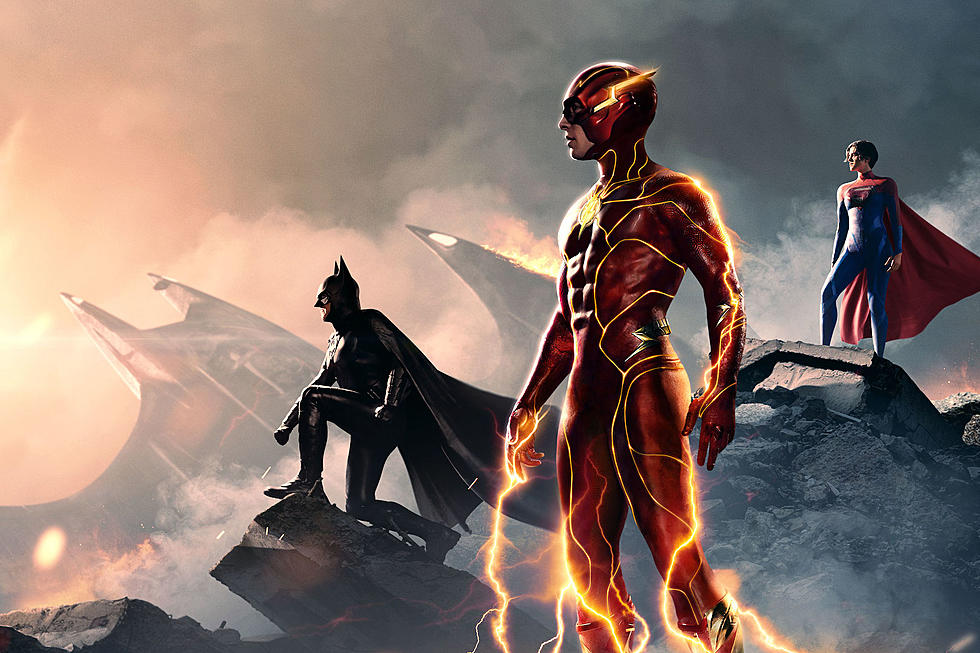 'The Flash' Director Confirms One of the Movie's Most Shocking Cameos
Warner Bros.
NOTE: The following post contains a major SPOILER for The Flash. Read on at your own DC Comics cameo related peril. 
The Flash features way more DC characters than its title suggests. As the trailers and posters for the movie confirm, Ezra Miller's speedster winds up teaming up with multiple Batmen (played by Ben Affleck and Michael Keaton) as well as a new version of Supergirl (Sasha Calle) and even another version of himself (also Miller) from an alternate timeline in order to do battle with Michael Shannon's General Zod.
But those are just the characters in The Flash's marketing. There are even more DC heroes that haven't even been hinted at in the ads — one of which was just confirmed by the film's director, Andy Muschietti, in an interview with Esquire Middle East. And this is a really, really big cameo.
READ MORE: Watch the Final Trailer For The Flash
While the film's premise is based on the idea of the Flash using his ability to time travel to accidentally bring about a world without metahumans like Superman, there apparently is a Superman in the film ... played by none other than Nicolas Cage. As Muschietti said:
Nic was absolutely wonderful. Although the role was a cameo, he dove into it ... I dreamt all my life to work with him. I hope I can work with him again soon.
Beyond the sheer star-power of the cameo, this is also an homage to the history of DC movies. In the mid-1990s, Cage was set to star in Superman Lives, a DC movie that would have been directed by Batman and Batman Returns' Tim Burton. The project, which would have loosely adapted the incredibly successful "Death of Superman" storyline from DC Comics, got deep into development — even to the point where Cage tried on his Superman costume — before it fell apart.
Cage went on to play Marvel's Ghost Rider, and just a few years ago he had a voice cameo as Superman in Teen Titans Go! to the Movies. How he fits into The Flash we don't know — and frankly, we don't want to know. We'll find out when The Flash opens in theaters everywhere on June 16.
10 Movie And TV Locations You Can Stay At Overnight
These famous locations from movies and TV not only exist in the real world — you can rent them for your own personal vacation!