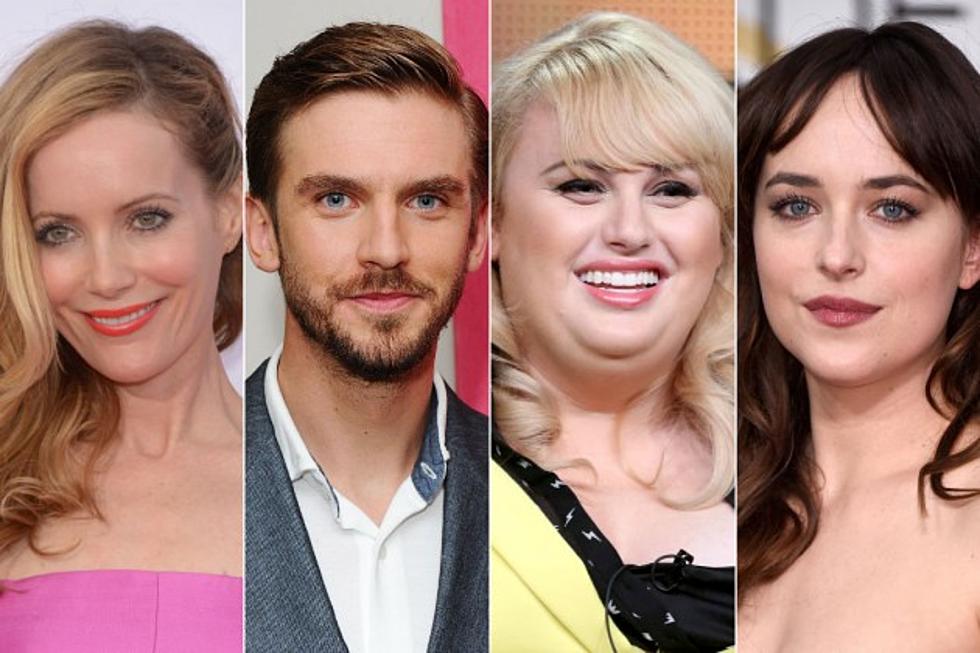 'How to Be Single' Picks Up Leslie Mann, Dan Stevens, Rebel Wilson and Dakota Johnson
Getty Images
Well this cast definitely sounds awesome. The upcoming rom-com 'How to Be Single,' which already stars the great Alison Brie, has just added a whole bunch of talented actors. Leslie Mann, Dan Stevens, Rebel Wilson, and Dakota Johnson have joined the film, which is based on the novel by Liz Tuccillo, the co-author of 'He's Just Not That Into You.' Honestly, who even cares what this movie is or who it's about, as long as we get to see something starring all these fantastic faces, right? Maybe.
Variety reports that Mann, Stevens, Wilson, and Johnson have joined the cast of 'How to Be Single,' which, like all classic rom-coms, follows a New York woman who's searching for love. Here's the official synopsis from Amazon:
It's the most annoying question and they just can't help asking you. You'll be asked it at family gatherings, weddings, and on first dates. And you'll ask yourself far too often. It's the question that has no good answer. It's the question that when people stop asking it, makes you feel even worse: Why are you single? On a brisk October morning in New York, Julie Jenson, a single thirty-eight-year old book publicist, is on her way to work when she gets a hysterical phone call from her friend Georgia. Reeling from her husband's announcement that he is leaving her for a samba teacher, Georgia convinces a reluctant Julie to organize a fun girls' night out with all their single friends to remind her why it is so much fun not to be tied down. But the night, which starts with steaks and martinis and ends with a trip to the hospital, becomes a wake-up call for Julie. Because none of her friends seems to be having much fun right now: Alice, a former legal aid attorney, has recently quit her job to start dating for a living; Serena is so busy becoming a fully realized person that she can't find time to look for a mate; and Ruby, a curvy and compassionate woman, has been mourning the death of her cat for months. So, fed up with the dysfunction and disappointments of being single in Manhattan, Julie quits her job and sets off to find out how women around the world are dealing with this dreaded phenomenon. From Paris to Rio to Sydney, Bali, Beijing, Mumbai, and Reykjavk [sic], Julie falls in love, gets her heart broken, sees the world, and learns more than she ever dreamed possible. Back in New York, her friends are grappling with their own issues – bad blind dates, loveless engagements, custody battles, and single motherhood. Through their journeys, all these women fight to redefine their vision of love, happiness, and a fulfilled life. Written in Liz Tuccillo's pitch-perfect, hilarious, and relatable voice, "How to Be Single" is the ultimate novel for the adventurer in us all.
Um, hold the phone and take my calls for a minute because this sounds potentially offensive. First of all, a woman quits her job to focus on dating, which is legitimately mentally insane. Second of all, the story features a "curvy" woman who is too busy to date because she's mourning the death of her cat, playing into two tired old stereotypes: one, that overweight women are inherently "cat ladies," and two, the concept of the cat lady old maid who resigns herself to the companionship of a pet. And what is this nonsense about a woman being too wrapped up in becoming a "fully realized person" to date someone else? Christ with a capital C, people.
On the bright side, the film does have a pretty great cast lined up: Leslie Mann, who's charmed us in her husband Judd Apatow's films and was the saving grace of 'The Other Woman'; the always hilarious Rebel Wilson; Alison Brie (no explanation required); and Dan Stevens, who impressed the hell out of all of us last year with roles in 'The Guest' and 'A Walk Among the Tombstones.' Stevens is so charismatic and beautiful that he'll make you consider whether Marvel should go back in time and cast him as Captain America instead of Chris Evans. I know that sounds like blasphemy, but it's true.
Based on the book's plot, 'How to Be Single' has the potential to be a total disaster, but based on this cast, it also has the potential to transcend its woeful source material. Just, please, do not make Rebel Wilson a cat lady, OK?