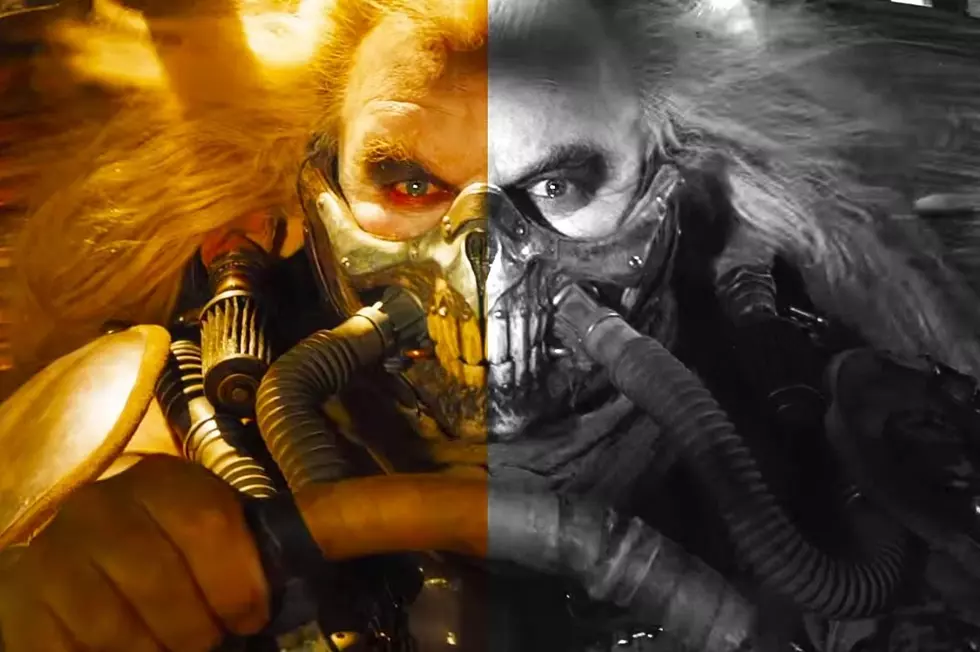 Witness the 'Black and Chrome' Edition of 'Mad Max: Fury Road' at SpectreFest
Warner Bros.
Mad Max: Fury Road is one of the most visually stunning action movies ever made, partly because George Miller eschewed the grays-and-browns trend of post-apocalyptic movies. Fury Road drips with vibrant oranges, reds, and blues that provide a stunning technicolor backdrop for our heroes' race through the desert. But according to Miller, the best version of the film is one he made without any color at all: the "Black & Chrome Edition" of the film has been teased ever since its release, and it'll be coming to video stores with a special Blu-ray release after a theatrical debut at this year's SpectreFest.
A home video release is all well and good, but you just don't get the full effect unless you watch this movie in the theater. SpectreFest just released its lineup of films, which includes A Monster Calls, The Bad Batch, and Denis Villeneuve's Arrival, and also has a slot for the theatrical world premiere of Mad Max: Fury Road in black and white. Tickets are already on sale, so you'd better hurry up if you're thinking of flying out to LA to see it on November 1, but if you'd rather stay home, the special "Black & Chrome" Blu-ray will be available December 6 for your viewing pleasure on the biggest TV you have in your house.
SpectreFest is all about "the uncanny in art and cinema," so Fury Road will certainly fit right in with the other offerings. It's awesome that Miller is allowing his movie to be shown in theaters again so that viewers can get the full immersive experience this film deserves.