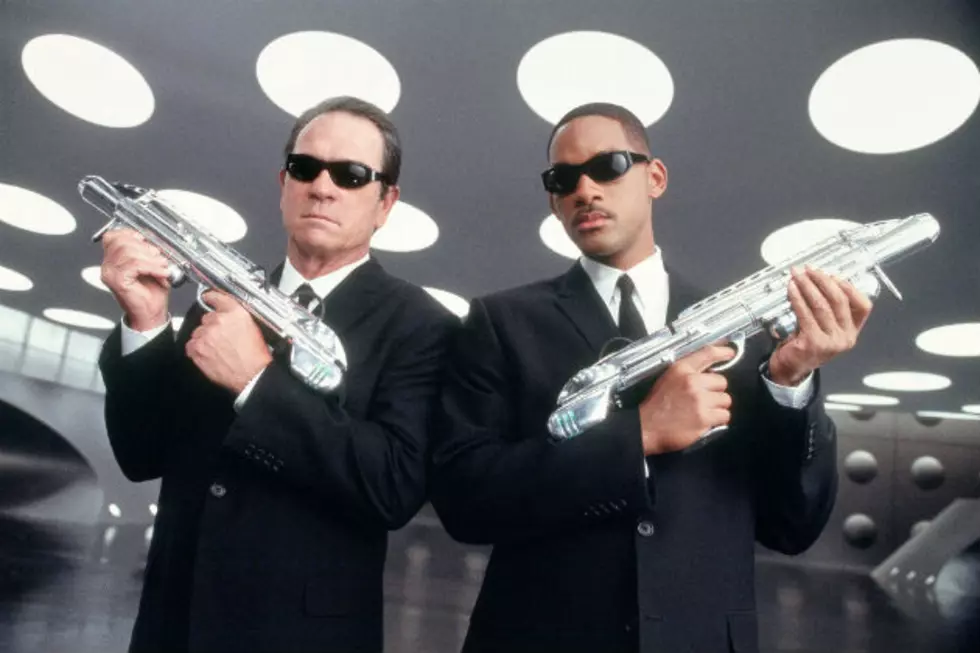 See the Cast of 'Men in Black' Then and Now
Columbia
Released in 1997, 'Men in Black' paired up mega-star Will Smith with legendary actor Tommy Lee Jones as two agents who work for a secret organization that keeps tabs on alien life forms. Featuring outstanding practical effects, the hilarious sci-fi comedy (which was also based on a comic book) was a massive hit, and went on to spawn two sequels. 17 years later, we revisit the cast of this beloved modern classic and see what they're up to now. 
Will Smith, Agent J
Then: Riding high on the success of 'Bad Boys' and 'Independence Day,' Will Smith was cast as Agent J, a cop who's recruited to join the secret Men in Black organization, which supervises alien activity on Earth. Chris O'Donnell turned down the role because he felt it was too familiar to his sidekick part in 'Batman and Robin,' and 'Friends' star David Schwimmer also declined.
Now: Smith is kind of a huge deal, appearing in films like 'Wild Wild West,' 'The Pursuit of Happyness,' 'I Am Legend,' and 'Hancock.' He reprised the role of Agent J for two more 'Men in Black' films, and recently starred in the movie 'After Earth' with his son, Jaden. He's also made cameo appearances in the recent films 'Anchorman 2: The Legend Continues' and 'Winter's Tale,' and can be seen next in 'Focus.'
Tommy Lee Jones, Agent K
Then: Tommy Lee Jones played Agent K, a veteran of the Men in Black who is paired up with Agent J as his new partner, helping him learn the ropes of alien wrangling. Clint Eastwood was originally offered the role and turned it down, and Jones only accepted after producer Steven Spielberg promised the script would improve after rewrites. Jones was a fan of the comics on which the film was based, and didn't feel the first script he read was in keeping with the tone of the books.
Now: Jones went on to appear in films like 'Double Jeopardy,' 'Rules of Engagement,' 'No Country for Old Men,' 'In the Valley of Elah,' and 'Captain America.' He reprised the role of Agent K for both 'Men in Black' sequels, though his role in the third film was smaller. He's recently appeared in 'Lincoln' and 'The Family,' and can be seen next in 'The Homesman.'
Linda Fiorentino, Laurel
Then: Linda Fiorentino, best known for steamy roles in 'The Last Seduction' and 'Jade,' played Laurel, a medical examiner who often has run-ins with the Men in Black, but always has her memory wiped by one of their handy gadgets.
Now: Fiorentino also starred in 'Dogma,' 'What Planet Are You From?,' 'Where the Money Is,' and 'Liberty Stands Still.' She took a break after 2002, and didn't appear in a film again until 2009's 'Once More With Feeling.' The actress has curiously not appeared in a film since then.
Vincent D'Onofrio, Edgar the Bug
Then: 'Full Metal Jacket' and 'JFK' star Vincent D'Onofrio played Edgar the Bug, a giant alien bug that comes to earth, kills a farmer, and wears his skin as a disguise in order to steal a tiny galaxy and destroy it. The role was also offered to John Turturro and Bruce Campbell.
Now: D'Onofrio's lengthy resume also includes appearances in 'The Cell,' 'The Salton Sea,' 'The Break-Up,' and 'Cadillac Records.' From 2001 to 2011, he played Detective Robert Goren on 'Law and Order: Criminal Intent,' and more recently he's appeared in the films 'Sinister,' 'Charlie Countryman,' and 'Escape Plan.' You can catch him next in 'The Judge.'
Rip Torn, Agent Zed
Then: 'Larry Sanders Show' star Rip Torn played Agent Zed, the head of the Men in Black organization.
Now: Torn went on to star in 'Wonderboys,' 'Welcome to Mooseport,' 'Dodgeball,' and 'Marie Antoinette.' He had a recurring role on '30 Rock' as Don Geiss, head of NBC, and it was rumored his character was killed off following Torn's arrest in 2010. Torn also voiced Hephaestus in the video game God of War III, and has recently appeared in the films 'Bridge of Names' and 'Johnny Kidd.'
Tony Shalhoub, Jack Jeebs
Then: Tony Shalhoub, known for his role on the sitcom 'Wings,' played Jack Jeebs, an alien who disguises himself as a pawn shop owner and secretly sells alien weapons. That same year, Shalhoub also appeared in the films 'Gattaca' and 'A Life Less Ordinary.'
Now: Shalhoub went on to appear in 'Galaxy Quest' and 'Thirteen Ghosts' before he landed the role of Detective Adrian Monk on the hit series 'Monk,' which ran from 2002 to 2009. He's also starred in the 'Spy Kids' films and lent his voice to the 'Cars' movies. Recently he's appeared in 'Movie 43' and 'Pain and Gain,' and had a role in the HBO movie 'Hemingway and Gellhorn.'
David Cross, Newton the Morgue Attendant
Then: Comedian and 'Mr. Show' star David Cross played the wacky morgue attendant named Newton, a role which director Barry Sonnenfeld considered playing himself, but found that Cross had better comedic timing.
Now: Cross' diverse acting resume includes roles in the films 'Ghost World,' 'Scary Movie 2,' 'Eternal Sunshine of the Spotless Mind,' 'I'm Not There,' and the 'Alvin and the Chipmunks' and 'Kung Fu Panda' films. He's recently starred in the indies 'It's a Disaster' and 'Kill Your Darlings,' and his directorial debut 'Hits' (in which he also stars), recently premiered at the Sundance Film Festival.