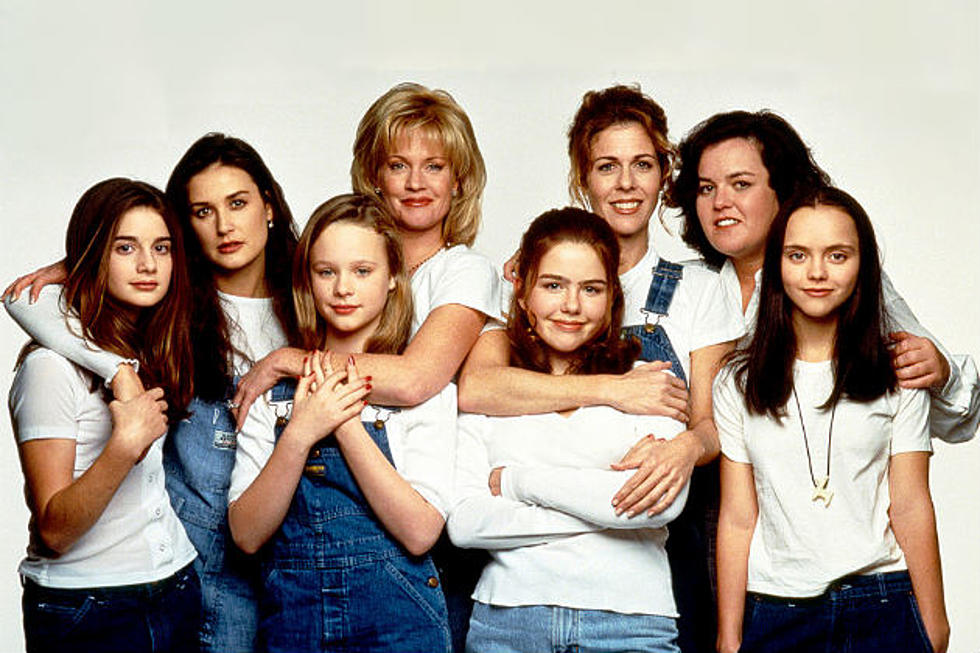 See the Cast of 'Now and Then' Then and Now
New Line
Released in 1995, 'Now and Then' featured a cast of rising child stars as four friends coming of age in the 1970s, dealing with divorce, death and becoming young women, who reunite later in life to reflect on how far they've come. Bolstered by the star power of more established actresses, like Demi Moore and Melanie Griffith, the film was sort of a female version of 'Stand By Me,' and loved by both critics and audiences alike. Nineteen years later, we take a look back at the cast of this modern classic and see what they're up to now. 
Christina Ricci, Young Roberta Martin
Then: Christina Ricci, previously known for her role as Wednesday Addams in the 'Addams Family' movies, played young Roberta Martin, a tomboy whose mother died when she was younger. As a young actress, Ricci would also appear in 'Gold Diggers: The Secret of Bear Mountain' and 'Casper.'
Now: Ricci started taking on edgier roles as she got older, in films like 'Buffalo '66,' 'The Opposite of Sex' and Tim Burton's 'Sleepy Hollow.' The aughts brought even more challenging roles out of Ricci: a leading role in an adaptation of Elizabeth Wurtzel's memoir 'Prozac Nation,' and acclaimed supporting roles in 'Monster' and 'Black Snake Moan.' Following that, she appeared in the Wachowskis' 'Speed Racer' and the horror flick 'After.Life' with Liam Neeson. More recently, Ricci lent her voice to 'The Smurfs 2,' appeared in 'Bel Ami' opposite Robert Pattinson, and starred in the Lifetime movie 'Lizzie Borden Took an Ax' as the famed historical murderess. Next, you can see her in the ensemble film 'Mothers Day' and the war drama 'Fighting to Forgive.'
Rosie O'Donnell, Roberta Martin
Then: Rosie O'Donnell played the adult version of Roberta, who becomes a doctor and "lives in sin" with her boyfriend. O'Donnell previously appeared in the films 'A League of Their Own,' 'The Flintstones' and 'Sleepless in Seattle,' the latter also featuring Rita Wilson.
Now: From 1996 to 2002, O'Donnell hosted and produced 'The Rosie O'Donnell Show' on daytime TV, and went on to have recurring roles on 'Curb Your Enthusiasm,' 'Nip/Tuck' and 'Drop Dead Diva.' After leaving 'The View' in 2007, after co-hosting with Whoopi Goldberg, Barbara Walters and the like, she started a new talk show in 2011, 'The Rosie Show,' but the effort was short-lived. Since then, she has guest starred on 'Web Therapy' and 'Smash,' and currently has a recurring role on the ABC Family series 'The Fosters.'
Thora Birch, Young Tina "Teeny" Tercell
Then: Thora Birch, previously known for roles in 'Hocus Pocus' and 'Monkey Trouble,' played the ultra-feminine Tina Tercell, aka "Teeny," who comes from a wealthy family and is obsessed with becoming a movie star.
Now: A few years later, Birch landed one of the most notable roles of her career in the 1999 film 'American Beauty,' as troubled teen Jane Burnham. She also appeared in the films 'Anywhere But Here,' 'The Smokers' and 'Dungeons and Dragons' before starring in the acclaimed indie favorite 'Ghost World,' opposite Scarlett Johansson. Unfortunately, her career began to decline after that: she appeared in the Lifetime TV movie 'Homeless to Harvard: The Liz Murray Story,' and a couple of minor horror flicks, like 'Train' and 'Deadline,' but not a whole lot since. In 2012, she starred in the indie 'Petunia,' which she co-produced with her father -- and if rumors are to be believed, her father is responsible for much of her recent career troubles, as discussed in a recent profile in The Guardian.
Melanie Griffith, Tina "Teeny" Tercell
Then: Melanie Griffith played the adult Tina Tercell, who indeed grows up to be a famous Hollywood actress, married and divorced several times. Griffith was known for her roles in 'Something Wild' and 'Working Girl,' and most recently appeared in 'Milk Money' and 'Nobody's Fool.'
Now: Griffith went on to star in 'Mulholland Falls,' 'Lolita' and 'Crazy in Alabama' before showing audiences a different side of herself in John Waters' dark indie comedy 'Cecil B. Demented.' In recent years, she mostly popped up on TV, guest starring on 'Hot in Cleveland,' 'Raising Hope' and Hawaii Five-0,' and appearing in the Lifetime movie 'Call Me Crazy: A Five Film.' Up next, she'll co-star with her husband Antonio Banderas in the sci-fi thriller 'Automata.'
Gaby Hoffmann, Young Samantha Albertson
Then: Gaby Hoffmann played young Samantha Albertson, the weird one of the group who narrates the film and believes in the paranormal, leading the girls on a quest to uncover the mystery behind a dead boy named Johnny. Hoffmann previously starred in 'Uncle Buck,' 'Field of Dreams' and in 'Sleepless in Seattle' with Rosie O'Donnell.
Now: Hoffmann also appeared in 'Everyone Says I Love You' and 'Volcano,' and reunited with Christina Ricci for the ensemble comedy '200 Cigarettes' in 1999. In 2001, she took a break from acting for a while to pursue a degree in literature and focus on theatre acting. When she returned, she appeared in Todd Solondz' 'Life During Wartime,' and eventually started guest starring on shows like 'The Good Wife,' 'Homeland' and 'Louie.' Recently, she's been working hard with an acclaimed role in the indie 'Crystal Fairy,' a supporting role in the 'Veronica Mars' movie, and a recurring role on 'Girls.' She appears opposite Jenny Slate in the upcoming film 'Obvious Child,' and stars in the new Amazon.com series 'Transparent.'
Demi Moore, Samantha Albertson
Then: Demi Moore played the adult version of Samantha, who becomes a science-fiction book author. Moore was known in the '80s for her roles in 'St. Elmo's Fire' and 'About Last Night,' and became a major star in the '90s. Prior to 'Now and Then,' she starred in 'Ghost,' 'Indecent Proposal' and 'The Scarlet Letter.'
Now: Moore went on to appear in 'Striptease,' 'If These Walls Could Talk' and 'G.I. Jane,' and lent her voice to the animated films 'Beavis and Butthead Do America' and 'The Hunchback of Notre Dame.' She also starred in the films 'Charlie's Angels: Full Throttle,' 'Bobby,' 'Mr. Brooks' and 'Flawless.' Moore hasn't been as high profile in film lately, though she appeared in 'Margin Call,' 'LOL' with Miley Cyrus, and the indie 'Very Good Girls' with Dakota Fanning and Elizabeth Olsen. Up next, she co-stars in 'Forsaken' which unites the father-and-son acting team of Kiefer and Donald Sutherland.
Ashleigh Aston Moore, Chrissy DeWitt
Then: Ashleigh Aston Moore made her big-screen debut as Chrissy DeWitt, the naive and responsible "good girl" of the group. Moore previously starred on the early '90s Canadian TV series 'The Odyssey,' and would also appear with Christina Ricci in 'Gold Diggers: The Secret of Bear Mountain.'
Now: Moore went on to appear in the film 'The Grave' and in the TV movie 'A Friend's Betrayal' with 'Beverly Hills, 90210' star Brian Austin Green. After guest starring on an episode of 'Touched by an Angel' in 1997, Moore stopped acting and returned to her native Canada. Not much is known about the next 10 years of her life. On December 10, 2007, at the age of 26, Moore tragically passed away due to an accidental drug overdose.
Rita Wilson, Chrissy DeWitt
Then: Rita Wilson played the adult Chrissy, who is now pregnant and lives in her childhood home with the treehouse the girls used to play in still in her backyard. Wilson previously appeared in 'Sleepless in Seattle' with Rosie O'Donnell, Gaby Hoffmann and her husband, Tom Hanks, whom she had met on the set of the 1985 film 'Volunteers.'
Now: Wilson appeared in 'That Thing You Do!,' which was written and directed by Tom Hanks, who also co-starred. Wilson also starred in 'Jingle All the Way,' 'Psycho' and 'Runaway Bride,' and reunited with Gaby Hoffmann yet again for the 2001 film 'Perfume.' She only appeared in a handful of films over the last several years, including 'Old Dogs,' 'It's Complicated' and 'Larry Crowne,' the latter of which also starred Hanks. In addition to acting, Wilson also produced Nia Vardolos' films 'My Big Fat Greek Wedding,' 'Connie and Carla' and 'My Life in Ruins,' and the film adaptation of the musical 'Mamma Mia!'
Devon Sawa, Scott Wormer
Then: Devon Sawa, who previously starred in the comedy 'Little Giants,' played Scott Wormer, the eldest of four brothers who torment the girls, although he and Roberta end up having a crush on each other. Sawa, like Ashleigh Aston Moore, was a native Canadian who also appeared on the TV series 'The Odyssey.' And 'Now and Then' wasn't the only film he appeared in with Christina Ricci in 1995: the two also starred in 'Casper' together.
Now: Sawa went on to have a string of memorable roles throughout his teens and early 20s, including parts in 'Wild America,' 'SLC Punk,' 'Idle Hands,' 'Final Destination' and 'Slackers.' He also appeared in the very dark music video for Eminem's hit song "Stan." After some not-so-memorable roles, Sawa had sort of a comeback in 2010 with a role on the CW series 'Nikita,' which ended in 2013. He recently appeared in the films 'The Philly Kid' and 'A Resurrection,' and is rumored to be in the 'SLC Punk' sequel, which director James Merendino raised funds to make with a successful Indiegogo campaign.