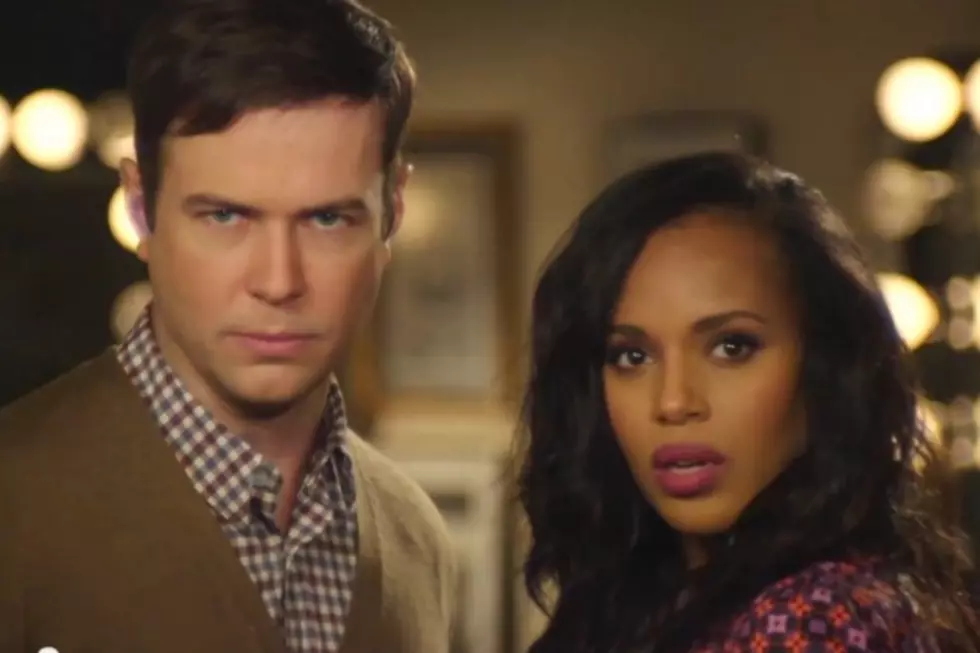 'Saturday Night Live' Review: "Kerry Washington"
NBC
On tonight's all-new episode of 'Saturday Night Live,' Kerry Washington hosts, and with all the negative press the show has been getting recently about not featuring any black female performers, this is a highly-anticipated episode, to say the least. So how did the 'Scandal' star handle her first visit to the 30 Rock stage? Read on for our review of tonight's brand new episode of 'SNL.' 
Oh, well here's a way for 'SNL' to handle the criticisms that they don't have a black woman on cast -- it's actually a pretty successful bit of self-aware humor, asking Kerry Washington to change from Michelle Obama to Oprah, with the scroll across the screen apologizing for the lack of a black woman on cast and assuring us they'll add one soon ("unless, of course, we fall in love with another white guy first"). Washington even makes a point of asking "and Kenan [Thompson] won't do it?" And to emphasize the abundance of white male cast members, they trot them all out as Matthew McConaughey before having Reverend Al Sharpton show up to explain that we've obviously learned nothing from this sketch. Touche, 'SNL' writers. Clever work, and Washington is so wonderfully game for it, though having Sharpton come out to assert that basically nothing will change is a little disconcerting.
Washington opens with more self-aware humor, noting that 'Scandal' has the "courage" to feature a white man as president in 2013. But then the monologue thankfully shifts to a bit where the players show up to ask "Olivia Pope," noted fixer, to help get them out of their problems. Bobby Moynihan, Vanessa Bayer, and Kenan Thompson all get to play around with Washington in yet another gloriously brief opening monologue -- man, I'm really enjoying the more focused openings this season.
Nasim Pedrad plays a 44 year-old Yemeni career consultant named -- pardon the possibly incorrect spelling -- Heshi Al Fahi. Washington is her put-out and sassy assistant, helping cut through Heshi's over the top performance. Mike O'Brien gets a silly bit part as her introverted computer whiz son, but the real star is Pedrad, who pulls off this crazy specific motivational speaker energy. I'm not entirely sure it works, but as with most iffy sketches, at least the stars are having a blast. The best part has to be Heshi shouting, "I don't know what boners are, but believe in yourself!" Also, wouldn't Washington do a super Nicki Minaj impression?
This is ... interesting. A music video satirizing "What Does the Fox Say," which feels a little late to the party, given the lightspeed at which internet sensations move. Washington plays Jay Pharaoh's girlfriend, who nags him about the women texting him. Pharaoh represents a male stereotype who only seems to observe the most surface, redundant qualities, like how his dad says "Hmmm" a lot or how his uncle seems to notice that someone passed gas. As for his girlfriend, he only hears nagging sounds and accusatory questions -- I guess it works as an indictment of some sort of male superficial observance and insensitivity? Or maybe just a really fun satire of infidelity in the tech age? It's catchy, that's for sure.
Kenan Thompson hosts a talk show that asks regular black voters how our president is faring in office. Pharaoh plays a writer for Ebony magazine, and Washington is a political science professor. It's a whole lot of "white people are like this," and jokes about how black people would vote for Obama no matter what absurdities he subjects himself to, but it's actually pretty incisive and subverts the typical racial humor. The whole conversation about 'The Wire' makes this sketch go from comically observant to downright hilarious. "White people watchin' 'The Wire' like they doin' us a favor." White people do love 'The Wire.' It's so true.
Pedrad and Taran Killam play hosts of the Miss Universe pageant, introducing last-minute contestants from more obscure countries, like Bayer, who is from Moldova (the ladies on this show are so great at wacky accents). Washington plays a contestant from Uganda, confused by the talent portion, asking a lot of incomplete questions, and stealing the show from Miss Spain. And here she is, Kate McKinnon as Miss Bolivia, aka the queen of obscure accents and eccentric foreign characters. Aidy Bryant is also pretty awesome as Miss Greenland, and I don't think she gets to flex her character muscles enough on this show.
McKinnon stops by as German chancellor Angela Merkel, who has some pretty strong opinions about the NSA scandal and the president's admission that the program has been spying on heads of state. McKinnon is really getting a workout so far tonight with her foreign accents -- from Bolivia to German, and so effortlessly. I know many think she's overrated, and that seems understandable given that she rose to prominence so quickly following Kristen Wiig's departure, but she really deserves the praise she's given. And there are some great jokes about Merkel's very relatable shame over her private texts and Google search history.
Thompson and Pharaoh also pop in as Charles Barkley and Shaquille O'Neal, respectively, to discuss the start of the NBA season. Kenan's Barkley character is always fun and absurd, but Pharaoh does a crazy cross-eyed O'Neal that adds an extra dimension to Thompson's usual silliness.
Washington plays the host of a Cartoon Network game show called 'Cartoon Catchphrase,' in which contestants are grilled on which cartoon characters uttered which catchphrases. Bryant, Bayer, and O'Brien play overly eager and earnestly dorky contestants. There might not be a moment tonight that tops Bryant using her "phone a friend" option to call her husband at home, only to have the phone answered by "Diamond" (presumably a stripper), who is still at Bryant's home after having sex with her husband. The overall joke is that no matter who they call with their phone a friend helpline, Bryant's husband is somehow involved. The sketch formula is getting redundant with these game shows where the contestants never know the answers to the easiest questions (think "Arcade Fire or New Cast Member?"), but this one succeeds in subverting expectations with a genuinely hilarious twist -- and then almost kills it by going a little overboard at the end. But up until then it's my favorite sketch of the night so far!
Booker T. Washington High School Fall Carnival
Hooray! Jay Pharaoh's Principal Fry character has finally returned! It's been too long since we've heard "Ah teachers and students" as he addresses the nutty shenanigans his students get themselves into. Washington plays a teacher, who is just recycling her Long Island accent from the motivational speaker bit from earlier, but it's fine because it's actually pretty delightful when she does it.
A fictional MTV dating show in which three women are randomly selected from a Ross Dress for Less store to compete for the affections of some dude, played by Taran Killam. Cecily Strong, Aidy Bryant, and Washington all play the dating contestants, who are various obnoxious stereotypes of modern young women who appear on reality shows -- overly honest about stuff they probably shouldn't be for the sake of being on TV and leaving an impression, and really self-involved. Are there even still dating shows like this on MTV? I thought they all died at least six years ago. Either way, it's a pretty spot-on skewering, if a bit too long for the jokes to remain effective.
Kyle Mooney finally shows up tonight for a digital short. In it, he plays an ice cream shop employee who doesn't get a couple's joke about needing ambulances to wheel them out when they're done overdosing on sugar. He zones out, imagining a montage of scenes in which he -- and his co-worker, played by Killam -- try to understand the joke by researching in a library and a lab, both taking the joke way too literally. It's a fun play on the way people sometimes take too long to understand really obvious jokes, and the mental olympics we sometimes put ourselves through, killing the joke in the process.
And that's our show! Washington did pretty well, even though some of the sketches ("Date or Diss?" and "Career Week") failed to keep the momentum going. We'll see you guys back here on November 16, when Lady Gaga hosts 'SNL.'