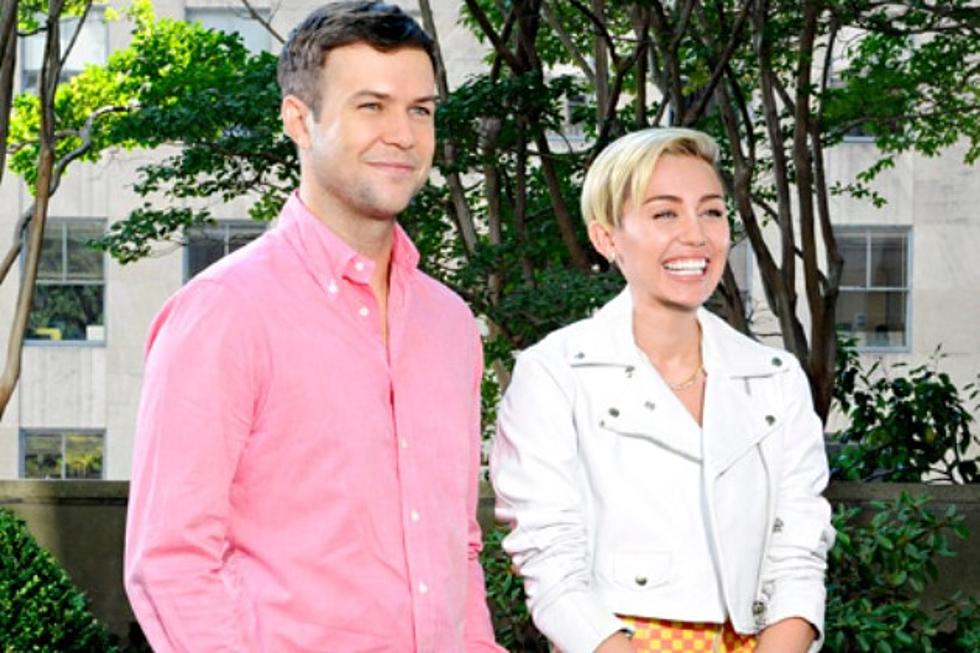 'Saturday Night Live' Review: "Miley Cyrus"
NBC
Whatever you think of her, Miley Cyrus is a huge deal right now -- love her or hate her, the pop starlet fond of making bold statements is gracing the 'SNL' stage tonight as both host and musical guest. Of course, it's the former we're more concerned with. Can this former Disney sensation leave a positive impression? Or any impression, really -- she loves to push buttons. Read on for our review of tonight's all-new episode of 'SNL.' 
Apparently the government shutdown occurred because of Miley Cyrus' VMA performance. Vanessa Bayer appears as the old Miley, who tries to warn new Miley that her performance is a bad idea. Taran Killam appears as Robin Thicke, Bobby Moynihan as the giant stuffed bear Miley molests (pretty great with his one line), and Jay Pharaoh gets to do his Will Smith impression (because he can). It's a mild commentary on how the world made an unnecessarily huge deal about Miley's performance, and it facilitates a moment for Miley to defend herself -- but it's just as boring as all the pearl-clutching over the whole ordeal. The one shining spot is seeing Bayer and Miley both act as Miley side by side, illustrating how spot-on Bayer's impression has always been.
Miley quickly dismisses the idea of any tweking on tonight's episode (thank goodness), and goes right into addressing her controversial VMA performance -- as if the cold open didn't do that enough. While the world can't stop talking about Miley's performance, neither can she. It might be a smart move in the end; Miley gets all the VMA talk out of the way up front (and we get naked Bobby Moynihan on a wrecking ball -- bonus), and we can move on with the show. Hopefully. Her monologue is incredibly short, since I guess the lengthier cold open served as her main intro anyway.
'Fifty Shades of Grey' Screen Tests
The cast portray different actors screen testing for the film adaptation of 'Fifty Shades of Grey,' and already 'SNL' is earning bonus points with me tonight, getting right into my sweet spot. Making fun of one of the worst books ever? Check. Fake auditions involving cast members showing off their impression skills? Check.
Moynihan as Seth Rogen and Noel Wells as Emma Stone kick things off proper, followed by Taran Killam doing an incredible (and surprising) Christoph Waltz impression alongside Miley's super underwhelming Scarlett Johansson. There's also Philip Seymour Hoffman, Kristen Stewart, Steve Harvey, and Rebel Wilson (Aidy Bryant, who sadly gets a bit overshadowed). Kate McKinnon does a superb Jane Lynch with one of the new featured players as Jon Cryer. There are plenty more where that came from (perhaps my favorite pairing is McKinnon's Tilda Swinton with Pharaoh's Tracy Morgan), and it's a solid, fun sketch overall, to help wash all the lame VMA business away. Also, can we get Killam doing Christoph Waltz again soon, please?
I'm so glad they brought this back! Aidy Bryant and Cecily Strong as teen BFFs with their own talk show. Strong introduces her new thugalicious best friend, Lil' Teeny, played by Miley. First of all, it's awesome commentary on stage personas versus real personas, especially relevant given that Miley is clearly not exactly how she presents herself on stage. Bryant and Strong play such adorable and perfect teenagers, who are able to vacillate between precocious and genuinely forthcoming with ease. Miley clearly hasn't lost her Disney acting skills, and should be given credit for her ability to go all-in. She'll never be a serious actress, but she is a talented and showy performer.
Taran Killam is John Boehner and Miley is Michele Bachmann in this faux music video based on Miley's "We Don't Stop," a riff on the government shutdown called "We Did Stop." It's impeccably directed and edited and allows Killam to show off some of that sassy stuff we saw in his backstage recreation video of Robyn's "Call Your Girlfriend" last year. The only way this could be improved is if the Lonely Island boys got involved.
Killam (who is getting a ton of exposure tonight as the new 'SNL' go-to guy) is Piers Morgan, talking to Nasim Pedrad about the canceled Hillary Clinton television projects. We get a look at the Fox News version of the Hillary story, with Bayer and Beck Bennett as the Clintons. Bennett's Bill is pretty solid, but Bayer's Hillary leaves a lot to be desired. The AMC version features McKinnon as Hillary in a 'Breaking Bad'-esque version of the Clinton story, with an awesome homage to the 'Breaking Bad' finale. McKinnon's impression is also lacking, but the writing for this bit totally makes up for it. MTV's version is 'H20' with Kenan Thompson as VJ Sway as Obama, and Miley as Hillary, obviously. It's ... fine.
Cecily Strong continues to be a, uh, strong addition to the Weekend Update desk, and Kate McKinnon stops by as Pat Lynhart, a suburban mother from Connecticut who stops by to discuss Grand Theft Auto V -- but in a twist, she's become obsessed with it, and has become something of a foul-mouthed suburban gangster. McKinnon does what she does best with her more intense characters and delivers some consistently hilarious lines.
Jay Pharaoh appears as NFL analyst Shannon Sharpe, which might be funnier if you're a sports fan, though Pharaoh makes the part pretty accessibly wacky by hamming it up. The real treasure of the segment is Vanessa Bayer finally reprising her role as Jacob, the little Jewish Bar Mitzvah boy. This week, Jacob brings out his cherished notebook full of carefully written jokes, and, as usual, it's delightful. Bayer's Jacob also works well because he always laughs at his own jokes, allowing wiggle room in case Bayer breaks, and tonight she totally does.
Miley Cyrus is head cheerleader preparing her team for regionals when aliens invade and start abducting cheerleaders in the middle of their rhyming chants. There's a weird moment when we see one of the stagehands adjusting something on set -- presumably that was an error, but it almost feels like a seeing your teacher at the grocery store moment. That's just not supposed to happen, but hey, it did. Kenan Thompson pops in as an alien and starts doing his own cheer about how he needs our moon -- this is just weird. Some of the cheers are kind of funny, but this sketch feels like it missed the mark entirely.
Miley, Moynihan, and McKinnon are local Miami daytime talk show hosts recording promos for their upcoming shows. They're cynical, zombie-like, and apathetic, but the joke is in how they turn "it" on and sell their show in the promos with intense enthusiasm. It's a little redundant and one-note, but it kind of gets funnier as it progresses with the absurd material they're promoting.
Vanessa Bayer is a poetry specialist who comes in to talk to a high school class while their teacher has a job interview ("Thank Christ"). Bayer is so quirky and enthusiastic, while the students are expectantly and overtly underwhelmed and preoccupied with whatever teens are into. For Miley's teen, that's photographing a dead bird. This sketch feels like it's straight from the 90s. Even the costuming and sort-of basic plotting seems a little vintage. Like the last few sketches, this one is passable, but not particularly great. Better than that weird cheerleader-alien thing, though.
Last Night, Kyle's Office
A pre-recorded short in which Miley goes to Kyle Mooney's office to hook up with him and record it, when Moynihan and Beck Bennett show up and accidentally interrupt. And while Mooney seems sort of put-out by how amazing Miley is, the other guys are impressed with all the cool things she does or is willing to do. The idea, of course, is that the perfect girl for some people is a headache for others, and that dudes can be pretty darn oblivious. This is actually one of the better bits of the night, and a good (but not great) note for us to go out on.