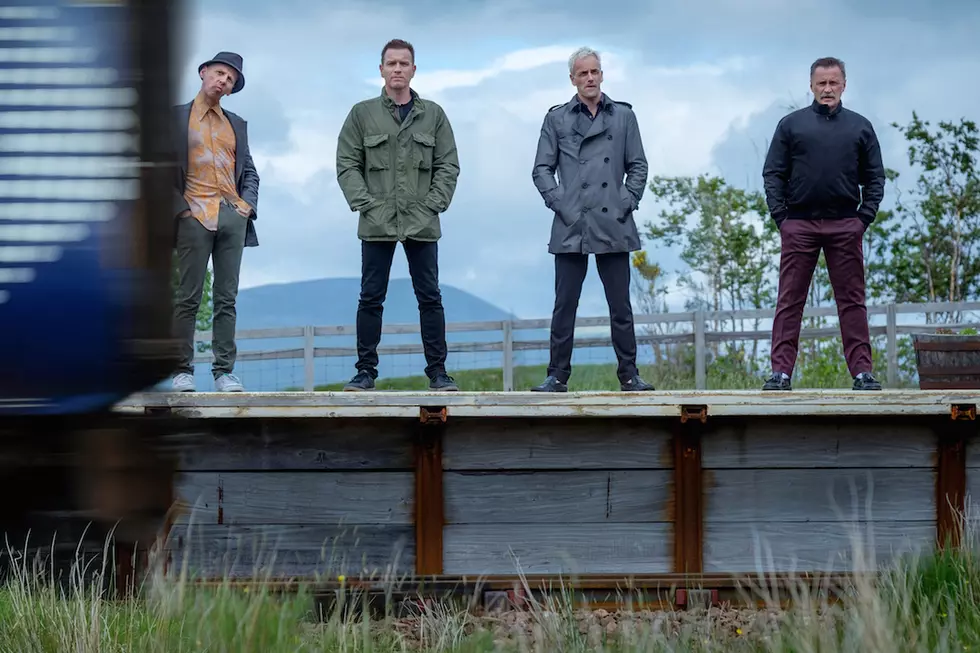 The 'T2: Trainspotting' Tracklist Will Bring You Back to the '90s Techno Heyday
Sony
One of the best parts of the original Trainspotting was the music: a snapshot of '90s alternative culture, techno beats cascade their way through the film's odd plot, providing a backdrop more vivid than any landmarks or street signs. The sequel hasn't forgotten about the original's electronic aesthetic, and has delivered a tracklist for their official soundtrack that is just as nostalgic for the end of the millennium as the film's main characters.
The tracklist features new music from Young Fathers, High Contrast, and Underworld, as well as ageless classics from Queen, Blondie, and Frankie Goes to Hollywood. The soundtrack also has two tracks from the original movie that have been remixed: Iggy Pop's "Lust for Life," remixed by The Prodigy, and Underworld's "Slow Slippy," a reworking of their original "Born Slippy."
01           Lust For Life  (The Prodigy Remix) - Iggy Pop
02           Shotgun Mouthwash - High Contrast
03           Silk - Wolf Alice
04           Get Up - Young Fathers
05           Relax - Frankie Goes To Hollywood
06           Eventually But - Underworld and Ewen Bremner
07           Only God Knows - Young Fathers
08           Dad's Best Friend - The Rubberbandits
09           Dreaming - Blondie
10           Radio Ga Ga - Queen
11           It's Like That - RUN-DMC vs. Jason Nevins
12           (White Man) In Hammersmith Palais - The Clash
13           Rain or Shine - Young Fathers
14           Whitest Boy on the Beach - Fat White Family
15           Slow Slippy - Underworld
Here's the film's official synopsis:
First there was an opportunity......then there was a betrayal. Twenty years have gone by. Much has changed but just as much remains the same. Mark Renton (Ewan McGregor) returns to the only place he can ever call home. They are waiting for him: Spud (Ewen Bremner), Sick Boy (Jonny Lee Miller), and Begbie (Robert Carlyle). Other old friends are waiting too: sorrow, loss, joy, vengeance, hatred, friendship, love, longing, fear, regret, diamorphine, self-destruction and mortal danger, they are all lined up to welcome him, ready to join the dance.
T2: Trainspotting hits theaters in the UK on January 27 and here in the US February 3.