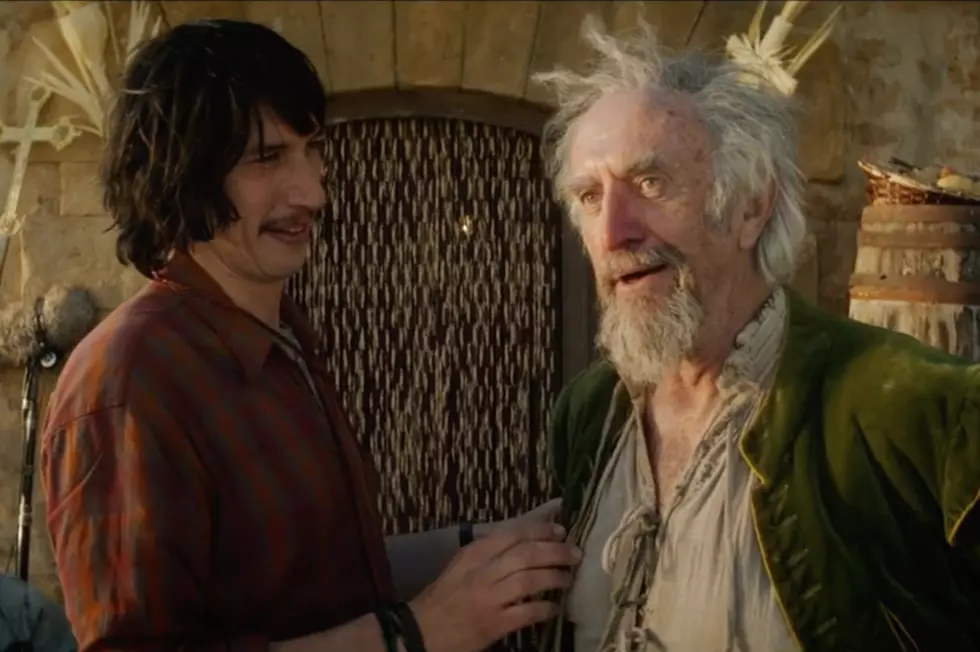 Terry Gilliam's Cursed 'Don Quixote' Reportedly Loses U.S. Distributor, Can Screen at Cannes
Amazon Studios
The project has been Gilliam's white whale for decades. His first unsuccessful attempt to make the film is chronicled in the 2002 documentary Lost in La Mancha. Gilliam spent the 2000s trying to remount the movie, about a man who is convinced he is Don Quixote, in between other projects. Then a few years ago he was able to get the project back off the ground, now with Jonathan Pryce and Adam Driver in the lead roles. This time, he actually finished production. He edited the movie. Amazon was going to release it! Then the curse struck.
It's been nothing but bad news for months for The Man Who Killed Don Quixote. An ongoing legal battle that still hasn't been resolved has left its future unclear. Then Gilliam was reportedly hospitalized for what some reports call a minor stroke. Now Variety says Amazon is "poised to pull out of distributing the film."
When unveiling Cannes' official lineup last week, Fremaux spoke about the film's legal troubles and suggested it could be added to the slate later. "This movie – as well as others – is in a conflict that's been brought to the courts," Fremaux said. Branco will be giving a presser at his company's booth inside the Cannes's Marché du Film this afternoon at 3 p.m. to comment on the decision of the High Court of Paris and the expected announcement of Amazon Studios's withdrawal.
What's next? Every existent print and DCP of the film spontaneously combusts at the same time? What deity did Terry Gilliam enrage and why do they not want people to see this movie? Did they shoot the film on a forgotten ancient burial ground? It's truly astonishing. I hope this tortured saga has a happy ending. At this point, though, I do not expect one.
At least there is one silver lining here: A French court ruled the film can go ahead with its premiere at Cannes later this week, over the protests of a man who claims he was a producer of the film. So The Man Who Shot Don Quixote will be seen by at least one audience. Whether anyone here ever gets to see it remains uncertain.