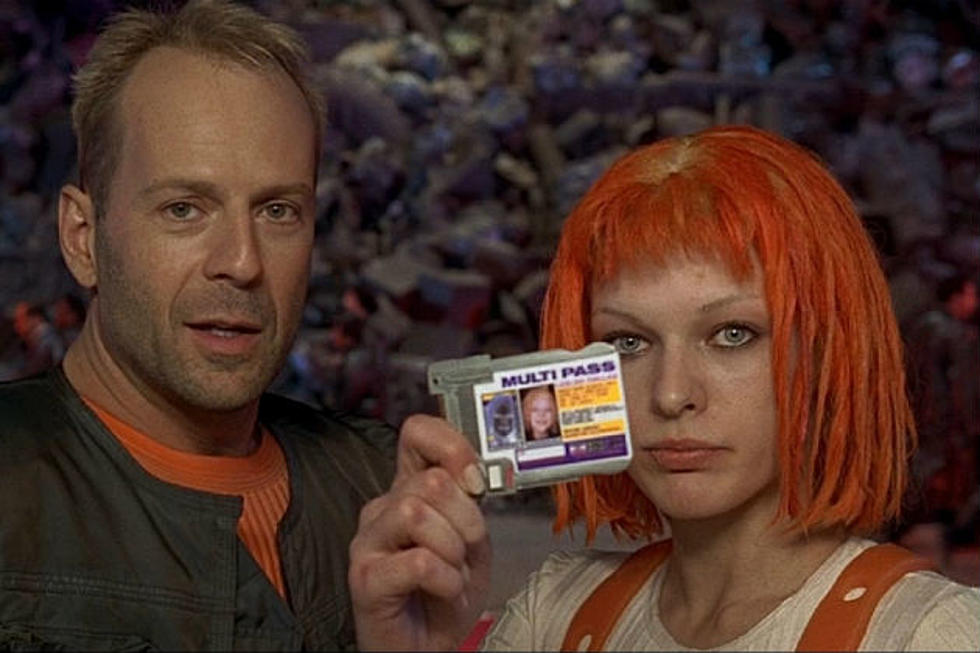 See the Cast of 'The Fifth Element' Then and Now
Columbia
Released in 1997, 'The Fifth Element' starred Bruce Willis as a cab driver and former special forces officer in the 23rd century who must help a mysterious woman that just so happens to be the key to saving the entire world from destruction. Directed by Luc Besson, who would go on to direct the 'Taken' films, the highly inventive futuristic sci-fi tale was a massive success upon release and is now regarded as a cult classic. Seventeen years later, we revisit the cast of the film and see what they're up to now.
Bruce Willis, Korben Dallas
Then: Luc Besson always had 'Die Hard' star Bruce Willis in mind for the role of cab driver and former special forces Major Korben Dallas in 'The Fifth Element' but was wary of how much Willis would cost to cast. When it came time to get production started, Willis approached Besson and told the director that they'd make it work, and the actor made a deal with the production team for a reduced salary to star in the film.
Now: Willis since appeared in such films as 'Armageddon,' 'The Sixth Sense,' 'Unbreakable,' 'Sin City,' 'The Expendables' and 'Red.' He's starred in a total of five 'Die Hard' films, including the recent 'A Good Day to Die Hard,' with a sixth 'Die Hard' film rumored. The A-list star had a busy couple of years, appearing in films like 'Moonrise Kingdom,' 'Looper,' 'The Expendables 2,' 'Red 2' and 'G.I. Joe: Retaliation.' He can be seen next reprising his role in 'Sin City: A Dame to Kill For,' though not in 'Expendables 3,' which caused a bit of a rift between him and Sylvester Stallone.
Milla Jovovich, Leeloo
Then: Milla Jovovich was chosen out of 200-300 actresses Besson met with for the role of Leeloo, one of five sacred elements (the other four are stones) needed to create a weapon capable of defeating a great evil that appears once every 1,000 years. Jovovich worked with Besson to invent the language Leeloo uses, and the pair fell in love while filming, causing Besson to leave his wife -- Besson and Jovovich were later married but divorced in 1999.
Now: Jovovich went on to appear in 'Resident Evil' and married the director of that film, Paul W.S. Anderson. She is the star of the 'Resident Evil' franchise, which contains five films, and she'll appear in the upcoming sixth film. She's also starred in the films 'Ultraviolet,' 'A Perfect Getaway' and 'The Fourth Kind,' and can be seen next in the upcoming film 'Cymbeline,' based on the William Shakespeare play.
Gary Oldman, Jean-Baptiste Emanuel Zorg
Then: Gary Oldman, who previously starred in Luc Besson's 'Leon: The Professional,' once again played a villain for Besson in 'The Fifth Element' as Jean-Baptiste Emanuel Zorg, a maniacal industrialist hired by an unseen "Great Evil" to acquire the five elements.
Now: Oldman went on to appear in 'Lost in Space' and 'Hannibal,' and had a memorable guest role on 'Friends' with his 'Lost in Space' co-star Matt LeBlanc. He played Sirius Black in the 'Harry Potter' films and Commissioner James Gordon in Christopher Nolan's 'Dark Knight' trilogy. He recently starred in the films 'Tinker Tailor Soldier Spy,' 'Lawless' and the new remake of 'RoboCop,' out this week. He can be seen next in 'Dawn of the Planet of the Apes' and 'Child 44.'
Ian Holm, Father Vito Cornelius
Then: Ian Holm, best known for roles in 'Alien' and 'Brazil,' played Father Vito Cornelius, a priest in an ancient order charged with guarding the five elements.
Now: Holm starred in the films 'A Life Less Ordinary,' 'eXistenZ,' 'From Hell,' 'Garden State' and 'The Aviator.' You probably recognize him best as Bilbo Baggins from Peter Jackson's 'The Lord of the Rings' trilogy. He guest starred on the HBO series 'In Treatment' and was the voice of Skinner in Pixar's 'Ratatouille,' but has been laying low in recent years. In 2013, he reprised the role of old Bilbo Baggins in 'The Hobbit: An Unexpected Journey.'
Chris Tucker, Ruby Rhod
Then: 'Friday' star Chris Tucker played Ruby Rhod, a flamboyant radio personality fond of androgynous dress. His radio station gives away tickets to a cruise where the other four elements will be hiding, and the government sets Korben up as the winner in order to get on board and stop Jean-Baptiste.
Now: Tucker went on to appear in the 'Rush Hour' trilogy with Jackie Chan, but his career stalled out after the third film was released in 2007. He returned to his stand-up comedy roots in 2011, and in 2012 he landed a role in David O. Russell's 'Silver Linings Playbook,' marking a bit of a career comeback, though he's not currently attached to any upcoming film or television projects.
Luke Perry, Billy Masterson
Then: 'Beverly Hills, 90210' star Luke Perry had a small role in the opening sequence of the film as Billy Masterson, a priest at the ancient temple with the five elements inside.
Now: Perry left '90210' in 1995, but reprised his role in 1998 until the series concluded in 2000. Since then, he's appeared in the films 'The Sandlot: Heading Home,' 'Redemption Road' and, more recently, 'Red Wing.' He had a recurring role on 'Oz' and starred on the short-lived series 'John From Cincinnati.' Recently he guest starred on 'Raising Hope,' 'Body of Proof' and 'Community.'
Maiwenn Le Besco, Diva Plavalaguna
Then: French actress Maiwenn Le Besco played Diva Plavalaguna, an alien opera singer who may or may not help Korben access the other four elements. Le Besco began a relationship with director Luc Besson at a young age and gave birth to their daughter when she was just 16. She previously had a small part in 'Leon: The Professional,' but all her other roles were in French films. During filming of 'The Fifth Element,' Besson fell in love with Milla Jovovich and left Le Besco for his lead actress.
Now: Le Besco (who goes by just her first name, Maiwenn) starred in the French horror film 'High Tension,' the first film directed by Alexandre Aja. She stayed in France and went on to direct, write and star in the films 'Pardonnez-moi,' 'Le bal des actrices' and, more recently, the dark French drama thriller 'Polisse,' which won the Jury Prize at the 2011 Cannes Film Festival.