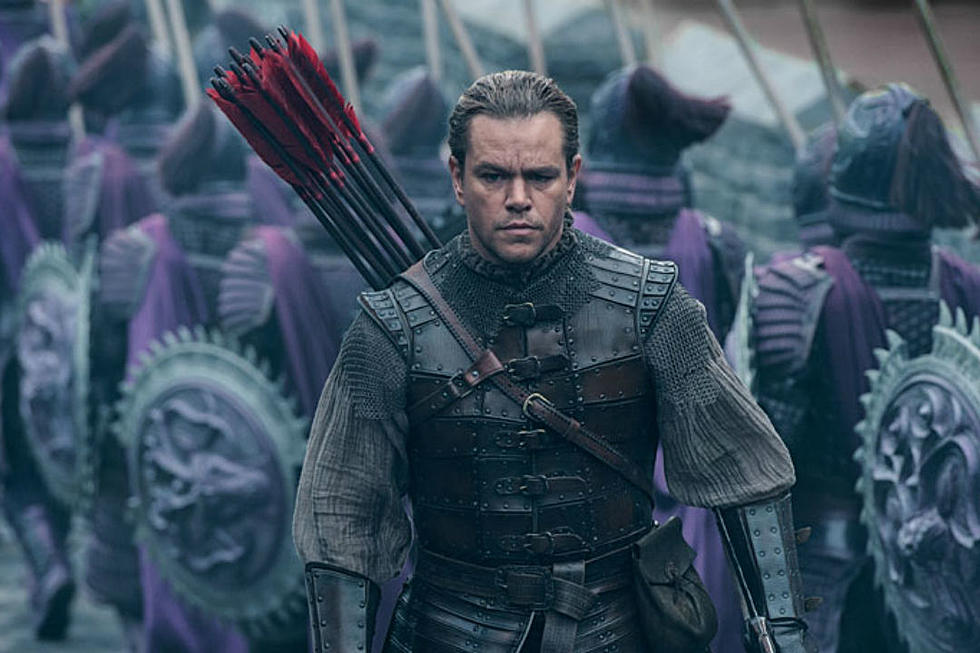 'The Great Wall' Review: Matt Damon Fights Monsters in Zhang Yimou's Big Budget Eyesore
Universal Pictures
The Great Wall has garnered controversy for its white savior narrative featuring Matt Damon saving an ancient Chinese dynasty from monsters. But the most offensive thing about The Great Wall isn't even its racial dynamics, or even Damon's painfully bad Irish (or is it Scottish?) accent; it's that Zhang Yimou, the acclaimed Chinese director behind beuatiful movies like Hero and House of Flying Daggers, has managed to make something this ugly.
Yimou, who also directed the 2008 Beijing Olympics' opening and closing ceremonies, is known for memorizing tableaus of medieval China, radiant color schemes, and transfixing use of slow-mo fight choreography. You don't have to enjoy Wuxia films to appreciate the stunning visuals. But The Great Wall is ruined by cheap-looking CG, shoddy 3D technology, and action sequences cluttered with dizzying close-ups. The $150 million American-Chinese co-production is the most expensive movie shot entirely in China, but when compared to Yimou's previous work – Hero was made for a fourth of that budget – it's hard to figure out where all that money went.
The Great Wall wastes no time assuring its audience that this story is pure fiction. Title cards introduce the tale as a legend, which feels like a direct response to the controversy that's plagued the film. (Earlier this year both Damon and Yimou defended the movie, emphasizing that it couldn't possibly whitewash history if that history never happened.) Still, it's hard to deny the fact that something feels very off about Damon's presence; why is this white guy in China in the first place and why is everyone so enamored with him? Damon's William and Pedro Pascal's Tovar are two mercenaries searching for a mythical weapon called black powder. They eventually wind up in the hands of the Nameless Order, a military group organized by the Imperial Court to prepare for the coming battle with the Tao Tei monsters. At first they're held as prisoners, but during the invasion they prove themselves trustworthy by slaughtering two creatures.
Damon's character is given little backstory, save for a brief scene where he tells Commander Lin (Jing Tian) about being an orphan raised by the military while showing off the scars on his muscly bod. Otherwise, it makes little sense why the Chinese military is so wowed by him. He carries a crappy bow and arrow that they laugh at, but shows off his skills by shooting a cup. Cool bro, but have you seen Zhang Ziyi play drums with her dress sleeves? And though the military has been preparing for this battle for 60 years, William swoops in last minute and saves them thanks to a giant stone in his bag. There are a few Chinese characters who get their own heroic moments, including Any Lau's Wang, Zhang Hanyu's General Shao, and Lu Han's Peng Yong, plus a small role from Chinese boy band star Wang Junkai. But most of the dialogue is reserved for Damon, Pascal, and Willem Dafoe's greedy Sir Ballard.
The Great Wall is part Hollywood monster movie, part YA-fantasy adaptation, and part action film. It's based on a story by World War Z author Max Brooks and The Last Samurai's Ed Zwick and Mark Herskovitz, with a screenplay by Tony Gilroy and two writers behind The Sorcerer's Apprentice and Prince of Persia. Add Damon, one of the biggest directors in China, and you've got yourself a marketable product movie. Yimou even admitted that The Great Wall follows a blockbuster formula with little of his own style. (After the film opened in China last December, he told a Singaporean newspaper that he made the most compromises of his career on this production.)
There are some minor traces of Yimou's aesthetic across the movie, namely his use of the Nameless Order's color-coded armor. The final battle scene finds William and Lin inside a stained-glass chapel drenched in rainbows of light, reminiscent of the colorful palace in Curse of the Golden Flower. And the most notable deviation from typical blockbusters is Tian's Lin and other female warriors, who are treated as respected members of the military alongside the men. But where many of Yimou's best action sequences are imbued with elegance and tranquility, The Great Wall's action is passionless and laughable, with 3D arrows aggressively flying at your face and one scene where giant scissors pop out of the wall to slice up the monsters. 
The Great Wall could have been an opportunity to tell a story of heroic victory on a larger scale – just imagine what Yimou could do with a budget this large when free of studio interference. Instead, what we're left with is a 103-minute eyesore full of awkward dialogue and a finale that mimics acclaimed Hollywood masterpiece Independence Day: Resurgence. You can try to enjoy The Great Wall as a delightfully crappy blockbuster, but when you remember this is a Zhang Yimou film, it's just a disappointment.