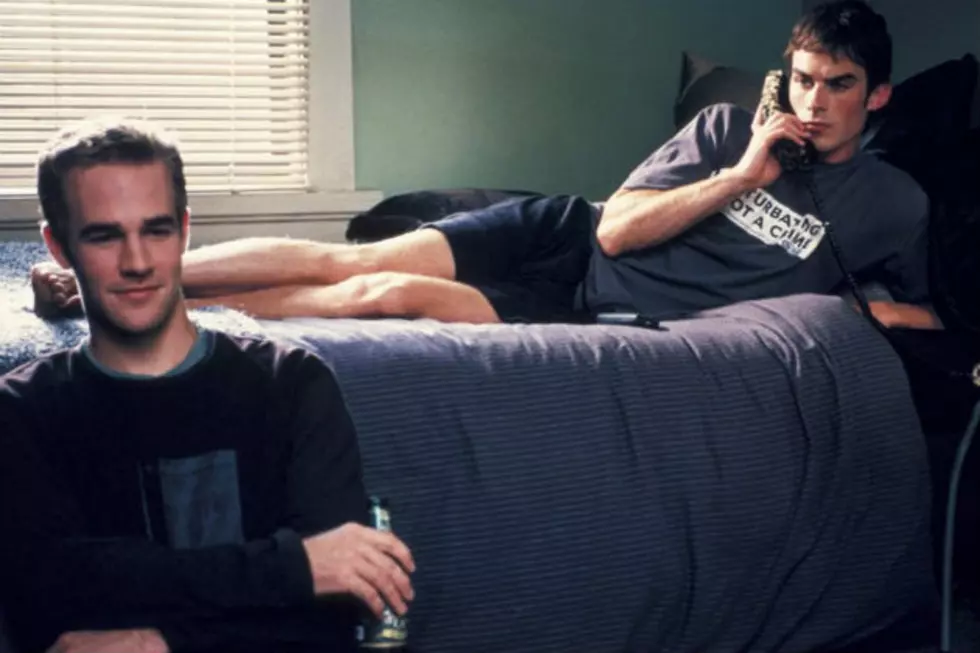 See the Cast of 'The Rules of Attraction' Then and Now
Lionsgate
Released in 2002 and based on the book of the same name by Bret Easton Ellis, 'The Rules of Attraction' featured an ensemble cast including hot young stars like James van der Beek and Jessica Biel in an interweaving, darkly comedic series of narratives set at a New Hampshire college. Van der Beek's character, Sean Bateman, was the younger brother of Patrick Bateman, the lead character from Ellis' 'American Psycho,' immortalized on screen by Christian Bale just a couple of years prior. While 'The Rules of Attraction' wasn't the hit that 'American Psycho' was with audiences, the film went on to quickly gain cult status. 12 years later, we revisit the cast and see what they're up to now. 
James van der Beek, Sean Bateman
Then: James van der Beek, best known for playing the lead role on the hit WB series 'Dawson's Creek,' was looking to move away from his teen icon image -- he played the dark role of Sean Bateman, a drug dealer who has a crush on his classmate, Lauren. Sean is actually the younger brother of Patrick Bateman, the lead character from Bret Easton Ellis' 'American Psycho.'
Now: 'Dawson's Creek' ended in 2003, and while Van der Beek appeared in a handful of minor films, he continued to show up on TV, guest-starring on 'Criminal Minds,' 'Ugly Betty,' 'How I Met Your Mother,' 'One Tree Hill,' and 'Medium.' He had a bit of a career resurgence in recent years, co-starring on the unfortunately short-lived but delightful sitcom 'Don't Trust the B---- in Apt. 23,' and guest-starring on 'Franklin and Bash.' He recently had a small, supporting role in Jason Reitman's 'Labor Day,' and currently stars on the new CBS sitcom 'Friends with Better Lives.'
Shannyn Sossamon, Lauren Hynde
Then: Shannyn Sossamon played Lauren Hynde, a virgin who wants to save herself for her ex-boyfriend Victor when he returns from his trip through Europe, though she eventually develops feelings for Sean. Sossamon had previously gained notice for her roles in 'A Knight's Tale' and '40 Days and 40 Nights.'
Now: Since then, Sossamon has appeared in 'The Order,' 'Kiss Kiss Bang Bang,' 'The Holiday,' 'One Missed Call,' and 'Our Family Wedding.' In 2010, she starred in 'Road to Nowhere,' the first film that had been made by director Monte Hellman in 21 years. She had a recurring role on the HBO series 'How to Make It in America,' and more recently on the series 'Mistresses.' She's also lent her voice to the video game Hitman: Absolution, and appeared in the indie drama 'The End of Love,' written, directed by and starring Mark Webber.
Ian Somerhalder, Paul Denton
Then: Ian Somerhalder was a relative newcomer when he was cast as Paul Denton, Lauren's gay ex-boyfriend who has a crush on Sean. Somerhalder's previous credits included roles on the short-lived series 'Young Americans' and in the film 'Life as a House.'
Now: In 2004, Somerhalder became a household name with his role as Boone on the hit ABC series 'LOST,' appearing in 28 episodes over the course of the series' entire run. He's also appeared in the films 'In Enemy Hands' and 'Pulse,' but he's best known for his work on television, with recurring roles on 'Smallville' and 'Tell Me You Love Me,' and his starring role on the hit CW series 'The Vampire Diaries.'
Jessica Biel, Lara Holleran
Then: Like Van der Beek, Jessica Biel was also looking to shed her TV teen idol image -- best known for her role on the WB's '7th Heaven,' Biel played Lara Holleran, Lauren's promiscuous roommate with a proclivity for cocaine, which is about as far from '7th Heaven' as you can get.
Now: Biel went on to star in films like the 'Texas Chainsaw Massacre' remake, 'Blade: Trinity,' Elizabethtown,' 'Stealth,' 'I Now Pronounce You Chuck and Larry,' and 'The A-Team.' She's recently appeared in the films 'Total Recall' and 'Hitchcock,' as well as the horror flicks 'The Tall Man' and 'The Truth About Emanuel.' Biel has been married to pop icon Justin Timberlake since 2012, and she can be seen next in the thriller 'Nailed' with Jake Gyllenhaal.
Kip Pardue, Victor Johnson
Then: Kip Pardue played Victor, Lauren's promiscuous and globe-trotting ex-boyfriend. Pardue had previously appeared in the films 'But I'm a Cheerleader' and 'Whatever It Takes.'
Now: Pardue went on to star in the indies 'Thirteen,' 'The Heart Is Deceitful Above All Things,' and 'Loggerheads.' After appearing on shows like 'ER' and 'House,' Pardue starred in horror flicks like the 'Wizard of Gore' remake, 'Stag Night,' and 'Hostel: Part III.' More recently, he guest-starred on an episode of 'Mad Men,' and appeared in the B-movies 'Missionary' and 'Slightly Single in L.A.'
Clifton Collins Jr., Rupert Guest
Then: Clifton Collins Jr., best known for his roles in 'Dead Presidents' and 'Traffic,' played Rupert Guest, an excitable drug dealer to whom Sean owes a lot of money.
Now: You've probably seen Collins Jr. in movies like 'Capote,' 'Sunshine Cleaning,' 'Star Trek,' 'Extract,' and 'Scott Pilgrim vs. the World,' in which he had a cameo alongside Thomas Jane. He's guest-starred on 'The Shield' and 'Southland,' and starred on the short-lived series 'The Event.' More recently, he's had supporting roles in the sci-fi blockbusters 'Pacific Rim' and 'Transcendence,' and guest-starred on the hit NBC series 'The Blacklist.'
Thomas Ian Nicholas, Mitchell Allen
Then: Former child star Thomas Ian Nicholas played Mitchell Allen, one of Victor's annoying friends. Nicholas was also well-known for his role as Kevin in the 'American Pie' films.
Now: Nicholas guest-starred on episodes of 'Medium' and 'Grey's Anatomy,' and appeared in the films 'Stealing Sinatra' and 'National Lampoon's Cattle Call.' While he didn't appear in 'American Wedding,' he did reprise the role of Kevin in 2012 for 'American Reunion,' the fourth 'American Pie' film. Up next, he'll play a young Walt Disney in the film 'Walt Before Disney,' which chronicles Disney's earlier years.
Fred Savage, Marc
Then: Former 'Wonder Years' star Fred Savage played Marc, a heroin addict who owes Sean money for drugs. Savage was also known for his childhood roles in 'Little Monsters' and 'The Wizard.'
Now: Savage also appeared in the films 'Austin Powers in Goldmember' and 'Welcome to Mooseport,' and has guest-starred on the shows 'Law and Order: SVU,' 'Mr. Sunshine,' and 'Happy Endings.' These days, Savage is content to work behind the camera: he directed the film 'Daddy Day Camp,' as well as episodes of 'It's Always Sunny in Philadelphia' (which he also produces), 'Happy Endings,' '2 Broke Girls,' and 'Modern Family.' He was also a producer on and directed several episodes of the short-lived Starz series 'Party Down.'
Kate Bosworth, Kelly
Then: A then up and coming actress, Kate Bosworth played the supporting role of Kelly, a girl Sean sleeps with early on in the film. Bosworth also starred in the surf film 'Blue Crush,' released that same year, and had previously had a background role in a couple of episodes of '7th Heaven' with Jessica Biel.
Now: Bosworth went on to star in 'Wonderland,' 'Superman Returns,' '21,' and the remake of 'Straw Dogs.' More recently, she's increased her acting pace, appearing in 'Black Rock,' 'Big Sur,' 'Homefront,' and 'Movie 43.' Up next, she'll appear in the drama 'Still Alice' with Kristen Stewart, as well as the thrillers 'Unconscious' and 'Somnia.'
Jay Baruchel, Harry
Then: Jay Baruchel, who starred on Judd Apatow's short-lived TV series 'Undeclared,' played Harry, a French exchange student and friend of Paul's.
Now: Baruchel also appeared in Apatow's 'Knocked Up,' and went on to star in 'Tropic Thunder,' 'Nick and Norah's Infinite Playlist,' 'She's Out of My League,' and 'The Sorcerer's Apprentice.' He also lent his voice to the animated film 'How to Train Your Dragon,' and will reprise the role for the upcoming sequel. Recently he's starred in 'This Is the End' and 'RoboCop.'