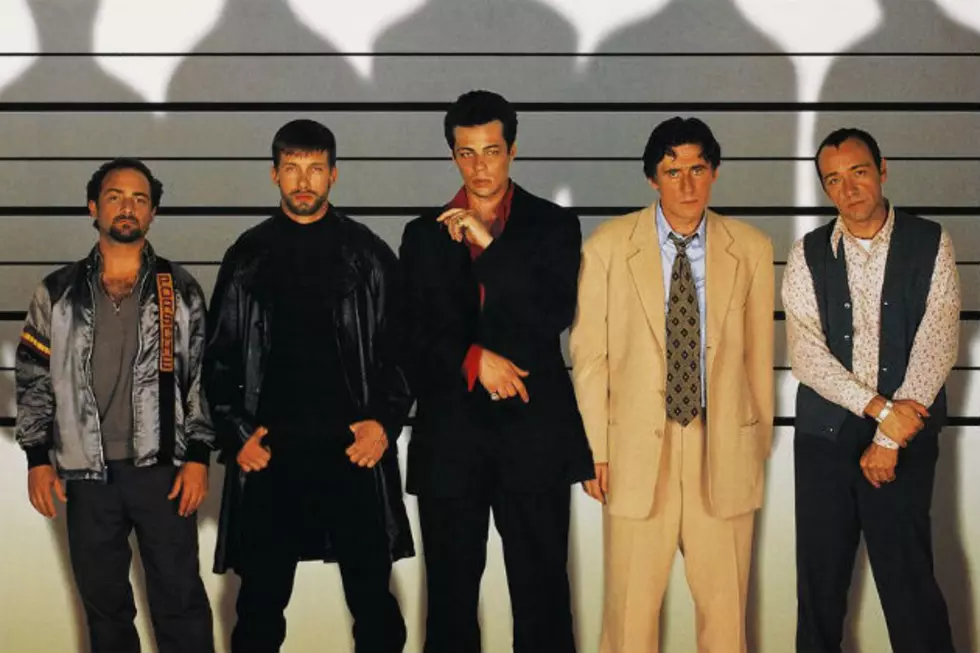 See the Cast of 'The Usual Suspects' Then and Now
MGM
Released in 1995, 'The Usual Suspects' follows a police investigation of a massacre on a boat and the quest to find a mysterious and near-mythical mob figure known as Keyser Soze. Directed by Bryan Singer (known now for his work on the 'X-Men' films) and scripted by Christopher McQuarrie (Singer's frequent collaborator, who would also work on the Tom Cruise projects 'Valkyrie' and 'Jack Reacher'), 'The Usual Suspects' has been heralded as one of the greatest contemporary crime films. 19 years later, we take a look back at the cast of the film and see what they're up to now. 
Gabriel Byrne, Dean Keaton
Then: Gabriel Byrne played Dean Keaton, a corrupt former cop who has supposedly given up the criminal lifestyle and was left for dead aboard the boat during the massacre ordered by Keyser Soze. Kevin Spacey met Gabriel Byrne at a party and suggested he star in the film.
Now: Byrne has also appeared in the films 'Polish Wedding,' 'The Man in the Iron Mask,' 'End of Days,' 'Stigmata,' and 'Vanity Fair.' From 2008 to 2010, he starred on the HBO series 'In Treatment,' for which he won a Golden Globe and earned an Emmy nomination for his performance. More recently he's appeared in the series 'Secret State' and 'Vikings,' and can be seen next in 'Vampire Academy: Blood Sisters.'
Kevin Spacey, Roger "Verbal" Kint
Then: Kevin Spacey played Roger "Verbal" Kint, a con artist with cerebral palsy and one of the only survivors of the massacre; he demands immunity for his cooperation in the investigation. The part was written specifically for Spacey, who had previously appeared in 'Glengarry Glen Ross,' and who starred in 'Seven' that same year.
Now: Spacey's selected film credits also include 'American Beauty' (which won him the Oscar for Best Actor), 'Pay It Forward,' and 'Beyond the Sea.' In 2006 he reunited with Bryan Singer to play the villainous Lex Luthor in 'Superman Returns,' and has recently appeared in the films 'Margin Call' and 'Horrible Bosses.' He served as an executive producer on the critically acclaimed Tom Hanks film 'Captain Phillips,' and he currently stars on the Netflix series 'House of Cards,' which is now entering its second season.
Chazz Palminteri, Agent Dave Kujan
Then: Chazz Palminteri played Dave Kujan, a U.S. Special Customs Agent investigating the case. Kujan was written with Palminteri in mind, but the actor was unavailable at the time. The role was then offered to Christopher Walken and Robert De Niro, who both turned it down. Al Pacino auditioned for the part, but ultimately turned it down due to his role in 'Heat.' Eventually, Palminteri became available (of course).
Now: Palminteri has since appeared in the films 'Jade,' 'Diabolique,' 'Analyze This,' and 'A Guide to Recognizing Your Saints.' He's had guest-starring roles on 'Rizzoli and Isles,' 'Blue Bloods,' and 'Modern Family,' and has recently appeared in the films 'Paul' and 'The Oogieloves in the Big Balloon Adventure.' You can see him next alongside John Travolta in 'Gotti: In the Shadow of My Father.'
Stephen Baldwin, Michael McManus
Then: Stephen Baldwin played Michael McManus, a professional thief. Baldwin, the younger brother of fellow actors Alec, Daniel, and William Baldwin, was frustrated with the roles he was getting in indie films, and met with Bryan Singer directly to vent his anger.
Now: Baldwin is also known for roles in 'Bio-Dome,' 'Friends and Lovers,' 'The Flintstones in Viva Rock Vegas,' and 'The Flyboys.' He's appeared on the reality shows 'The Celebrity Apprentice,' 'I'm a Celebrity ... Get Me Out of Here,' and the UK's 'Celebrity Big Brother.' More recently, you may have seen him in the film 'I'm in Love with a Church Girl.'
Kevin Pollak, Todd Hockney
Then: Kevin Pollak, known for roles in 'A Few Good Men' and 'Grumpy Old Men,' played Todd Hockney, a hijacker.
Now: Pollak's diverse resume includes the films 'Casino,' 'That Thing You Do,' 'She's All That,' 'End of Days' (with 'Usual Suspects' co-star Gabriel Byrne), and '3000 Miles to Graceland.' More recently, you may have seen him in the films 'The Big Year,' 'Geezers,' and 'The Magic of Belle Isle.' He also recently guest-starred on the sitcom 'Men at Work.' Pollak is also the host of various podcasts, including 'Kevin Pollak's Chat Show.'
Benicio del Toro, Fred Fenster
Then: Benicio del Toro, who previously appeared in 'Big Top Pee-wee' and 'Swimming with Sharks,' played Freddy Fenster, McManus' partner. Del Toro was suggested by Spacey for the part in the film.
Now: Del Toro is known for roles in 'Fear and Loathing in Las Vegas,' 'Traffic,' 'Snatch,' '21 Grams,' 'Sin City,' and 'Che.' In 2010, he made a cameo in Sofia Coppola's 'Somewhere' as himself, and since then he's appeared in 'The Wolfman,' 'Savages,' and 'Jimmy P.' He also had an uncredited cameo in the end credits of 'Thor: The Dark World,' in which he previewed his character -- The Collector -- from the upcoming Marvel film 'The Guardians of the Galaxy.' Del Toro also stars in the upcoming Paul Thomas Anderson film 'Inherent Vice' with Joaquin Phoenix.
Pete Postlethwaite, Mr. Kobayashi
Then: Pete Postlethwaite played Mr. Kobayashi, Keyser Soze's lawyer and right-hand man. He was known for roles in 'Alien 3' and 'In the Name of the Father.'
Now: Postlethwaite passed away in 2011 at the age of 64, but he leaves us with an incredible legacy that includes memorable roles in films such as Baz Luhrmann's 'Romeo and Juliet,' 'Amistad,' 'The Shipping News,' 'Inception,' and 'The Town.' His final role was in the 2011 British-Irish comedy 'Killing Bono.'
Giancarlo Esposito, Agent Jack Baer
Then: Giancarlo Esposito played FBI Special Agent Jack Baer, who is investigating the case of the boat explosion on the pier. Esposito was then known for roles in the Spike Lee films 'Do the Right Thing' and 'Malcolm X.'
Now: We all know Esposito best as Gustavo "Gus" Fring, the meth kingpin and owner of Los Pollos Hermanos on 'Breaking Bad.' But his quirky resume is also filled with films like 'Monkeybone,' 'Sherrybaby,' 'Carlito's Way: Rise to Power,' 'The Box,' 'Rabbit Hole,' and more recently, 'Alex Cross.' He has a recurring role on the series 'Once Upon a Time,' and has guest-starred on 'Community.' Currently, he stars on the NBC series 'Revolution,' and will voice Ra's al Ghul in the upcoming animated film 'Son of Batman.'