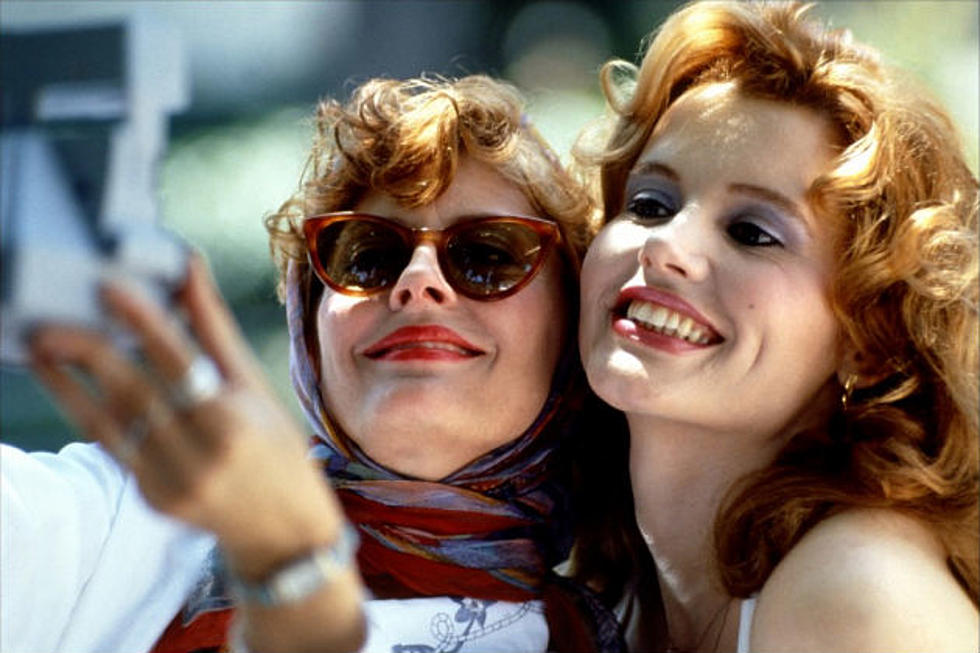 See the Cast of 'Thelma and Louise' Then and Now
MGM
Released in 1991 and directed by Ridley Scott, 'Thelma and Louise' starred Geena Davis as housewife Thelma, convinced by the headstrong Louise (Susan Sarandon) to go on a fun road trip that quickly devolves into a nightmare for the two women, turning them into fugitives from the law. The film was a commercial and critical success, was nominated for six Academy Awards -- including Best Actress for both Davis and Sarandon -- and won the Oscar for Best Screenplay. Twenty-three years later, we take a look back at the cast of the film and see what they're up to these days. 
Susan Sarandon, Louise Elizabeth Sawyer
Then: Susan Sarandon played Louise Sawyer, a headstrong waitress with a mysterious past who invites Thelma on a two-day vacation that goes awry. Sarandon was previously known for roles in 'The Witches of Eastwick' and 'Bull Durham.'
Now: Sarandon went on to appear in 'The Client,' 'Little Women,' 'Stepmom,' 'Elizabethtown,' 'Enchanted,' 'Speed Racer' and 'The Lovely Bones.' She recently guest starred on '30 Rock,' 'Louie' and 'Mike and Molly,' and had a recurring role on 'The Big C.' More recently, she appeared in the films 'That's My Boy,' 'Cloud Atlas' and 'The Big Wedding,' and she can be seen next alongside Melissa McCarthy in 'Tammy.'
Geena Davis, Thelma Yvonne Dickinson
Then: Geena Davis played the role of Thelma, a passive and put-upon housewife who lives under the rule of her controlling husband, Darryl, so she agrees to let loose for a vacation with Louise. Davis was known for roles in 'The Fly' and 'Beetlejuice.'
Now: Davis has since appeared in films like 'A League of Their Own,' 'Speechless,' 'The Long Kiss Goodnight' and the 'Stuart Little' films. She starred on the short-lived shows 'The Geena Davis Show' and 'Commander in Chief,' and more recently guest starred on a couple of episodes of the A&E miniseries 'Coma.' Davis also had a small role in the indie film 'In a World...' in 2013. Since 2007, she has been the head of the Geena Davis Institute on Gender in Media, which tracks the presence of female characters in media aimed at children and works with the entertainment industry to increase the amount of characters in that programming.
Harvey Keitel, Detective Hal Slocumb
Then: Harvey Keitel, star of classic Martin Scorsese films like 'Mean Streets' and 'Taxi Driver,' played Detective Hal Slocumb, who is tracking the women after they kill a man for attempting to assault Thelma.
Now: Keitel's lengthy resume includes roles in films like 'Reservoir Dogs,' 'Pulp Fiction,' 'From Dusk Till Dawn' and 'Little Nicky.' In 2012, he appeared in the Wes Anderson film 'Moonrise Kingdom,' and this month he can be seen in Anderson's new film 'The Grand Budapest Hotel.' He also appears in the upcoming films 'God Only Knows' and 'Two Men in Town.'
Michael Madsen, Jimmy Lennox
Then: Michael Madsen played Jimmy Lennox, Louise's boyfriend who sends her life savings to her and then visits her in Texas when he realizes she's taking off for good. Madsen was still a relative newcomer who also appeared in Oliver Stone's 'The Doors.'
Now: Madsen went on to appear with Harvey Keitel again in Quentin Tarantino's 'Reservoir Dogs,' and also starred in 'Wyatt Earp,' 'Species,' 'Donnie Brasco' and reunited with Tarantino for the 'Kill Bill' films. More recently, he starred in 'The Killing Jar,' 'Piranhaconda' and 'I'm in Love with a Church Girl.' In 2012, he appeared on the UK edition of 'Celebrity Big Brother,' and he recently guest starred on 'The Mob Doctor' and 'Hawaii Five-0.'
Christopher McDonald, Darryl Dickinson
Then: Christopher McDonald played Darryl Dickinson, Thelma's controlling jerk of a husband. McDonald previously starred in 'Grease 2' and 'Breakin',' but had yet to really establish himself as an actor.
Now: McDonald has since established quite the resume, and appeared in films like 'Quiz Show,' 'Happy Gilmore' (in which he memorably played Adam Sandler's rival), 'The Faculty,' 'Requiem for a Dream' and 'The House Bunny.' He had recurring roles on 'The Sopranos' and 'Boardwalk Empire,' and recently appeared in episodes of 'Body of Proof' and 'Kirstie.' He also recently starred in the films 'The Collection,' 'Not Fade Away' and 'About Last Night.'
Brad Pitt, J.D.
Then: Brad Pitt was a then-unknown actor when he landed the role of a drifter named J.D., whom Thelma and Louise pick up. Thelma sleeps with him before he takes off with Louise's life savings. Back then, another unknown actor by the name of George Clooney also tried out for the role of J.D. Clooney, and Pitt would eventually become friends with and star with Clooney in the 'Ocean's Eleven' trilogy.
Now: Pitt has become a major A-list star, of course. Since then he's made his mark with starring roles in films like 'Seven,' 'Fight Club,' the aforementioned 'Ocean's' trilogy, 'Inglourious Basterds' and 'Mr. and Mrs. Smith,' where he met his partner Angelina Jolie, with whom he shares several children, both natural and adopted. More recently, he appeared in the films 'World War Z' and 'The Counselor,' and he appeared in and produced '12 Years a Slave,' for which he, along with his co-producers, received an Academy Award for Best Picture. He can be seen next in the David Ayer World War II film 'Fury.'