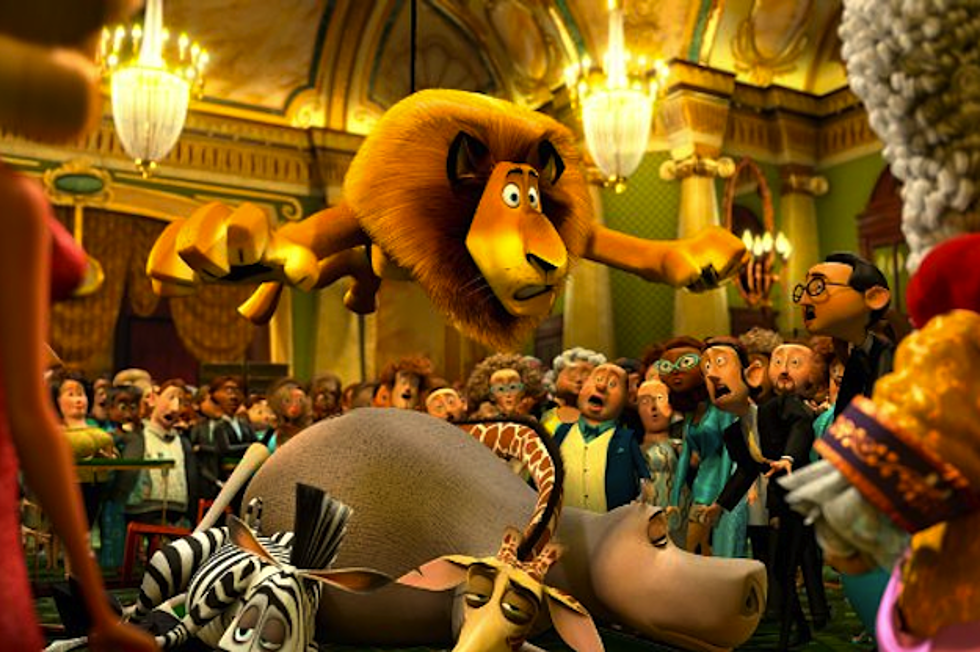 Weekend Box Office Report: 'Madagascar 3′ and 'Prometheus' Remain Supreme
For those of us who follow the box office, this weekend was a case of deja vu. Once again, 'Madagascar 3: Europe's Most Wanted' headlined the top ten and once again, 'Prometheus' snatched the number two spot. Both films managed to keep their momentum despite the opening of two new releases starring two of the biggest movie stars in the world. That's good news if you're 'Madagascar 3' or 'Prometheus,' but pretty bad news if you're Tom Cruise or Adam Sandler.
1. Madagascar 3: Europe's Most Wanted: $35,500,000 ($120,451,000)
2. Prometheus: $20,200,000 ($88,858,000)
3. Rock of Ages: $15,060,000 ($15,060,000)
4. Snow White and the Huntsman: $13,805,000 ($122,602,000)
5. That's My Boy: $13,000,000 ($13,000,000)
6. Men in Black 3: $10,000,000 ($152,679,000)
7. The Avengers: $8,848,000 ($586,737,000)
8. The Best Exotic Marigold Hotel: $2,200,000 ($35,133,000)
9. Moonrise Kingdom: $2,181,000 ($6,779,000)
10. What to Expect When you're Expecting: $1,330,000 ($38,766,000)
In its second weekend, the third (and given these numbers, certainly not final) 'Madagascar' film took in $35 million, bringing its current total to $120 million. If you take its weekday grosses into account, the film has already doubled its $60 million opening in its second week, once again proving that family films (particularly those with hip talking animals) don't follow the usual box office rules, which dictate that a movie only makes the good money on weekends. Expect 'Madagascar 3' to play through July, where it will most likely outgross its predecessors.
The second week for 'Prometheus' isn't quite as impressive (namely because it took a massive 72% drop from last weekend), but with $88 million already in the bank and a probable final gross somewhere in the neighborhood of $150 million, Fox is breathing a sigh of relief. They gambled big with an R-rated quasi-prequel to a series that has lost its luster in recent years and their gamble has paid off. The domestic gross won't blow anyone's minds, but the international and DVD numbers will allow everyone to label 'Prometheus' as a minor success.
And here is where things get a little nasty. Adam Shankman's adaptation of the Broadway Musical 'Rock of Ages' tanked, opening at number three with $15 million. You can blame the lousy marketing (which made the movie look like a true endurance test), you can blame the public's lack of interest in movie musicals (although Shankman's screen version of the musical 'Hairspray' grossed over $100 million a few years back) or you can blame the moviegoing public not being ready to accept Tom Cruise as an '80s rock star (but he's actually the best part of the movie!). The press will be ready to declare Cruise's caree dead or dying, but they have short memories. Remember how 'Mission: Impossible - Ghost Protocol' made over $200 million last year? Yeah, Cruise will be fine. Shankman is the one who's going to have to worry a bit.
Fairing even worse than Cruise is the usually reliable Adam Sandler, whose 'That's My Boy' opened to $13 million, placing it in the number five spot (behind 'Snow White and the Huntsman,' which has been out for three weeks). Sandler comedies generally tend to open in the $30-45 million range (and often go on to break the $100 million mark) despite not being very good. Are audiences wising up? Are they finally realizing that this is the monster that has inflicted 'Jack and Jill,' 'Grown Ups' and 'Just Go With It' upon them? Nah, this is a freak occurrence. Expect 'Grown Ups 2' to make a boatload of money of money next year. Sandler will be fine, but Andy Samberg, his co-star and recent 'Saturday Night Live' graduate? Yeah, he'll have to worry a bit.
The rest of the top ten is business as usual. Let's start from the bottom, shall we?
'The Dictator' and 'Battleship have officially departed, leaving 'What to Expect When You're Expecting' as the sole massive underachiever clinging to a position here. Its placement in the number ten spot with $1.3 million doesn't mean much of anything, so expect it to have vanished off the face of the planet by next week. Right above it is Wes Anderson's 'Moonrise Kingdom,' which climbed a spot and took in just over $2 million for a total gross of $6.7 million. Not bad for a tiny indie directed by an eclectic filmmaker. Not bad at all.
In the number seven spot sits the current champion of the year, 'The Avengers.' With $8 million more in the bank and a gross of $586 million, the epic superhero team movie will most likely pass the $600 million mark by next week, making it the second highest grossing film in domestic history. Sure, it won't top 'Avatar,' but who can possibly complain about these numbers? Right above it in the number six spot, 'Men in Black 3' continued to do solid if unremarkable business, taking in $10 million for a total of $152 million. Deep down, Sony wishes this film would cross the $200 million mark, but it won't. Will Smith's grand return is not a blockbuster...it's purely acceptable. However, for a film with such a troubled history, things could have been far, far worse.
Which takes us to a film with a future that remains very much up in the air. What do we make of 'Snow White and the Huntsman'? It opened strong, that $122 million looks nice and Universal is already prepping a sequel, but is it really a hit? It's going to need another $80 million or so to break even before advertising costs. Will Universal be happy with a gross around $160-170 million? Do they see this first film as an investment to get a (hopefully more profitable) trilogy off the ground? Time will tell.
Next weekend will be a crowded one, offering a little something for everyone. For the thrill-seeking history buff, there's 'Abraham Lincoln: Vampire Hunter.' For families and Pixar fans (i.e., everyone with taste), there's 'Brave.' For the hopeless romantics with a thing for the apocalypse, there's 'Seeking a Friend For the End of the World.'