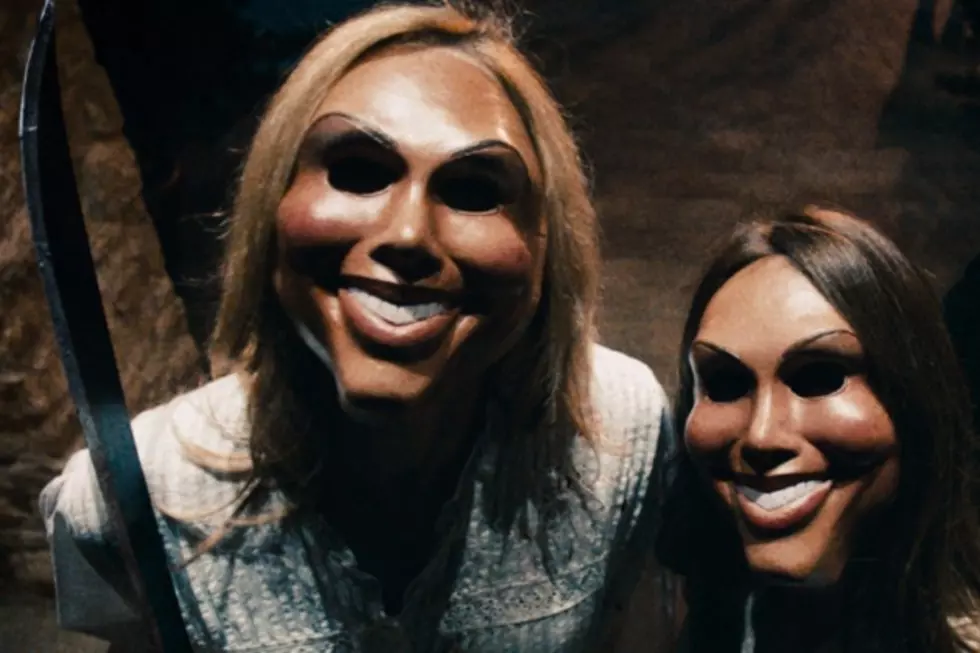 Weekend Box Office Report: 'The Purge' Wipes Out 'The Internship'
Universal
For the second week in a row, a David has taken down a Goliath. Last week, a little magician thriller handily derailed a Will Smith juggernaut and this week, the tiny horror film 'The Purge' took 'The Internship' down a peg or a dozen. We're one month in and this summer movie season has already given us plenty of surprises at the box office.
Film
Weekend
Per Screen
1
The Purge
$36,379,000
$14,345
$36,379,000
2
Fast and Furious 6
$19,760,000 (-43.8)
$5,240
$202,946,000
3
Now You See Me
$19,500,000 (-33.6)
$6,457
$61,374,000
4
The Internship
$18,100,000
$5,377
$18,100,000
5
Epic
$12,100,000 (-27.2)

$3,367
$84,155,000
6
Star Trek Into Darkness
$11,700,000 (-30.3)
$3,712
$200,140,000
7
After Earth
$11,200,000 (-59.3)
$3,293
$46,592,000
8
The Hangover Part 3
$7,380,000 (-55.0)
$2,276
$102,374,000
9
Iron Man 3
$5,787,000 (-31.5)
$2,462
$394,316,000
10
The Great Gatsby
$4,230,000 (-35.1)
$1,958
$136,175,000
That $36 million opening for 'The Purge' is impressive on its own, but it's even more impressive when you consider the details. First of all, it's a horror movie opening in the middle of blockbuster season, which means it had a lot of competition from superheroes and action stars. Second, it's R-rated, which severely limits the number of people who were able to see it. Finally, it only cost $3 million, which means that a modest opening would have been a huge victory. So, $36 million? That's huge. That enormous. That's proof that a properly marketed R-rated horror film can open big in the same month as a Superman movie. That's impressive stuff.
'The Purge' bumped 'Fast and Furious 6' out of the number one spot, but the well-liked action flick has nothing to be worried about. With a weekend total of $19 million and a current gross of $202 million, it's already one of the biggest hits of the year and will become the highest grossing film in the franchise by next week. Audiences love this series and the buzz has been almost unanimously positive, so it may even have a shot at $250 million at this rate.
In third place, 'Now You See Me' continued to exceed expectations, grossing $19 million (taking only a small drop from last week) for a $61 million total. At this rate, $100 million is looking likely and the project should start turning a profit by sometime next week. Not bad. Not bad at all. However, 'Now You See Me' isn't the only sleeper hit on this top ten, but we'll get to that momentarily.
And now we come to the other big release of the week, 'The Internship,' which stumbled into fourth place with a disappointing $18 million. That's not necessarily a bad opening for a not-too-expensive comedy, but it's a far cry from the enormous numbers that greeted 'Wedding Crashes' eight years ago. Would this Vince Vaughn/Owen Wilson vehicle have opened bigger if it came out years ago, capitalizing on their previous hit together? Probably. This is a case of a duo that just took way too long to get back in the saddle. It'll probably be profitable at the end of the day, but no one's getting a champagne gift basket.
That brings us to the fifth spot and the other sleeper hit of the summer, 'Epic.' With no other kids' fare around, the film has grossed $84 million and shows no signs of slowing down quite yet. Considering the minuscule drop the animated adventure took this weekend, it appears that audiences (or at least kids) are really responding to this one. $100 million is a certainty.
In sixth place, 'Star Trek Into Darkness' kept on trucking, passing the $200 million mark. Not bad, but certainly not the smash Paramount was hoping for. Still, it has the good fortune of not being 'After Earth,' which plummeted to seventh place with $11 million and a $46 million gross, putting it on track to be the rare Will Smith bomb.
In the final few spots, 'The Hangover Part 3' scraped past the $100 million mark with a shocking amount of effort for a once-grand franchise, 'Iron Man 3' is poised to cross the $400 million mark any day now and 'The Great Gatsby' looks ready to retire with a strong, $140 million-ish gross.
Next week sees the arrival of 'Man of Steel.' Expect big numbers.