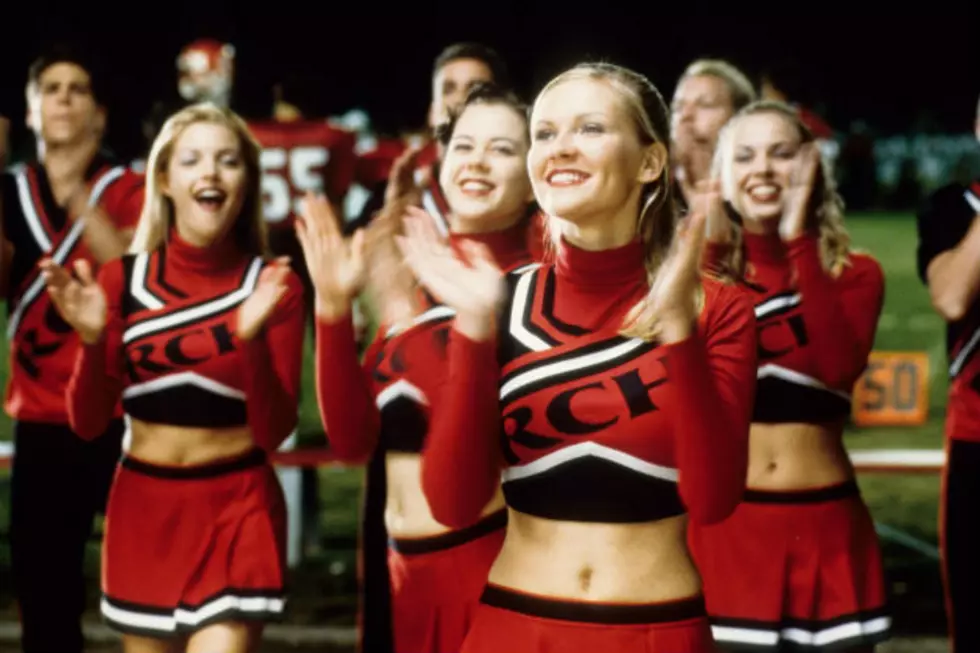 See the Cast of 'Bring It On' Then and Now
Universal
Released in 2000, 'Bring It On' followed Torrance Shipman (Kirsten Dunst) who inherits the title of captain of her cheerleading squad and endeavors to lead them to their sixth consecutive win at the National Cheerleading Competition. There's only one problem: their newest recruit, the rebellious Missy (Eliza Dushku), informs the new captain that they've been using stolen routines to win the title for years, unbeknownst to Torrance.
'Bring It On' was a hit at the box office, and received somewhat positive reviews for its smart script and spoofing of cheerleading culture. The film has gone on to gain a cult following on home media over the years, and spawned four direct-to-video sequels. Now, 14 years later, we revisit the cast of this beloved teen comedy to see what they're up to these days.
Kirsten Dunst, Torrance Shipman
Then: Kirsten Dunst played the role of Torrance Shipman, who inherits the title of cheer captain for her squad and must scramble to come up with a new routine when she discovers her old captain stole their routine from an inner-city school. Dunst previously rose to prominence as a child actress with roles in 'Interview with the Vampire' and 'Little Women,' and as a teen she starred in 'The Virgin Suicides' and 'Drop Dead Gorgeous.'
Now: Dunst went on to portray Mary Jane Watson in Sam Raimi's 'Spider-Man' trilogy, and appeared in 'Eternal Sunshine of the Spotless Mind,' as well as 'Marie Antoinette' -- the latter of which reunited her with her 'Virgin Suicides' director Sofia Coppola. As an adult she's taken roles in darker indie films like 'All Good Things,' 'Melancholia' and 'Bachelorette.' She recently made cameos in 'Anchorman 2: The Legend Continues' and Sofia Coppola's 'The Bling Ring,' and appears next in 'The Two Faces of January' and 'Midnight Special.'
Eliza Dushku, Missy Pantone
Then: Eliza Dushku played Missy Pantone, a new rebellious transfer student and former gymnast who joins the squad and clues Torrance in to her former captain's thievery. At the time, Dushku was known for her similarly edgy role as Faith, the dark slayer on the series 'Buffy the Vampire Slayer.'
Now: Dushku went on to appear on Joss Whedon's 'Buffy' spinoff 'Angel,' as well as Whedon's short-lived show 'Dollhouse.' She's appeared in the films 'Jay and Silent Bob Strike Back,' 'Wrong Turn,' 'Nobel Son' and 'Bottle Shock,' and provided the voice of Selina Kyle/Catwoman in the animated 'Batman: Year One' film. She was the voice of She-Hulk on the 2013 animated series 'Hulk and the Agents of S.M.A.S.H.,' and has appeared on the shows 'The League' and 'Leap Year.' She can be seen next in the upcoming film 'The Scribbler.'
Jesse Bradford, Cliff Pantone
Then: Jesse Bradford portrayed Cliff Pantone, Missy's brother who is really into punk music. Cliff and Torrance develop feelings for each other over the course of the film. Bradford had previously appeared in the films 'Hackers' and Baz Luhrmann's 'Romeo and Juliet.'
Now: Bradford also starred in the teen thrillers 'Swimfan' and 'Cherry Falls,' and appeared in indies like 'Eulogy' and 'Happy Endings.' His other film credits include 'Flags of Our Fathers,' 'W.' and 'I Hope They Serve Beer in Hell.' He was also one of the leads of the short-lived TV sitcom 'Guys with Kids,' and appears in the upcoming film 'Badge of Honor' with Martin Sheen.
Gabrielle Union, Isis
Then: Gabrielle Union played Isis, the captain of the East Compton Clovers, the cheerleading squad whose routines Torrance's squad has been unwittingly copying to win their championship title for years. Union previously appeared in the hit teen films 'She's All That' and '10 Things I Hate About You.'
Now: Following 'Bring It On,' Union starred in 'Deliver Us From Eva,' 'Bad Boys II,' 'Running with Scissors,' 'Daddy's Little Girls,' 'Meet Dave' and 'Cadillac Records.' She's guest starred on shows like 'Friends,' 'The West Wing' and 'Army Wives,' and had a recurring role on the show 'FlashForward' from 2009 to 2010. More recently she's appeared in the films 'Good Deeds' and 'Think Like a Man,' and reprises her role in the upcoming 'Think Like a Man Too.' She's engaged to Miami Heat player Dwyane Wade.
Clare Kramer, Courtney
Then: Clare Kramer played Courtney, one of the more superficial cheerleaders on Torrance's squad, who often gets a bit frisky with male cheerleader Jan. Like Dushku, Kramer was also a 'Buffy' star, and was known for her role as the villainous vampire Glory.
Now: Kramer also appeared in the films 'Rules of Attraction,' 'D.E.B.S.,' 'The Gravedancers' and 'Road to Hell,' and had guest spots on 'Sabrina, the Teenage Witch,' 'Tru Calling' (starring Eliza Dushku) and 'House.' She recently appeared in the indie horror comedy 'Big Ass Spider!,' and is the co-founder of GeekNation, a website and network of podcasts centered around geek-friendly film, comic books and TV shows.
Nicole Bilderback, Whitney
Then: Nicole Bilderback played Whitney, Courtney's snobby other half who tries to get her younger (and not so talented) sister on the squad. You probably recognized Bilderback from her roles as Summer in 'Clueless' or as the girl ready to have sex with the next guy she met in 'Can't Hardly Wait.'
Now: Bilderback also appeared on the 'Clueless' TV show and had recurring roles on 'Dawson's Creek' and 'Dark Angel.' She appeared in the films 'Legally Blonde 2: Red, White and Blonde' and the direct-to-video 'Bad Girls from Valley High.' Over the years she guest starred on 'Heroes,' 'Without a Trace' and 'Cold Case,' and more recently had guest roles on the shows 'The Mentalist' and 'Perception.'
Nathan West, Jan
Then: Nathan West played Jan, a male cheerleader on the squad who gets handsy with Courtney during their routines and uses cheerleading to hook up with more ladies. West previously appeared in 'D2: The Mighty Ducks' and guest starred on 'ER' and '7th Heaven.'
Now: West met actress Chyler Leigh while working on '7th Heaven' and the couple married in 2002. He appeared with her in the film 'Not Another Teen Movie' and guest starred on her short-lived sitcom 'That '80s Show.' He also starred in the films 'The Skulls II' and 'Miracle.' His most recent roles were guest spots on 'Bones' and 'Grey's Anatomy' in 2009, and in the 2010 movie 'Alleged.'
Richard Hillman, Aaron
Then: Richard Hillman played Aaron, Torrance's boyfriend who graduates high school a year ahead of her and is very unsupportive of her. Hillman also had small roles in 'Boys and Girls,' 'Detroit Rock City' and 'Legally Blonde.'
Now: Hillman tragically passed away in 2009 at the age of 34 due to causes never specified. Following his performance in 'Bring It On,' he appeared in the 2002 TV movie 'Teenage Caveman,' had an uncredited role in the film 'The Best Ever,' and appeared on a couple of episodes of the sitcom 'Jack and Jill.' His final role was in the 2007 short film 'Greater Than a Tiger.'
Lindsay Sloane, Big Red
Then: Lindsay Sloane played "Big Red," the mean-spirited former captain of Torrance's squad who used stolen routines to take her team to victory at the national cheerleading championships for years. Sloane was known for playing Valerie on the 'Sabrina, the Teenage Witch' TV series with Melissa Joan Hart.
Now: Sloane appeared in the films 'The TV Set,' 'Nancy Drew,' 'The Accidental Husband,' 'She's Out of My League' and 'The Other Guys.' Her many TV guest appearances include roles on 'Entourage,' 'How I Met Your Mother,' 'The League,' 'Children's Hospital' and 'Psych,' and a recurring role on one of the later seasons of 'Weeds.' More recently she appeared in the films 'Horrible Bosses' and 'Darling Companion.'