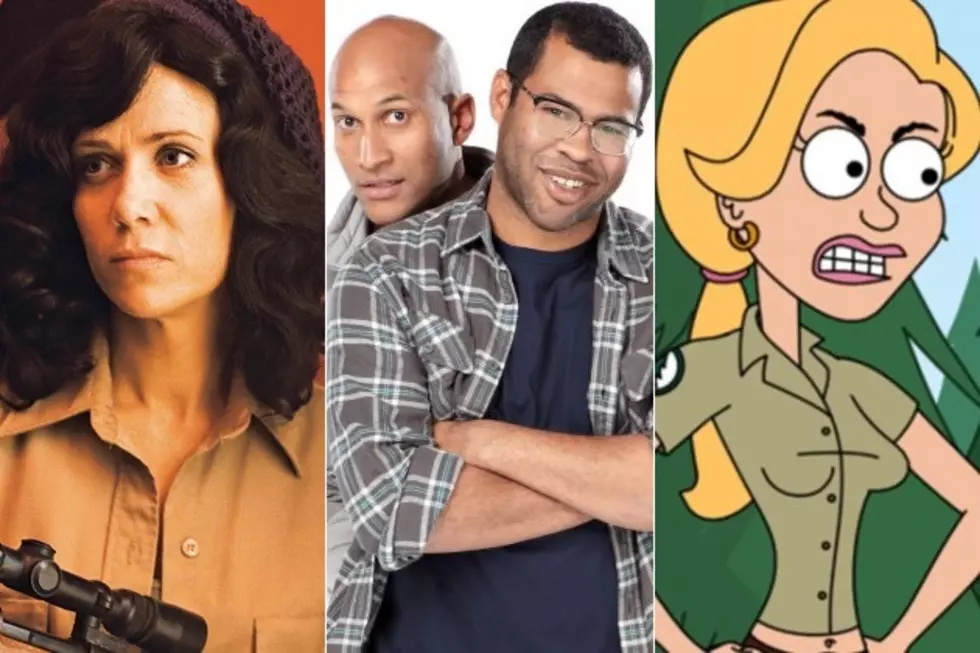 Comedy Central Renews 'Drunk History,' 'Key & Peele' and 'Brickleberry'
Comedy Central
It's been an otherwise quiet day in the realm of TV news, but Comedy Central certainly seems to have made the most of it. Not only will breakout comedy duo 'Key & Peele' return for a fourth season, but so too will the animated 'Brickleberry' draw itself a third outing and the web series-adapted 'Drunk History' take a second course.
"We are covering several genres with these pickups: one sketch; one animation; and whatever 'Drunk History' is," said Comedy Central's President of Content Development and Original Programming Kent Alterman. In particular, 'Key & Peele' averages 1.9 million viewers per week, while 'Brickleberry' nets 1.6 million in its Tuesday time slot, and the Funny or Die-produced 'Drunk History' trails with 1.2 million.
For those unfamiliar with the series, 'Brickleberry' stars comedian Daniel Tosh, 'It's Always Sunny in Philadelphia' star Kaitlin Olson, David Herman and voiceover legend Tom Kenny, following a group of dysfunctional and incompetent park rangers at a second-tier national park. Meanwhile, 'Drunk History' sees inebriated retellings of history from hosts like Kyle Kinane, Jen Kirkman, Natasha Leggero and Jenny Slate, as performed by the likes of Jack Black, Lisa Bonet, Connie Britton, Michael Cera, Terry Crews, Stephen Merchant, Bob Odenkirk, Aubrey Plaza, Jason Ritter, Winona Ryder, Kristen Wiig, Fred Willard, Luke Wilson and Owen Wilson, among others.
Well, what say you? Are you happy to have all three of Comedy Central's star-studded offerings back? Which of 'Drunk History,' 'Brickleberry' or 'Key & Peel' do you most think deserved the additional season? Check out some 'Key & Peel' highlights below, and give us your thoughts in the comments!