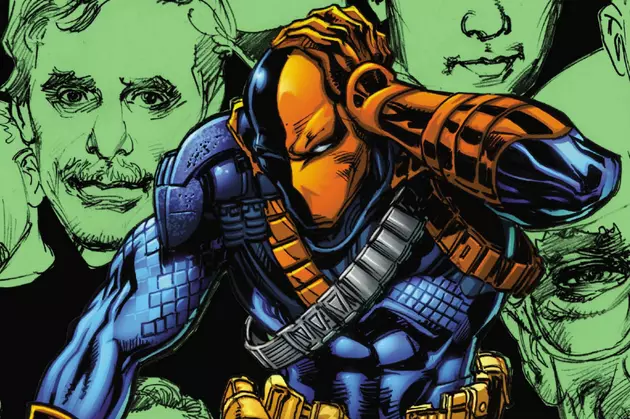 Joe Manganiello Isn't Sure About Deathstroke Appearing in 'The Batman' Anymore
DC Comics, 'Deathstroke' #15
Earlier this week, a few little birdies spoke with /Film about Warner Bros. standalone superhero film The Batman being rewritten completely from scratch. According to the site's sources, the studio has chosen to start all over again with input from director Matt Reeves; additional sources also noted that Reeves wouldn't even meet with prospective cast members until sometime this summer. This came on the heels of comments from a Variety reporter that Reeves is still under contract for War for the Planet of the Apes through the end of June, meaning The Batman also probably will not begin production until 2018.
And if those changes make you wonder about some of the plot points from the original draft, well, you're not alone. As pointed out by Batman News (via /Film), Deathstroke actor Joe Manganiello recently appeared on the Pittsburgh morning show Pittsburgh Today Live to discuss Smurfs: The Lost Village and his upcoming slate of films. And when the excited host asked Manganiello about his upcoming appearance in The Batman, Manganiello seemed less-than-enthusiastic about his chances of remaining in the film, literally shrugging off the question and throwing out a half-hearted, "We'll see." This has led plenty of people to suggest  —  hey, myself included  —  that maybe Manganiello's Deathstroke won't be the Big Bad in The Batman after all.
Now, there's any number of reasons why this could just be the wrong question at the wrong time. Maybe Manganiello hates Pittsburgh morning television shows. Maybe he was annoyed that he can't get through a single interview without being asked questions about The Batman. Or maybe he just forgot to grab a cup of coffee on his way out the door that morning and had become, in industry terms, 'cranky.' But with much in flux for the film, and with a new director bound to take the franchise in a slightly different direction, don't be surprised to hear that Manganiello might not be as heavily involved in the film as we originally thought.