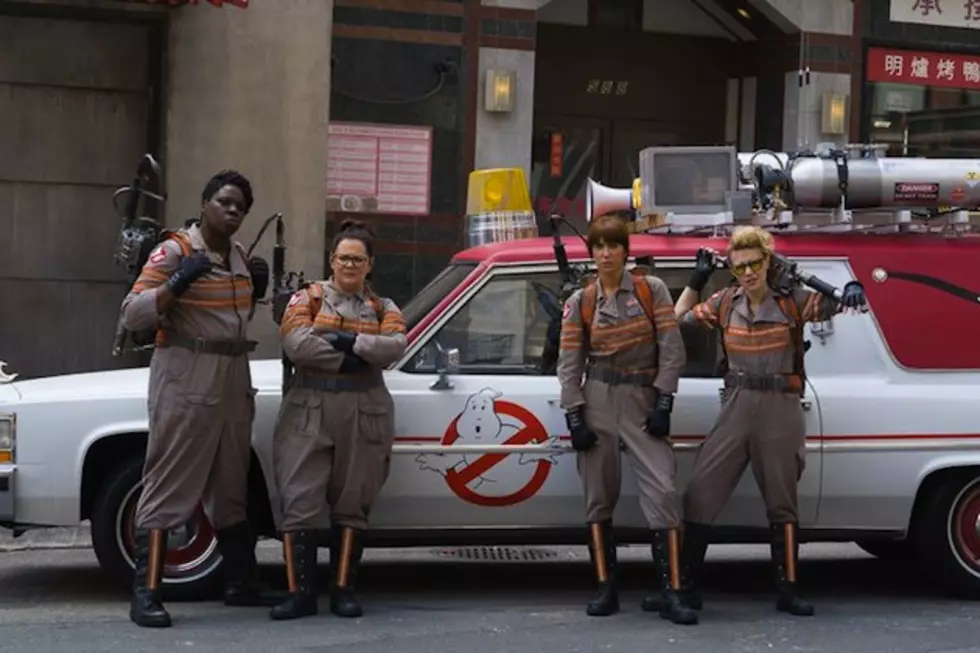 'Ghostbusters' Photo Reveals Our New Ghostbusters in Costume
Paul Feig, Twitter
UPDATE: Paul Feig has tweeted the first official image of the new Ghostbusters team in uniform, complete with proton packs and the ECTO-1. And they look great!
Original story continues below...
Paul Feig has wisely (and graciously) been keeping fans up to date with photos from his new Ghostbusters movie, including looks at the proton pack and the new costumes, while set photos have been leaking that show our new leads in action. But we haven't seen all four of them together, in costume — until now.
I really love how Wiig and McKinnon look a bit annoyed, while Jones stares at the camera with a "what the f— are you doing" look and McCarthy is the only one who seems genuinely happy. It's pretty hilarious.
Although the costume photo Feig tweeted out featured the Ghostbusters patch on the sleeve of the uniforms, the patch is absent from the uniforms in this photo, indicating that they haven't fully branded themselves in the movie at this point in filming.
Ghostbusters reportedly centers on two authors — Wiig and McCarthy — whose book on the reality of the world of ghosts is a failure. A few years later, Wiig has become a teacher at Columbia, but when her book is discovered she becomes a laughing stock. Wiig gets back together with her old pal, and the pair team up with a couple of other believers to become a ghost-busting quartet.
Ghostbusters hits theaters on July 22, 2016.
Check Out 100 Movie Facts You May Not Know