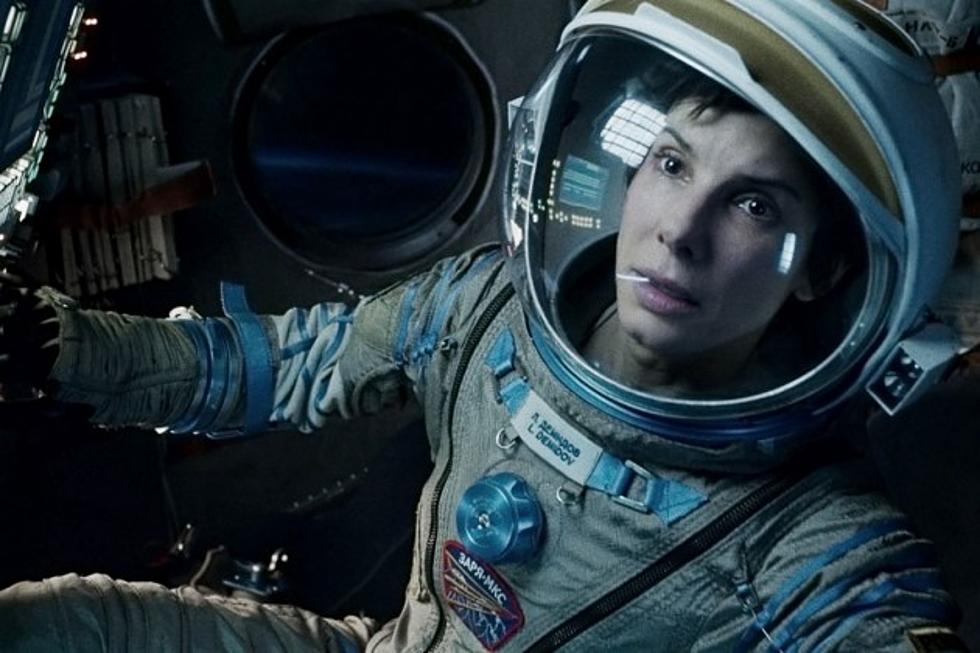 'Gravity' Lawsuit is a Victory for Warner Bros., For Now
Warner Bros.
You may not be aware of this, but Warner Bros. has been involved in a lawsuit over the screenplay to Alfonso Cuaron's 'Gravity,' one of the biggest films of 2013. The film, which took home seven Academy Awards including Best Director for Cuaron, tells the story of one woman's harrowing journey alone in space. But there's another woman who's currently involved in her own difficult journey: Tess Gerritsen, who allegedly wrote the novel on which 'Gravity' is based. Although the author had a contract with New Line, she was never given credit for her story. In a recent lawsuit, a judge dismissed her case against parent company WB, but that isn't the end of Gerritsen's fight—a fight which could serve to highlight a serious issue for screenwriters.
In a post on her website, Gerritsen details the lawsuit and how it affects not just her, but plenty of other screenwriters. A recap: back in '99, Gerritsen sold the film rights to her book, 'Gravity,' to New Line. Her book was about a female astronaut/medical doctor who is abandoned on an international space station when the entire crew dies due to a series of tragic accidents. Unlike Cuaron's eventual film, Gerritsen's female astronaut is left in quarantine following a biological disaster, and she initially isn't on the ISS with a single astronaut, but many. According to the deal with New Line, if a film were to be made based on her book, Gerritsen would be given a "based upon" credit, as well as a production bonus and a percentage of the film's profits.
After her film rights had been optioned and placed into development, Gerritsen says she wrote a new draft where space debris bombards the ISS, and the female astronaut is left floating adrift, alone in space. Sounds familiar, right? Kind of. Back then, Alfonso Cuaron had been attached to direct the film, but Gerritsen says she was not aware, and in 2008, Warner Bros. acquired New Line, laying off various employees and taking control of 'Gravity' in the process.
Gerritsen goes on to detail how she became aware of Cuaron's project, initially dismissing it as a coincidence until she discovered that he had been attached to direct the film adaptation of her book for years:
Sometime around 2008 – 2009, Alfonso Cuaron wrote his original screenplay "Gravity" about a female astronaut who is the sole survivor after her colleagues are killed by satellite debris destroying their spacecraft. She is left adrift in her space suit, and is later stranded aboard the International Space Station. I noted the similarities, but I had no evidence of any connection between Cuaron and my project. Without proof, I could not publicly accuse him of theft, so when asked about the similarities by fans and reporters, I told them it could be coincidental.

In February 2014, my literary agent was informed of Cuaron's attachment to my project back in 2000. Now the similarities between my book and Cuaron's movie could no longer be dismissed as coincidence. I sought legal help, and we filed a Breach of Contract complaint that April. Please note: this is not a case of copyright infringement. Warner Bros., through its ownership of New Line, also controls the film rights to my book. They had every right to make the movie — but they claim they have no obligation to honor my contract with New Line.
This is, of course, alarming if true, and not only does it serve as a cautionary tale to authors and screenwriters, but it highlights a terrible practice within the industry of studios dismissing contracts when they absorb other studios—and it's not something with which most of us are familiar. A studio being purchased by a larger studio following financial struggles isn't uncommon, and you can just imagine how many contracts are absorbed along with those failing studios—contracts which might not be honored because the new parent company didn't initially sign them.
But Gerritsen isn't done pursuing her claim, as the court has informed her that she needs more facts, which is fairly common. Gerritsen and her lawyers are preparing to "file an amended complaint which corrects the technical deficiencies using the court's decision" as their guide. There are some holes to Gerritsen's story, as Cuaron's 'Gravity' had previously been set up at Universal Pictures before being acquired by WB. Gerritsen does note that her suit isn't about copyright infringement, and does acknowledge that she once believed that Cuaron's project was merely a coincidence.
The creativity and craftsmanship behind 'Gravity' has been honored repeatedly since its release, but Gerritsen has received no credit for writing the novel on which the film was supposedly based—instead, only Cuaron and his production team have received credit and awards for bringing the story to the big screen. This isn't to say that Cuaron and his crew don't deserve the honors they've been given, but Gerritsen should be recognized for her work, if she is owed that credit. To hell with corporate practice—that's just common sense.