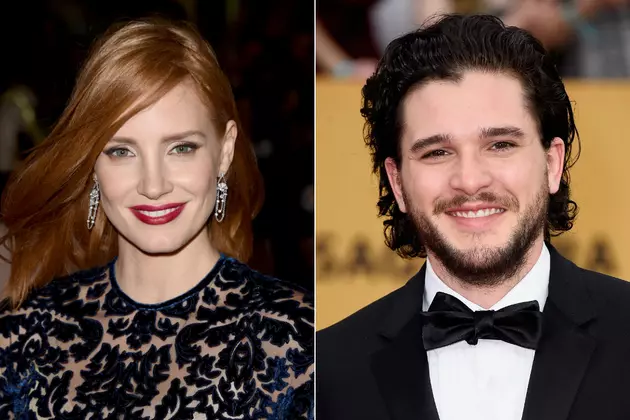 Kit Harington and Jessica Chastain to Star in Xavier Dolan's 'The Death and Life of John F. Donovan'
Jason Merritt / Frazer Harrison, Getty Images
You may not be familiar with the work of Xavier Dolan, the visionary French filmmaker who has already made five great films at the young age of 26, and recently directed the gorgeous video for Adele's "Hello." Dolan has two more films on the way, one of which will mark his english-language debut, and he's collected quite an impressive cast — including Jessica Chastain and Game of Thrones star Kit Harington.
Entertainment One has officially announced Dolan's latest effort, The Death and Life of John F. Donovan, starring Chastain, Harington, Kathy Bates and Susan Sarandon. It will be Dolan's first english-language effort (though likely not his last), and is described as follows:
10 years after the death of an American TV star he corresponded with as a teenager, a young actor recollects the pen-pal relationship he used to have with his past idol. The film explores the hardships of fame and hurdles of the movie business through the lives of both, now and then, and reflects on the issue of identity and diversity in Hollywood over the past decade.
Dolan describes the film as his "most ambitious" project to date, and went on to elaborate about his concept and creative intentions:
I've been meaning to tell that story for a long time – before I wrote 'I Killed My Mother.' It always is precarious to venture into movies on movies. Everyone scowls when they hear about the next movie on the business. But this isn't a movie on the business. It is a movie about a man trying to make it, trying to live his dream and his life all at once, and being told that he basically can't. It also is about a kid dreaming of having this man's life for all the wrong reasons, not realizing how painful it actually is. I was that kid, writing love letters to actors – as a matter of fact it seems like I still am. And that story is a tribute to both the kid I was and the idols of my childhood – some died, some just disappeared without a trace, because they didn't fit.
Dolan recently wrapped principal production on It's Only the End of the World, starring Lea Seydoux, Marion Cotillard and Vincent Cassel. That film centers on a terminally ill writer who returns home to share the news with his family, and will hit theaters in 2016. He previously directed last year's Mommy, a visually striking and heartbreaking story about a widowed mother coping with her violent, mentally ill son.
Several of Dolan's films are currently available on Netflix Instant, should you be looking to acquaint yourself with his work — and you really should. Or you could just watch that Adele video 10 more times. That's fine, too.