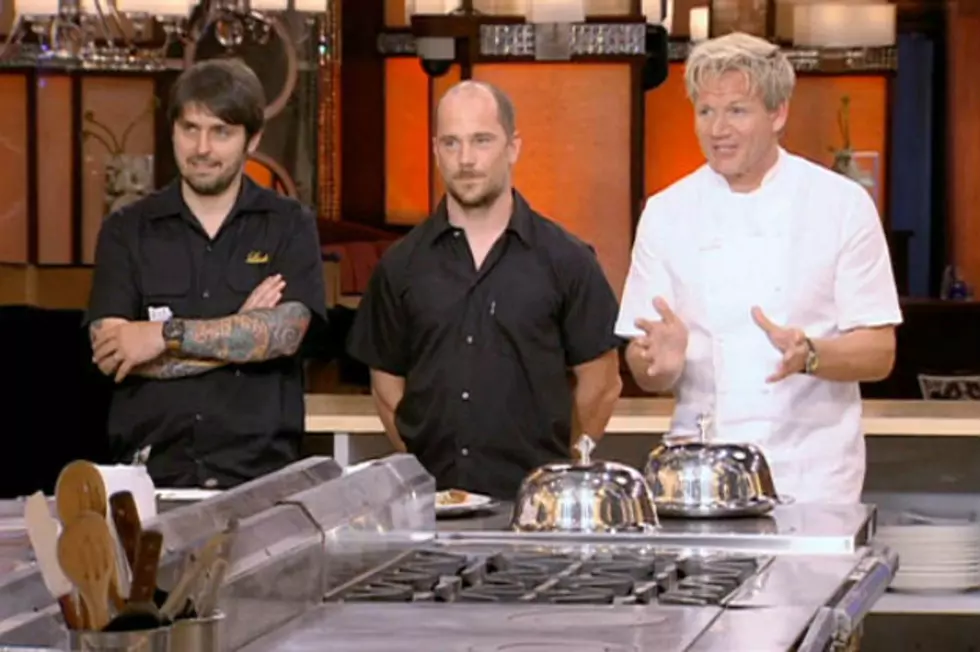 'Hell's Kitchen' Review: "6 Chefs Compete"
After a two-week break, 'Hell's Kitchen' has finally returned! With only six chefs remaining, we're getting down to the best of the best... and Robyn. The chefs have ditched their team colors and united under the black and white chef jackets. Who will be eliminated this week? And who will get called a donkey?
Today's challenge features chefs Ludo LeFebvre and Quinn Hatfield, who each created a signature dish based on a classic. The chefs need to taste the dishes and try to suss out the ingredients so they can recreate them on their own. First up, they taste LeFebvre's dish -- a Caprese salad that uses red bell pepper in place of tomato and feta mousse instead of buffalo mozzarella. None of the contestants can discern the flavors. And these are your final six chefs. None of these fools would hack it on 'Top Chef.' Just saying.
Hatfield presents a fish and pasta dish that replaces the pasta with the root vegetable salsify. Again, none of the cheftestants figure it out, and when they're told they all sort of nod like, "Oh, obviously." At least half of them have probably never even tasted salsify.
The real challenge comes when they are split into teams and have to taste Ramsay's dish, presented without explanation. They are given 30 minutes to recreate his dish without any guidance. It's one of the more exciting challenges, watching the contestants try and figure out the flavors in the dish.
Dana and Clemenza are up first. They've chosen a prosciutto-wrapped veal with a white bean puree cooked with horseradish and wasabi. For the wine in the sauce, they've gone with Madeira, rather than port. Barbie and Justin present next with a serrano ham-wrapped veal with a bacon white bean puree and port wine. Christina and Robyn go last with, again, a serrano ham-wrapped veal with bacon white bean puree and port wine.
Chef Ramsay explains his dish: He used veal, prosciutto, a bacon white bean puree and a Madeira-based sauce. Dana and Clemenza win the challenge, and head off to a resort for a picnic and day of jet skiing. Dana is, of course, yelling.
The remaining contestants are tasked with cleaning the dining room. It's as boring as that sentence.
Ramsay announces that the dinner service will be exceptionally special tonight because all six chefs will not only be working together for the first time, but they'll be competing against another team: the jaded second place winners from previous seasons. Russell the jerk from season 8, blue-haired Jay from season 7 (Dana and I agree his hair looks stupid), the bald and very talented Kevin from season 6, the tough-as-nails Paula from season 5 (who Robyn seems to have a crush on), season 3's Holly, and season 2's Virginia.
It might be more interesting if the best chef from the previous seasons' runner-up team got to replace the losing chef of the current season's roster.
With the first orders in, the runners-up knock it out of the park, while Robyn doesn't put enough dressing on her salad. The runners up are continuing to kick ass, putting out immaculate dishes and making it over halfway through their appetizer service. This seems to only infuriate Ramsay more when the home team chefs screw up. Clemenza and Robyn fire up a lobster spaghetti that was never ordered, sending Ramsay over the edge.
But the runners-up team isn't so perfect after all -- Jay sends up unevenly cooked bass, inspiring Kevin to step in and save the day. The current chefs are turning things around with the help of Barbie's guidance on the meat station. Dana's mind is still on vacation, though, as she keeps calling out longer cook times than are needed because she refuses to let Robyn and Clemenza help cook anything. Everyone knows Clemenza can't cook scallops, but he's allowed to do it anyway and he screws them up, validating Dana's complaints. But Ramsay scolds Dana for not guiding Clemenza.
Robyn seasons some scallops for Dana to cook, but she does it too early, leaving the scallops to dry out. It seems like Ramsay might throw Robyn out (and he threatens to physically remove her -- terrible), but he takes Dana in the back for a one-on-one chat to inspire her to take control of her station. Dana performs much better without "help" from Robyn and helps get her team to the finish line, but it's the returning runners-up chefs that win the challenge.
The remaining chefs are tasked with nominating two chefs for elimination. The major debate is over whether or not Dana should be nominated -- the fish station was her responsibility, but the mistakes made were the result of allowing others to help her with scallops at the behest of Ramsay, who then scolded her when the scallops came out wrong.
At elimination Robyn is nominated for being scatterbrained and actively unhelpful throughout service. The second nominee is Clemenza for the raw scallops he prepared on Dana's watch. Robyn has been on the chopping block at least three or four times, but this is Clemenza's sixth time on the block. Still, Clemenza is tossed back in line and Robyn is finally, rightfully eliminated. Victory!