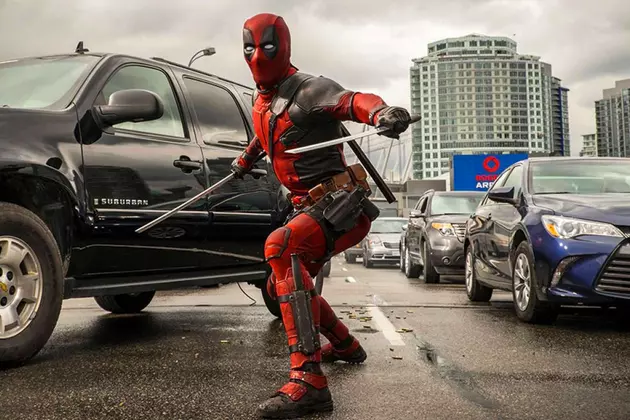 New Movie Releases: February 2016
20th Century Fox
If you're a superhero fan (or if you've seen the amazing billboards), you're already well-aware that February brings the highly-anticipated release of Deadpool, but there's plenty of non-superhero entertainment to be found in theaters. Next month is packed with big action, the latest from the Coen brothers and some intense horror, giving you a few goosebumps to go with that winter chill. Read on for our guide to the new movie releases hitting theaters in February.
Hail, Caesar!: Directed by Joel and Ethan Coen. Starring George Clooney, Josh Brolin and Scarlett Johansson. A Hollywood fixer in the 1950s works to keep the studio's stars in line.
Pride and Prejudice and Zombies: Directed by Burr Steers. Starring Lily James, Lena Headey and Douglas Booth. Jane Austen's classic tale of the tangled relationships between lovers from different social classes in 19th century England is faced with a new challenge — an army of undead zombies.
The Choice: Directed by Ross Katz. Starring Alexandra Daddario, Teresa Palmer and Maggie Grace. Travis and Gabby first meet as neighbors in a small coastal town and wind up in a relationship that is tested by life's most defining events.
All Roads Lead to Rome (Limited): Directed by Ella Lemhagen. Starring Sarah Jessica Parker, Rosie Day and Raoul Bova. An uptight single mother and college professor tries to connect with her rebellious teen daughter on a trip to Tuscany, where she rekindles a romance with her former lover.
Regression (Limited): Directed by Alejandro Amenabar. Starring Emma Watson, Ethan Hawke and David Thewlis. A father is accused of a crime he has no memory of committing.
Southbound (Limited): Directed by Roxanne Benjamin, David Brucker, Radio Silence and Patrick Horvath. Five interlocking tales of terror follow the fates of a group of weary travellers who confront their worst nightmares — and darkest secrets — over one long night on a desolate stretch of desert highway.
The Club (Limited): Directed by Pablo Larrain. Starring Roberto Farias, Antonia Zegers and Alfredo Castro. A crisis counselor is sent by the Catholic Church to a small Chilean beach town where disgraced priests and nuns, suspected of crimes ranging from child abuse to baby-snatching from unwed mothers, live secluded, after an incident occurs.
Misconduct (Limited): Directed by Shintaro Shimosawa. Starring Julia Stiles, Malin Akerman and Alice Eve. When an ambitious young lawyer takes on a big case against a powerful and ruthless executive of a large pharmaceutical company, he soon finds himself involved in a case of blackmail and corruption.
Deadpool: Directed by Tim Miller. Starring Ryan Reynolds, Morena Baccarin and T.J. Miller. A former Special Forces operative turned mercenary is subjected to a rogue experiment that leaves him with accelerated healing powers and adopts the alter ego Deadpool.
How to Be Single: Directed by Christian Ditter. Starring Dakota Johnson, Rebel Wilson and Alison Brie. New York City is full of lonely hearts seeking the right match, and what Alice, Robin, Lucy, Meg, Tom and David all have in common is the need to learn how to be single in a world filled with ever-evolving definitions of love.
Zoolander 2: Directed by Ben Stiller. Starring Ben Stiller, Owen Wilson and Penelope Cruz. Derek and Hansel are modelling again when an opposing company attempts to take them out from the business.
The Boy and the Beast (Limited): Directed by Mamoru Hosoda. Starring Kumiko Aso, Riri Furanki and Suzu Hirose. Kyuta, a boy living in Shibuya, and Kumatetsu, a lonesome beast from Jutengai, an imaginary world. One day, Kyuta forays into the imaginary world and, as he's looking for his way back, meets Kumatetsu who becomes his spirit guide. That encounter leads them to many adventures.
Cabin Fever (Limited): Directed by Travis Zariwny. Starring Gage Golightly, Matthew Daddario and Nadine Crocker. A group of five friends are terrorized at their getaway cabin.
Where to Invade Next (Limited): Directed by Michael Moore. To learn what the USA can learn from other nations, Michael Moore playfully "invades" them to see what they have to offer.
Tumbledown (Limited): Directed by Sean Mewshaw. Starring Rebecca Hall, Dianna Agron and Jason Sudeikis. A young woman struggles to move on with her life after the death of her husband, an acclaimed folk singer, when a brash New York writer forces her to confront her loss and the ambiguous circumstances of his death.
Nina Forever (Limited): Directed by Ben and Chris Blaine. Starring Fiona O'Shaughnessy, Abigail Hardingham and Cian Barry. After his girlfriend Nina dies in a car crash, Rob unsuccessfully attempts suicide. As he begins to overcome his grief, he falls in love with a coworker, Holly. Their relationship is complicated when Nina, unable to find rest in the afterlife, comes back to life to sarcastically torment them whenever they have sex.
Remember (Limited): Directed by Atom Egoyan. Starring Christopher Plummer, Martin Landau and Dean Norris. With the aid of a fellow Auschwitz survivor and a hand-written letter, an elderly man with dementia goes in search of the person responsible for the death of his family.
Risen: Directed by Starring Joseph Fiennes, Tom Felton and Cliff Curtis. Follows the epic Biblical story of the Resurrection, as told through the eyes of a non-believer. Clavius, a powerful Roman Military Tribune, and his aide Lucius, are tasked with solving the mystery of what happened to Jesus in the weeks following the crucifixion, in order to disprove the rumors of a risen Messiah and prevent an uprising in Jerusalem.
The Witch (Limited): Directed by Robert Eggers. Starring Anya Taylor-Joy, Ralph Ineson and Kate Dickie. A family in 1630s New England is torn apart by the forces of witchcraft, black magic and possession.
Gods of Egypt: Directed by Alex Proyas. Starring Nikolaj Coster-Waldau, Gerard Butler and Courtney Eaton. A common thief joins a mythical god on a quest through Egypt.
Triple 9: Directed by John Hillcoat. Starring Casey Affleck, Teresa Palmer and Woody Harrelson. A gang of criminals and corrupt cops plan the murder of a police officer in order to pull off their biggest heist yet across town.
Eddie the Eagle: Directed by Dexter Fletcher. Starring Taron Egerton, Hugh Jackman and Christopher Walken. The story of Great Britain's first ski jumper to enter the Winter Olympics.
Crouching Tiger, Hidden Dragon: Sword of Destiny (Limited): Directed by Woo-Ping Yuen. Starring Donnie Yen, Michelle Yeoh and Harry Shum Jr. A story of lost love, young love, a legendary sword and one last opportunity at redemption.
Standoff (Limited): Directed by Adam Alleca. Starring Thomas Jane, Laurence Fishburne and Ella Ballentine. A troubled veteran is given a second chance when he's assigned to protect a 12-year-old girl from an assassin.
The Bounce Back (Limited): Directed by Youssef Delara. Starring Nadine Velazquez, Kali Hawk and Shemar Moore. Father, author and all around good guy, Matthew Taylor is on a whirlwind tour promoting his new book, The Bounce Back. He's got it all figured out until he meets the acerbic Kristin Peralta, a talk show circuit therapist who's convinced he's nothing but a charlatan. Matthew's life is turned upside down when he inadvertently falls for Kristin and has to face painful truth of his past relationship.