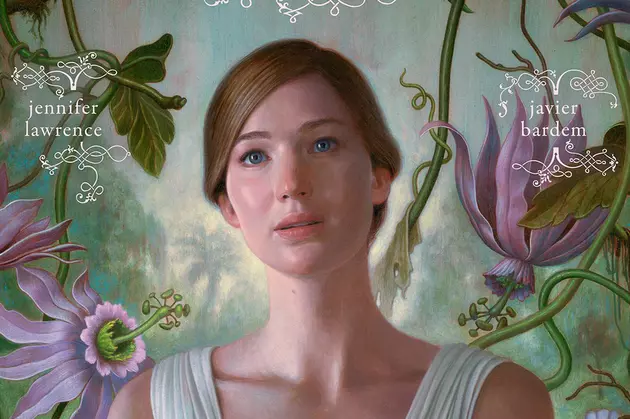 Paramount Defends Choice to Release Ambitious Flop 'mother!'
Paramount Pictures
Is filmmaking really all about the money? To the precious artistes that make it, that's a no, most especially from the self-possessed creator of the highly un-lucrative new film mother!, Darren Aronofsky. He's unperturbed by the less-than-lustrous box-office returns on the opening weekend of his new allegorical fever nightmare, but what of his studio overlords? The people ponying up the money usually have a vested interest in seeing some of it come back, and someone at Paramount must be displeased with the film's paltry $7.5 million opening weekend. Right? Wrong!
Far from hanging the film out to dry, Paramount's top brass has leapt to darin' Darren's defense. The Hollywood Reporter ran an item containing a quote from the studio's worldwide president of marketing and distribution, Megan Colligan, and she had her man's back. Colligan wrote:
This movie is very audacious and brave. You are talking about a director at the top of his game, and an actress at the top her game. They made a movie that was intended to be bold. Everyone wants original filmmaking, and everyone celebrates Netflix when they tell a story no one else wants to tell. This is our version. We don't want all movies to be safe. And it's okay if some people don't like it.
My first instinct is to say something snippy, maybe about how showbiz types often use "brave" as a coded diss, but this is actually a pretty heartening sentiment. "We don't want all movies to be safe and it's okay if some people don't like it" is a phrase we've been begging to hear from increasingly hidebound studios leaning more heavily than ever on franchises and remakes. Studios ought to be taking risks like mother!; love him or hate him, you cannot deny that Aronofsky goes for it with a madman dedication that's been in perilously short supply around the studio system. (Though the question of how this philosophy may work out for Paramount persists; they've already faceplanted on Monster Trucks, Rings, and Ghost in the Shell, and the two big awards-friendly releases left on their docket for the year are Suburbicon and Downsizing, both of which are quite bad. So we'll see where their noble spirit gets them.)