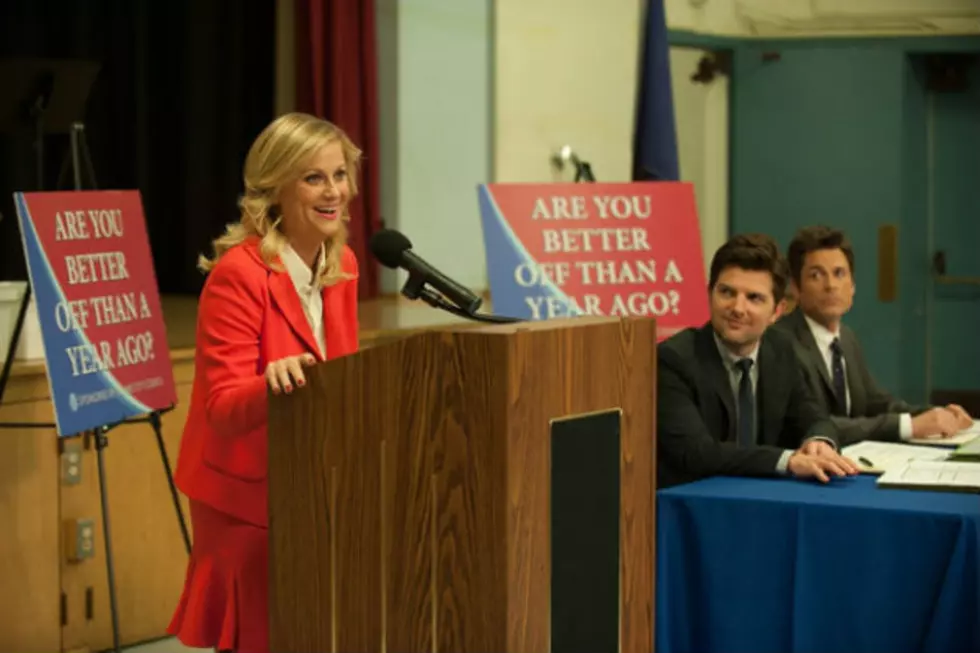 'Parks and Recreation' Review: "Are You Better Off?"
NBC
It's the 'Parks and Recreation' season finale, which means tons of pop-ins from some of your favorite Pawneeans, and a special appearance from Bert Macklin (FBI), tasked with solving the biggest case of his career.
As season finales go, 'Parks and Recreation' really nails it tonight with "Are You Better Off?" -- an episode that has Leslie facing one of her biggest problems yet, but also gives us everything we'd hope for in a 'Parks and Rec' finale. Thanks to a massive town hall meeting, we get returning guests like Jason Schwartzman's Dennis, and a host of other Pawnee ancillary characters. We even get a brief moment with Harris, the ancillary character I'm beginning to love the most.
Leslie asks her citizens if they're better off than they were a year ago. She certainly believes so, and she has the statistics to back it up. Obesity is down, raccoon attacks are down, and everything seems to be looking up, but thanks to that obnoxious Sweetums representative, everyone thinks that these positive statistics came at the price of their freedoms. Being a councilwoman isn't much different from being a parent: Leslie has done what she feels is in the best interest of her town, and she's done so from a place of wisdom and understanding. But her kids don't like being told what's best for them, even if it really is what's best. So Leslie is now faced with the frightening prospect of being recalled from office, which is a novel set-up for season six.
Meanwhile, Bert Macklin returns to investigate the mysterious pregnancy test found in Ron's cabin, so he enlists Ann's help to interrogate all the women in the office, overlooking his own wife. It's a fun mystery and gives Andy and Ann something quirky to do with their time while everyone else is off dealing with Leslie's problems and Tom is concerned with the possibility of selling Rent-a-Swag to a prospective buyer (who may or may not but is definitely not Diddy). The two plots converge when Andy and Ann suspect that Mona Lisa is pregnant (which also means we get another visit from Jenny Slate and Ben Schwartz), but thankfully she's not because she is ♫ the wooooooorst. ♫
Andy, Ann, and Tom's stories all primarily function as lighter fare to help balance out the seriousness of Leslie's issue, and 'Parks and Rec' is often so good at finding a central conflict for its A-plot and then ensuring the balance of the comedic equilibrium by giving us fluffy B-plots. That's not to say that a pregnancy mystery doesn't have its own complications and potential dramas, but "Are You Better Off" succeeds where last week's episode failed by doing what this show (and other current successful sitcoms) does best: taking familiar tropes and rewiring them to give us something unexpected -- and it's the unexpected that provides another layer of humor, like finding out that Ron's girlfriend Diane is the one who's really pregnant.
Now think about this: of all the characters who could have a child, who would you want to see handle a baby? Think of the situational comedy angles and who would give us the most laughter and inspire the most creative plots. Ann is easy because she's trying, but she'd be a great mom, and that's pretty boring. It's too early for Leslie and Ben, and as I pointed out previously, the idea of Leslie and Ben procreating is great, but it's something I'd like to imagine them doing after the show ends, and not something I'd actually enjoy watching. That's series finale stuff. Andy and April come pretty close, but April going off to veterinary school is so much more interesting and it allows her character to continue developing depth, which has been so wonderful to watch. Tom and Mona Lisa? That baby would be DOA or born with an Adderall addiction.
The answer, then, is Ron and Diane -- Diane already has two daughters, and their interactions with Ron have been insanely hilarious. But watching Ron bring a child into this world, struggle with handling something as delicate as an infant, and then try to impart his wisdom on it as it grows up? Every interaction Ron has had with the children of Pawnee has been such a delight, so we've already gotten a preview of what this story could potentially be. Babies eventually happen on sitcoms, but the trick is finding the characters who could make that development the most engaging and surprising, and on a show like 'Parks and Rec,' with its incredible sense of humor and near-perfect track record, selecting new parents is crucial.
So is Pawnee better off than it was a year ago? For our characters, the answer is most definitely yes. They all seem to be much more fulfilled than they were when this season began, but beneath all that laughter, we've watched them evolve -- Leslie is a more confident councilwoman, April is more proactive and has found things that she actually cares about, Ron found a rewarding relationship that challenges him to be a better man, Tom has a successful business (for now, anyway -- his prospective buyer intends on opening a competing store across the street), Andy has a real job, Ben's work is rewarding and he gets to be with the woman he loves, and Chris and Ann are going to have a baby. Is the town better off? Yes, and I look forward to seeing Leslie continue to prove it next season.