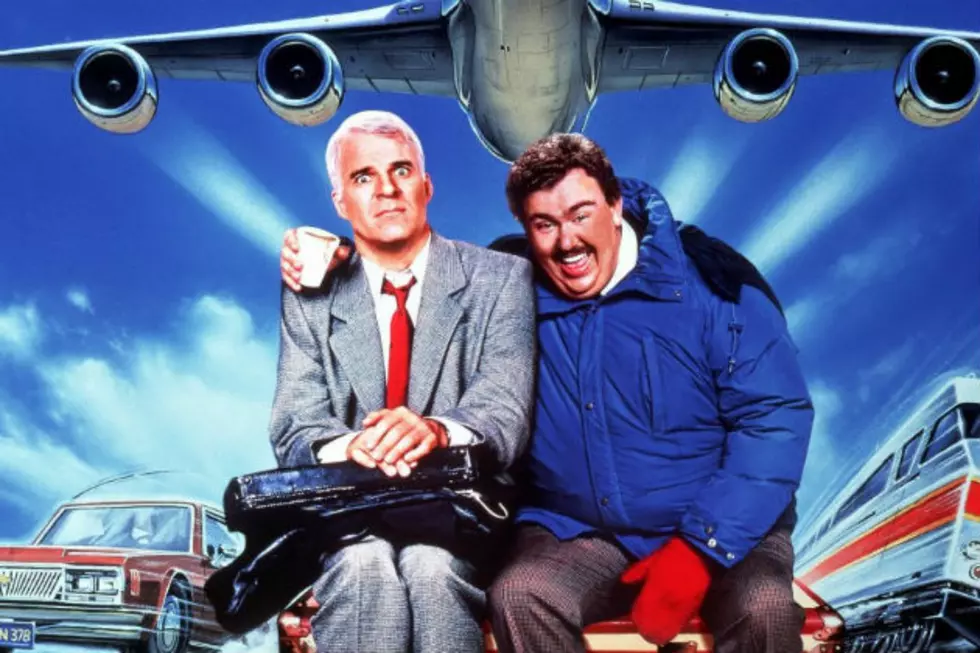 See the Cast of 'Planes, Trains and Automobiles' Then and Now
Paramount
In 1987, John Hughes released 'Planes, Trains and Automobiles,' starring Steve Martin as a man just trying to make it home for Thanksgiving when he's saddled with an obnoxious shower ring salesman -- played by John Candy -- as a traveling companion. The two spend the next three days going from one misadventure to the next as they try to get along and make it through the hellish holiday travel season. 26 years later, we revisit the cast of Hughes' comedy classic -- just in time for Thanksgiving -- and see what they're up to now.
Steve Martin, Neal Page
Then: Steve Martin played Neal Page, the straight-laced advertising executive who's just trying to make it home to his family for Thanksgiving. Martin had just starred in 'Three Amigos,' 'Little Shop of Horrors,' and 'The Jerk' -- all three of which featured notably wackier performances.
Now: Martin most recently appeared in 'It's Complicated' opposite Meryl Streep and Alec Baldwin and 'The Big Year' with Owen Wilson and Jack Black. He continues to perform concerts with his banjo, and released an album in 2013 with singer Edie Brickell.
John Candy, Del Griffith
Then: John Candy played Del Griffith, the obnoxious and clumsy shower ring salesman who tries to help Neal make it home for Thanksgiving. Candy, who previously starred on 'SCTV,' had also recently appeared in 'Little Shop of Horrors' with Martin.
Now: Candy passed away in 1994 during the filming of 'Wagons East' (pictured above right). His legacy includes the films 'Spaceballs,' 'The Great Outdoors,' 'Uncle Buck,' 'JFK,' and 'Cool Runnings,' among several other notable and highly memorable performances. His last film was 'Canadian Bacon' -- it was filmed in 1993 and released in 1995, one year after his passing.
Laila Robins, Susan Page
Then: Laila Robins made her film debut as Susan Page, Neal's wife. Prior to that, the actress was working primarily in theatre, and continued to do so throughout her film and television career.
Now: Robins never quite reached the A-list and has found more success in theatre, though you may have seen her on episodes of '30 Rock' and 'Sex and the City,' or in films like 'The Good Shepherd.'
Michael McKean, State Trooper
Then: Michael McKean had a small role as a state trooper in 'Planes, Trains and Automobiles,' but at the time you might have known him best from 'This is Spinal Tap,' a film he starred in and co-wrote with Christopher Guest in 1984.
Now: McKean has appeared in many Christopher Guest films, including 'Best in Show' and 'A Mighty Wind,' and recently starred in his BBC/HBO series 'Family Tree.'
Kevin Bacon, Taxi Racer
Then: A young Kevin Bacon has a brief role as a man who tries to outrace Neal for a taxi, credited only as "Taxi Racer." Bacon had landed his first major role a few years prior in 'Footloose,' and in 1988 he starred in the John Hughes' film 'She's Having a Baby.'
Now: Bacon recently appeared in the films 'R.I.P.D.' and 'Jayne Mansfield's Car,' and stars on the Fox series 'The Following.' He is married to actress Kyra Segdwick.
Dylan Baker, Owen
Then: Dylan Baker made his big screen debut as Owen in 'Planes, Trains and Automobiles.' Baker reunited with Candy just a few years later, in the 1991 comedy 'Delirious.'
Now: Baker played Dr. Curt Connors in Sam Raimi's 'Spider-Man' trilogy, and has appeared in the films 'Revolutionary Road' and '2 Days in New York.' He is married to actress Becky Ann Baker, who plays Hannah's mother on 'Girls.'
Edie McClurg, St. Louis Rental Car Agent
Then: Edie McClurg played the St. Louis rental car agent, but you probably recognized her instantly from her role as Mr. Rooney's secretary in John Hughes' 'Ferris Bueller's Day Off,' released just one year before 'Planes, Trains and Automobiles.' McClurg had also starred in 'Carrie' and the 'Elvira, Mistress of the Dark' movie.
Now: McClurg currently does a lot of voice work, appearing in recent Disney films like 'Wreck-It Ralph' and 'Frozen.'
Olivia Burnette, Marti Page
Then: Olivia Burnette made her acting debut as Neal's daughter, Marti, whose pageant Neal misses in his frantic attempt to make it home on time.
Now: Burnette went on to appear in the films 'The Quick and the Dead' and 'Eye for an Eye,' though she found more success on television -- she played the lead role of Dorothy Jane on the short-lived Disney series 'The Torkelsons' in the 90s. Her recent credits include a recurring role on 'Sons of Anarchy,' and appearances on 'Dexter' and 'The Closer.'
Matthew Lawrence, Neal Page Jr.
Then: Matthew Lawrence also made his big screen debut in 'Planes, Trains and Automobiles' -- he played Neal Page, Jr., the son of Martin's character. Around the same time, Lawrence starred on the TV series 'Gimme a Break.'
Now: Lawrence went on to star on the television series 'Brotherly Love' with his real-life brothers and fellow actors Joey (who previously starred on 'Blossom') and Andrew. He also starred on 'Boy Meets World' as Shawn's brother, Jack. Lawrence recently reunited with his big brother for an episode of 'Melissa and Joey.'