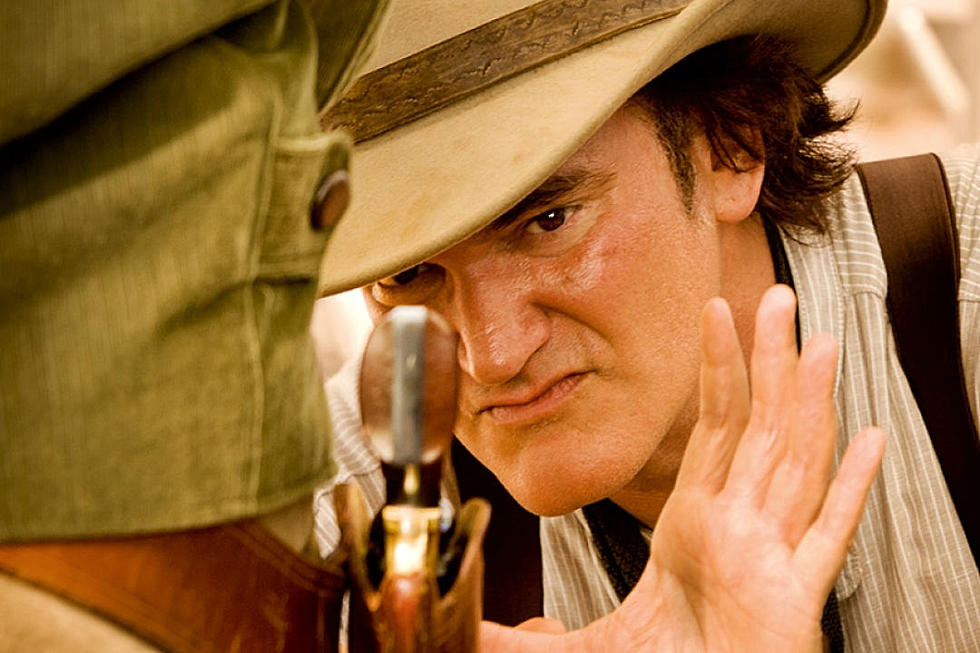 Quentin Tarantino Responds to Uma Thurman's 'Kill Bill' Car Crash
The Weinstein Company
Part of Uma Thurman's recent interview with The New York Times dealt with how her deteriorating relationship with Harvey Weinstein impacted her collaboration relationship with Quentin Tarantino. While filming Kill Bill, Thurman told of a stunt that went horribly wrong: a car that she had been apprehensive about driving spun out of control on a dirt road and crashed into a tree, injuring her and giving her a concussion. The whole interview seemed to be an indictment of not only Weinstein, but also Tarantino's negligence on set, and in a new interview Tarantino explained that that wasn't supposed to be the case.
"Me and [Maureen Dowd, the author of the Times piece] never hooked up," he told Deadline. "I read the article and basically it seemed like all the other guys lawyered up, so they weren't even allowed to be named. And, through mostly Maureen Dowd's prose, I ended up taking the hit and taking the heat."
According to Tarantino, the crash happened because they changed the shot at the last minute: instead of driving one way down the road, Thurman would drive the opposite way so that the light would look better at the end of the day. "I thought, a straight road is a straight road and I didn't think I needed to run the road again to make sure there wasn't any difference, going in the opposite direction," he said. Somehow, driving in the opposite direction, an S-curve appeared on the road that spun the convertible out of control. When Tarantino walked the road the opposite direction after the crash, he said, "I don't know how a straight road turns into an un-straight road, but it wasn't as straight. It wasn't the straight shot that it had been, going the other way."
"I told her it would be okay," he said. "I told her the road was a straight line. I told her it would be safe. And it wasn't. I was wrong. I didn't force her into the car. She got into it because she trusted me. And she believed me." Tarantino said that Thurman had told him about doing the interview with the Times, and he had known that the crash would be a part of it — in fact, he was the one who had searched for and presented her with the footage that is used in the article.
It affected me and Uma for the next two to three years. It wasn't like we didn't talk. But a trust was broken. A trust broken over a year of shooting, of us doing really gnarly stuff. Doing really big stunt stuff. I wanted her to do as much as possible and we were trying to take care of her and we pulled it off. She didn't get hurt. And then the last four days, in what we thought would be a simple driving shot, almost kills her.
Tarantino says that it wasn't the crash, but the cover-up of the incident that Thurman wanted to bring to light in her interview, that Weinstein had likely had the car destroyed almost immediately, and refused to show Thurman the footage unless she signed an agreement saying she wouldn't take legal action against the studio.
Tarantino also confirms that he confronted Weinstein about attempting to force himself on Thurman. Tarantino's girlfriend at the time, Mira Sorvino, had told him about her experience with the studio exec, but Tarantino had chalked it up to a sad man with a crush.
Then, while we were getting ready to do Kill Bill, Uma tells me that he had done the same thing to her. That was when I realized there was a pattern, in Harvey's luring and pushing attacks. So I made Harvey apologize to Uma. In the Maureen Dowd article it says, that is when Quentin confronted Harvey? Well, my confrontation was saying, you have to go to Uma. This happened. You have to apologize to her and she has to accept your apology, if we're going to do Kill Bill together.
He also addressed the article's mention of him stepping in and performing violent stunts with his female cast members — spitting on Thurman and strangling her with a chain. Tarantino said that all of that was done so that they could get the shot absolutely right the first few times, with a stunt professional present, and with the express permission of the actresses themselves.
Thurman has defended Tarantino against the criticisms leveled against him in the wake of her interview, instead calling out the producers on the movie for attempting to cover it up.