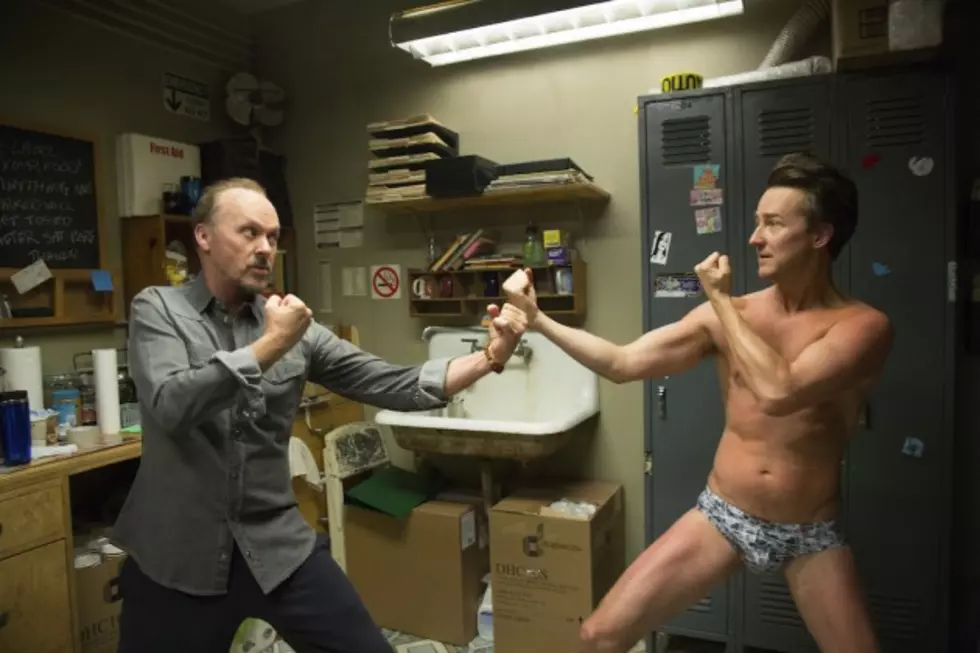 SAG Awards Nominations Announced, 'Birdman' Leads the Pack With Four Nods
Fox Searchlight
If you're going to play the Oscar prediction game, the Screen Actors Guild Awards are often one of the biggest indicators of who's going to get nominated and who's going to win. The actors represent the largest portion of the Academy's voting body, so it wouldn't be surprising if the nominations for the 21st Annual SAG Awards are hugely representative of what we will end up seeing when Oscar nominations are announced early next year. And that's a shame: These are some of the safest and most predictable nominations in a long time.
Every film that has been gaining traction this awards season is represented here, but it's 'Birdman' that leads the pack with four nominations. 'Boyhood,' 'Foxcatcher,' 'The Imitation Game,' and 'The Theory of Everything' trail with three nods apiece. The upside to this situation is that while these are exactly the movies that we expected to see lead these nominations, there is no clear frontrunner. The titles may be the same, but not even the most seasoned awards analysts have any idea who is ultimately going to take home the statuettes. If the movies themselves aren't exciting, at least the race is.
However, there were a few surprises. Jake Gyllenhaal's excellent and weird performance in 'Nightcrawler' received a nod, which is nice to see. But what do we make of Jennifer Aniston getting nominated for the fairly reviled 'Cake' or Robert Duvall getting nominated for the laughable 'The Judge'? Sometimes, these awards feel like everyone is nominating actors they like instead of, y'know, the best performances of the year.
As for snubs, it's disappointing to see 'The Grand Budapest Hotel' only receive a solitary nomination, with Ralph Fiennes (who really gave one of the best performances of the year) getting shut out. Even more baffling is the total absence of 'A Most Violent Year,' which has been steadily building buzz for stars Oscar Isaac and Jessica Chastain for awhile now. Most baffling is the non-presence of 'Selma,' which has been receiving rave notices and topping year-end lists all over the place. It being shut out is even more troubling when you notice just how white the nominations this year are in general.
This year's winners will be announced at a televised ceremony on January 25, 2015. Check out all of the nominations for yourself below:
Theatrical Motion Pictures
Outstanding Performance by a Male Actor in a Leading Role
Steve Carell - 'Foxcatcher' (Sony Pictures Classics)
Benedict Cumberbatch - 'The Imitation Game' (The Weinstein Company)
Jake Gyllenhaal - 'Nightcrawler' (Open Road)
Michael Keaton - 'Birdman' (Fox Searchlight)
Eddie Redmayne - 'The Theory of Everything' (Focus Features)
Outstanding Performance by a Female Actor in a Leading Role
Jennifer Aniston – 'Cake' (Cinelou Releasing)
Felicity Jones - 'The Theory of Everything' (Focus Features)
Julianne Moore - 'Still Alice' (Sony Pictures Classics)
Rosamund Pike - 'Gone Girl' (20th Century Fox)
Reese Witherspoon - 'Wild' (Fox Searchlight)
Outstanding Performance by a Male Actor in a Supporting Role
Robert Duvall – 'The Judge' (Warner Bros. Pictures)
Ethan Hawke - 'Boyhood' (IFC Films)
Edward Norton – 'Birdman' (Fox Searchlight)
Mark Ruffalo - 'Foxcatcher' (Sony Pictures Classics)
J.K. Simmons - 'Whiplash' (Sony Picture Classics)
Outstanding Performance by a Female Actor in a Supporting Role
Patricia Arquette - 'Boyhood' (IFC Films)
Keira Knightley - 'The Imitation Game' (The Weinstein Company)
Emma Stone - 'Birdman' (Fox Searchlight)
Meryl Streep - 'Into the Woods' (Walt Disney Pictures)
Naomi Watts - 'St. Vincent' (The Weinstein Company)
Outstanding Performance by the Cast in a Motion Picture
'Birdman' (Fox Searchlight)
'Boyhood' (IFC Films)
'The Grand Budapest Hotel' (Fox Searchlight)
'The Imitation Game' (The Weinstein Company)
'The Theory of Everything' (Focus Features)
Outstanding Performance by a Male Actor in a Television Movie or Miniseries
Adrien Brody – 'Houdini' (History Channel)
Benedict Cumberbatch – 'Sherlock: His Last Vow' (PBS)
Richard Jenkins – 'Olive Kitteridge' (HBO)
Mark Ruffallo – 'The Normal Heart' (HBO)
Billy Bob Thornton – 'Fargo' (FX)
Outstanding Performance by a Female Actor in a Television Movie or Miniseries
Ellen Burtsyn – 'Flowers in the Attic' (Lifetime)
Maggie Gyllenhaal – 'The Honorable Woman' (Sundance TV)
Frances McDormand – 'Olive Kitteridge' (HBO)
Julia Roberts – 'The Normal Heart' (HBO)
Cicely Tyson – 'The Trip to Bountiful' (Lifetime)
Outstanding Performance by a Male Actor in a Drama Series
Steve Buscemi – 'Boardwalk Empire' (HBO)
Peter Dinklage – 'Game of Thrones' (HBO)
Woody Harrelson – 'True Detective' (HBO)
Matthew McConaughey – 'True Detective' (HBO)
Kevin Spacey – 'House of Cards' (Netflix)
Outstanding Performance by a Female Actor in a Drama Series
Claire Danes – 'Homeland' (Showtime)
Viola Davis – 'How to Get Away with Murder' (ABC)
Julianna Margulies – 'The Good Wife' (CBS)
Tatiana Maslany – 'Orphan Black' (BBC America)
Maggie Smith – 'Downton Abbey' (PBS)
Robin Wright – 'House of Cards' (Netflix)
Outstanding Performance by a Male Actor in a Comedy Series
Ty Burrell – 'Modern Family' (ABC)
Louis C.K. – 'Louis' (FX)
William H. Macy – 'Shameless' (Showtime)
Jim Parsons – 'The Big Bang Theory' (CBS)
Eric Stonestreet – 'Modern Family' (ABC)
Outstanding Performance by a Female Actor in a Comedy Series
Uzo Aduba - 'Orange is the New Black' (Netflix)
Julie Bowen – 'Modern Family' (ABC)
Edie Falco – 'Nurse Jackie' (Showtime)
Julia Louis-Dreyfus – 'Veep' (HBO)
Amy Poehler – 'Parks and Recreation' (NBC)
Outstanding Performance by an Ensemble in a Drama Series
'Boardwalk Empire' (HBO)
'Downton Abbey' (PBS)
'Game of Thrones' (HBO)
'Homeland' (Showtime)
'House of Cards' (Netflix)
Outstanding Performance by an Ensemble in a Comedy Series
'The Big Bang Theory' (CBS)
'Brooklyn 99' (Fox)
'Modern Family' (ABC)
'Orange is the New Black' (Netflix)
'Veep' (HBO)