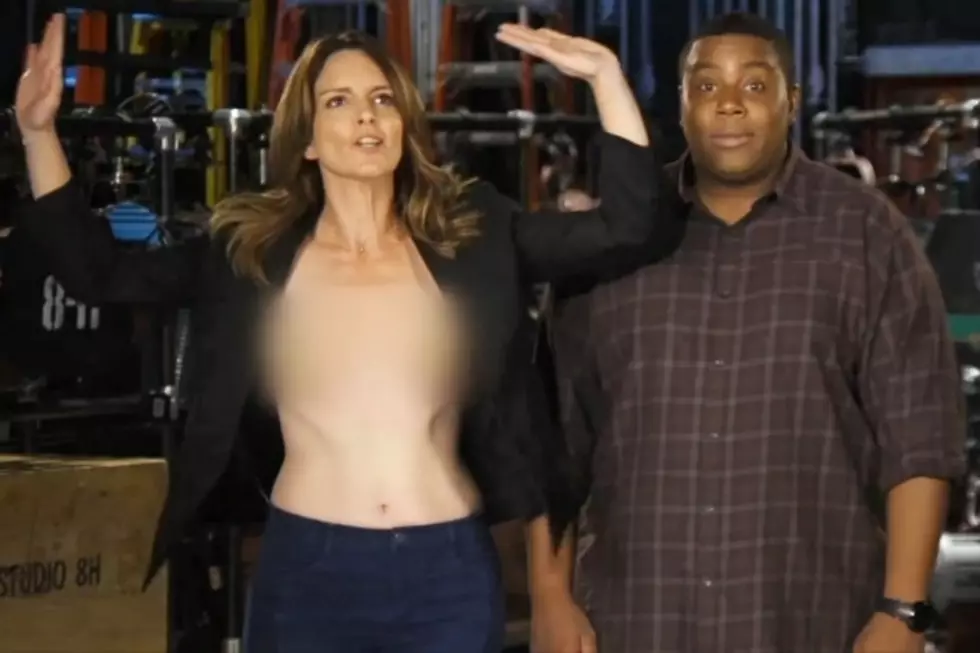 'Saturday Night Live' Review: "Tina Fey"
NBC
'Saturday Night Live' is back tonight with an all-new season, and what better way to celebrate than with Tina Fey returning to the stage that made her a household name? Fey hosts the season 39 premiere with musical guests Arcade Fire (and some new cast members to boot), which sounds like a dream episode -- but how was it? Read on for our breakdown of tonight's premiere. 
C-SPAN: President Obama on the Affordable Care Act
Jay Pharaoh's Obama asks regular Americans to come out and speak about the Affordable Care Act, aka Obamacare. Bobby Moynihan and Aidy Bryant get in a couple of great lines (especially love Bryant's about "licking hella subway poles"), and Taran Killam comes out as Senator Ted Cruz, spouting off some repurposed Dr. Seuss rhymes about socialism. Cecily Strong's character confuses Obamacare with Apple Care, and Kate McKinnon's stressed out doctor is a frenzied delight. But the best moment by far is when Aaron Paul makes a surprise appearance as Jesse Pinkman, a guy with a heartbreaking story about the broken healthcare system and how it caused his friend to ruin his life. Well done, 'SNL' cold open. We're starting out strong tonight.
Yay! Tina Fey is back! Fey cracks knowingly about all of her memorable characters, like Queef Latina and Salvador Dali Parton, which makes me wish we'd get to see these sketches. Instead of spending a lot of time focusing on herself, Fey introduces the new cast members: Beck Bennett (whom you might recognize from the AT&T commercials), Noel Wells, Brooks Wheelan, Mike O'Brien, Kyle Mooney, and John Milhiser. She makes them prove their worth by performing as spastic back-up dancers in tight gold shorts and sequined jackets. It's like a really creative and sort of amusing hazing ritual.
Noel Wells does an incredible Lena Dunham in this mock preview for the new season of 'Girls.' Cecily Strong is Marnie, Vanessa Bayer is a perfect Shoshanna, and Kate McKinnon does Jessa, with Fey as their new, weird Albanian friend named Blerta. This sketch is so great that it's making me worry that the rest of the episode can't possibly measure up. Blerta asks to eat the donut off of Shoshanna's head, and somehow it gets even more hilarious when Killam shows up as Adam -- Blerta tells Hannah, "You cannot do better than this man. He is strong like ox. You are weak and soft and dress like baby." Strangely, the weakest link is McKinnon's Jessa, but it's totally not a big deal when Fey's Blerta keeps killing it with these one-liners. Also, when can I watch 'Girls' with Tina Fey? Hearing her observations (which I imagine are similar to Blerta's) would be amazing.
Fey and Killam are airport workers calling for boarding groups and annoying an exasperated couple played by McKinnon and newcomer Beck Bennett. The exaggerated satire -- Kenan Thompson as the guy with the over-sized carry-on luggage, businessmen with laptops, Moynihan as a sly guy who is too happy to fart, et al. -- is serviceable and wacky enough, and the sketch thankfully brief given the thin premise. This isn't a winner, but it's worth it for Moynihan's face alone.
New Cast Member or Arcade Fire?
Thompson hosts a game show called New Cast Member or Arcade Fire, with Fey as the first contestant. It's a pretty inspired sketch, considering that the new cast members are all white, young, and slightly kooky looking folks -- so yeah, they all pretty much look like they could be Arcade Fire members. Fey has the ladies hold old-timey instruments to try and help her make a decision, and makes a couple of the guys do a Robert De Niro impression -- surprise, the "Serbian basketball player" from Arcade Fire does a better De Niro than Mike O'Brien. It's a fun sketch with plenty of meta- and in-jokes and Fey lobbing some clever insults, as she does so well.
A fake commercial for an electronic cigarette that allows you to smoke meth anytime, anywhere. McKinnon's meth head is an instant classic, spinning in her office chair and manically shopping with a boat captain's hat on -- a big improvement over her bit in the 'Girls' sketch. Also, this sketch gives us the phrase "gakked up on whoop chicken," which maybe (most likely) isn't a real meth slang phrase, but should be. Brooks Wheelan does a pretty solid job in one of his first appearances, and we get bonus Jesse Pinkman action! "It's blue, bitch!"
Cecily Strong makes her debut as co-anchor on Weekend Update, which means I guess we won't be getting any more of The Girl You Wish You Hadn't Started Talking to at a Party. I might be in the minority of people who are going to miss that.
Strong does super well on her first night, getting in a hilarious dig at 'Low Winter Sun' before she launches into a thank you to the women who worked the Weekend Update desk before her. Fey stops by the desk to give some bits of advice, which sound more like tips to survive prison.
Surprisingly, new cast member Kyle Mooney gets to bring a character to Weekend Update -- a stand-up comic from Brooklyn named Bruce Chandling, who gives his take on Iranian president Hassan Rouhani's recent U.N. speech. Of course it's less about politics and all about how him and how he's from New York, peppered with bad local jokes. It's a solid character, and Mooney goes all the way on his first night. It's refreshing to see the new featured players get so much exposure right off the bat, and it shows real confidence in their abilities. So far, so good.
Even better when Moynihan's Drunk Uncle shows up, filling the deep void which Stefon has left in all of our hearts. "Is that Amazon Prime pumpkin-spiced?" Welcome back, Drunk Uncle, and his relative, Meth Nephew (Aaron Paul, obviously)! Speaking of wacky Moynihan characters, you guys should check out his stuff on 'Comedy Bang Bang,' where he's shown up on the podcast and show as a character named Fourvel (who is one less than Fivel). He should totally take Fourvel to 'SNL' and blow all of your minds ASAP.
Thompson hosts the PBS retrospective series, Cinema Classics. On tonight's edition, he looks back at the 1940 film, 'Unwanted Woman,' starring Killam, Fey, and Bryant as the actors in the film, who are getting ever-more creepily surrounded by stuffed animal carcasses and heads. It's silly stuff and definitely one of the lesser sketches of the night with its one-note repetition.
Mike O'Brien plays an old-timey car salesman named Rick, selling used cars via a fancy new idea called a "used car commercial." Fey plays his dead-eyed and morose wife, Daisy. O'Brien is a little awkward, but I suppose that's part of his charm (check out his "Seven Minutes in Heaven" web series), and he delivers some punchy lines -- particularly about the various brands (just Model-T) and features (just seats).
Vanessa Bayer (conspicuously absent for most of the episode -- speaking of which, where is Nasim Pedrad?) and Cecily Strong bring back their former porn star characters to horrifically mispronounce words ("Manual Blonde-dicks" and "Dulce Ga-Pandas") and dispense super inappropriate phrases, like how Manolo Blahniks will make you feel like it's your first Amber Alert. This recurring sketch has quickly become one of the most anticipated for me -- Bayer and Strong bring such an amazing specificity to these two ladies, and Fey fits right in as a hillbilly former porn star with a name way fancier than she deserves, giving some of the best lines of the whole sketch.