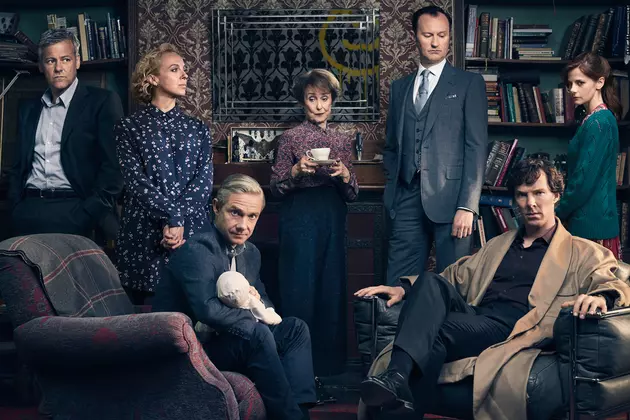 'Sherlock' Boss Explains Decision to Kill Off THAT Character
BBC
The time between Sherlock seasons generally ensures that each installment will go big, and few gut punches hit like the major death in the climax of Season 4 premiere "The Six Thatchers." Once the shock wears off, showrunner Steven Moffat has an explanation for why the show needed to spell out something the Sir Arthur Conan Doyle novels never did.
You're warned of full spoilers (and boy, do we mean SPOILERS) for last night's Season 4 premiere from here on out, but as of "The Six Thatchers," Sherlock is down one more Iron Lady than expected. Mary Watson took a bullet intended for Sherlock Holmes, leaving John a widower. Speaking with Entertainment Weekly, showrunner Steven Moffat confirmed that Mary had genuinely died, before explaining why the show will "always always always" return to its core duo:
The truth is it's never established that she died in the stories. We just assume she died because Watson refers to his "sad loss" which is probably a death but not necessarily. The reality of this, of course, is that Sherlock Holmes is about Sherlock and Dr. Watson and it's always going to come back to that — always always always. They had fun making it a trio but it doesn't work long term. Mary was always going to go and we were always going to get back to the two blokes. That's the format. [Sherlock writer-producer-actor] Mark Gatiss and I do not have the delusion that we know better than Sir Arthur Conan Doyle. That's how the show works and always will. We reset to the most traditional and famous version of the format.
Moffat also specified that they'd made a decision to kill off Mary in the premiere, as opposed to a finale, in order to allow the rift between John and Sherlock to play out. There's no telling if even next week's "The Lying Detective" will mend any fences, as Moffat says:
We take that rift head-on in the remainder of the [season]. We don't ignore it. We don't have John come back and say, "Well I've thought about it and it's all fine." If anything, the rift gets worse. We decided if we were doing this we're doing grief properly. We were doing the consequences properly. We tried to have people go through what they'd actually go through in this circumstance which, of course, is hellish. And as emotionally reticent as Sherlock Holmes is, it doesn't take a 12-year-old to figure out he's a profoundly emotional man. We don't skirt around it. We don't just get on with the story of the week — although there is a story of the week. There's a big villain to fight. But front and center are the consequence of Mary's death and Sherlock's culpability. He could have done better, it's his lifestyle that killed her in the end.
We'll see for ourselves when Season 4 reaches a midpoint next Sunday, so check out the latest Sherlock trailer below.