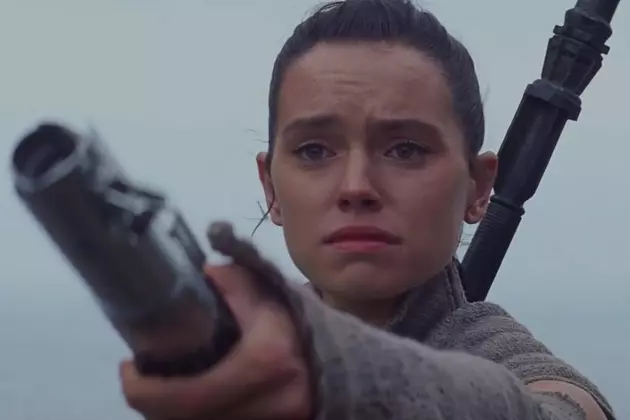 'Star Wars: Episode VIII' Will Pick Up Right Where 'The Force Awakens' Left Off
Disney / Lucasfilm
Remember those dramatic last minutes of Star Wars: The Force Awakens? Rey landing on a distant planet. A robed figure pulls back his hood to reveal an anguished Luke Skywalker. Rey reaches out, lightsaber in hand, as the camera pulls back and a familiar fanfare starts to play. It's a scene that asks so many more questions than it answers; if Star Wars: Episode VIII wanted to pick up the story right here, we can think of maybe a dozen different questions we'd like Rey to ask.
And today at the Future Filmmakers Panel at Star Wars Celebration, we learned that might actually be the case. In the midst of a discussion about working with the Lucasfilm Story Group and his own memories of watching the original Star Wars films with his father, Star Wars: Episode VIII director Rian Johnson let slip a pretty interesting tidbit.
This movie is going to start right where the last one left off.
As usual, there's a little room for interpretation here. It's possible that all Johnson mean that the next movie will forego skipping forward in time the way that the original films or Star Wars: The Force Awakens did. However, one of the behind-the-scenes photos shared at the panel (seen below) does show that the production shot at the same Irish island used for that dramatic Luke and Rey meeting. It seems likely, then, that the movie will pick these two characters up right where they left off.
For fans, this does make a lot of sense as we ease back into our relationship with a familiar character. I mean, you're Luke Skywalker, you've spent years in isolation, and someone lands a ship ten feet away from your rock hut and offers you a lightsaber that you thought had been destroyed decades ago. Do you just jump on her ship and head off without at least asking a few questions of their own? For myself, I know I could use a few minutes to adjust to the idea of misanthrope Luke Skywalker. It sounds like Johnson and his team know the potential in such a moment and might not be afraid to give that meeting the weight it deserves.
Star Wars: Episode VIII opens in theaters on December 15, 2017.