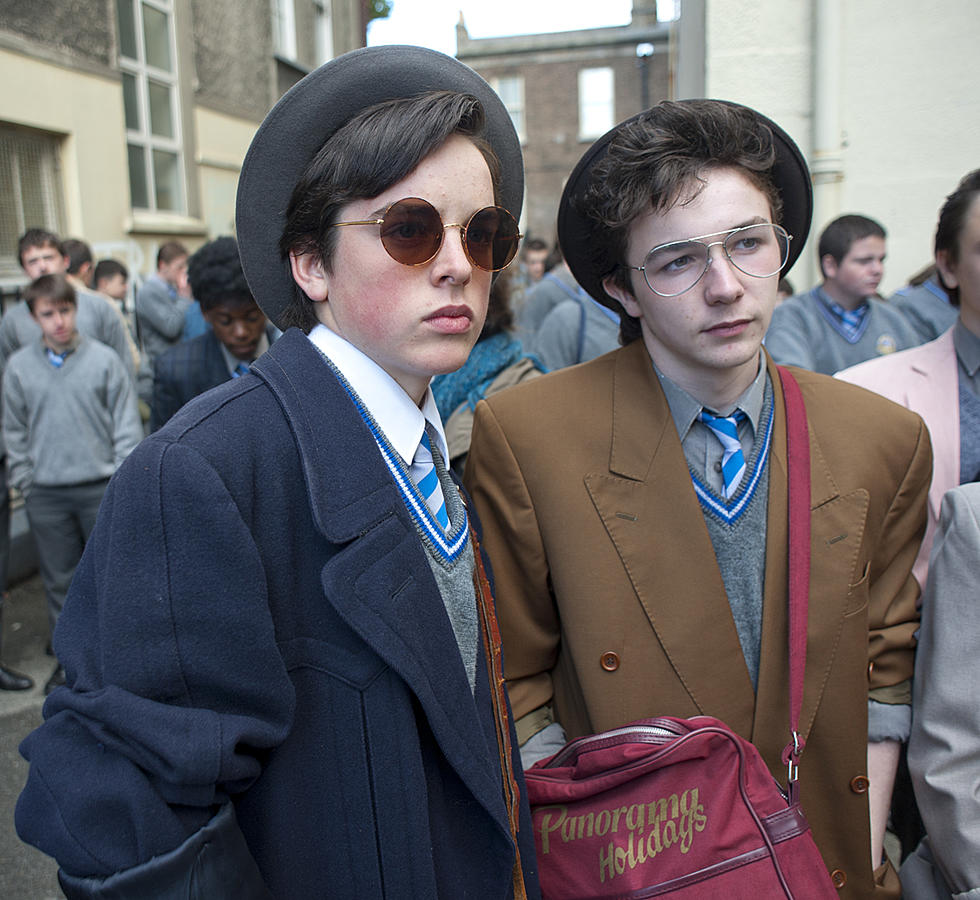 'Sing Street,' 'Morris From America, 'Hunt For Wilderpeople' Join 2016 SXSW Film Lineup
The Weinstein Company
The festival has rounded out its lineup with announcements for the Midnighters, Festival Favorites, Shorts Programs and Special Events sections. A handful of the additions include breakouts from this year's Sundance Film Festival. Once director John Carney's Sing Street and Taika Waititi's Hunt for the Wilderpeople, both of which we loved, will make their way to SXSW. Those titles will be joined in the Festival Favorites category along with other Sundance favorites The Greasy Strangler, Morris From America, Operation Avalanche and Newtown. In the Midnighters there's Hush from Oculus filmmaker Mike Flanagan, Jack Goes Home starring Rory Culkin and Natasha Lyonne, and Carnage Park about a bank robbery and a psychotic sniper.
Those join a handful of other festival standouts including Mike Birbiglia's feature debut Don't Think Twice starring Keegan-Michael Key, My Blind Brother with Adam Scott and Jenny Slate, War on Everyone with Tessa Thompson and Alexander Skarsgård, Ti West's In the Valley of Violence starring Ethan Hawke, and Nicolas Cage and Elijah Wood in The Trust. The festival will also feature the debut of Seth Rogen and Evan Goldberg's series Preacher, Danny McBride's series Vice Principals, Judd Apatow's Pee-wee's Big Holiday and the U.S. premiere of Jean-Marc Vallee's Demolition. 
The 2016 SXSW Film Festival kick off March 11 and run through March 19. Check out the Festival Favorites, Midnighters and Shorts below. See the rest of the lineup here.
Carnage Park
Director/Screenwriter: Mickey Keating
The year is 1978. A team of wannabe crooks botch a small-town bank heist and flee with their hostage deep into the California desert, where they find themselves in a harrowing fight for survival against a psychotic ex-military sniper. Cast: Ashley Bell,Pat Healy, Alan Ruck, Darby Stanchfield, Larry Fessenden, Graham Skipper, James Landry Hebert, Michael Villar
Hush
Director: Mike Flanagan, Screenwriters: Mike Flanagan, Kate Siegel
A deaf woman is stalked by a psychotic killer in her secluded home. Cast: Kate Siegel, John Gallagher Jr, Michael Trucco, Samantha Sloyan (World Premiere)
I Am a Hero (Japan)
Director: Shinsuke Sato, Screenwriter: Akiko Nogi
Japan's first major zombie movie based on a blockbuster manga series! Cast: Yo Oizumi, Kasumi Arimura, Masami Nagasawa (U.S. Premiere)
Jack Goes Home
Director/Screenwriter: Thomas Dekker
After his father is killed in a car crash, Jack travels home to Colorado to help nurse his mother (who was injured in the crash) back to health. There, he uncovers long buried secrets and lies within his family, his friends and his very identity. Cast: Rory Culkin,Lin Shaye, Daveigh Chase, Natasha Lyonne, Louis Hunter, Nikki Reed, Britt Robertson (World Premiere)
Johnny Frank Garrett's Last Word
Director: Simon Rumley, Screenwriters: Ben Ketai, Marc Haimes, Tony Giglio
When a young man is executed for committing murder, he leaves behind a curse letter in which he promises to take vengeance on all those connected to his trial. Cast: Sean Patrick Flanery, Erin Cummings, Devin Bonne, Mike Doyle (World Premiere)
My Father Die
Director/Screenwriter: Sean Brosnan
A young deaf boy avenges the death of his brother, and the killer happens to be his father. Cast: Joe Anderson, Gary Stretch, Candance Smith, Kevin Gage, John Schneider, Gabe White, Ross Britz, Michael Francis Murphy, William Mark McCullough, Frances Reagan James (World Premiere)
Pet
Director: Carles Torrens, Screenwriter: Jeremy Slater
A lonely man fatefully reunites with a former high school classmate. When she spurns his advances, he takes her prisoner, only to find that she is not what she seems. Cast:Dominic Monaghan, Ksenia Solo, Jennette McCurdy, Nathan Parsons, John RossBowie, Da'Vone McDonald, Janet Song (World Premiere)
PHANTASM: Remastered
Director/Screenwriter: Don Coscarelli
Filmmaker J.J. Abrams and his company Bad Robot have undertaken a meticulous 4K restoration of writer/director Don Coscarelli's beloved horror fan favorite about a young boy confronting the embodiment of death in the form of the sinister "Tall Man." Cast: Michael Baldwin, Bill Thornbury, Angus Scrimm, Reggie Bannister, Kathy Lester
Under the Shadow (Jordan, Qatar, UK)
Director/Screenwriter: Babak Anvari
As a mother and daughter struggle to cope with the terrors of the post-revolution, war torn Tehran of the 80s, a mysterious evil begins to haunt their home… Cast: Narges Rashidi, Avin Manshadi, Bobby Naderi, Arash Marandi, Ray Haratian, Hamid Djavdan, Nabil Koni
Untitled Fede Alvarez/Ghost House Thriller
Director: Fede Alvarez, Screenwriters: Fede Alvarez, Rodo Sayagues
A group of teens break into a blind man's home thinking they'll get away with the perfect crime. They're wrong. Cast: Jane Levy, Dylan Minnette, Daniel Zovatto,Stephen Lang (World Premiere)
FESTIVAL FAVORITES
Cameraperson
Director: Kirsten Johnson
Exposing her role behind the camera, Johnson reaches into the vast trove of footage she has shot over decades around the world. What emerges is a visually bold memoir and a revelatory interrogation of the power of the camera.
Chevalier (Greece)
Director: Athina Rachel Tsangari, Screenwriters: Efthimis Filippou, Athina Rachel Tsangari
Six men on a fishing trip on a luxury yacht decide to play a game to compete. Things will be compared. Things will be measured. Songs will be butchered, blood will be tested. Friends will become rivals and rivals will become hungry. Cast: Yorgos Kentros, Panos Koronis, Vangelis Mourikis, Makis Papadimitriou, Yorgos Pirpassopoulos, Sakis Rouvas
Free In Deed
Director/Screenwriter: Jake Mahaffy
Free in Deed depicts one man's attempts to perform a miracle when a single mother brings her young boy to church for healing. Cast: David Harewood, Edwina Findley, RaJay Chandler, Kathy Smith
Gleason
Director: Clay Tweel, Screenwriters: Seth Gordon, Clay Tweel    At the age of 34, Steve Gleason was handed a death sentence. When doctors diagnosed him with ALS, they gave the former NFL defensive back and New Orleans hero two to five years to live. So that is what Steve chose to do – LIVE.
The Greasy Strangler
Director: Jim Hosking, Screenwriters: Jim Hosking, Toby Harvard
Ronnie runs a Disco walking tour with his son, Brayden. When a sexy woman takes the tour, it begins a competition between father and son for her love. It also signals the arrival of an oily strangler who stalks the streets at night. Cast: Michael St Michaels, Elizabeth De Razzo, Sky Elobar, Joe Walters, Gil Gex, Abdoulaye NGom, Sam Dissanayake, Holland MacFallister
Hunt For The Wilderpeople (New Zealand)
Director/Screenwriter: Taika Waititi
Ricky (Julian Dennison) is a defiant city kid who finds himself on the run with his cantankerous foster uncle (Sam Neill) in the wild New Zealand bush, in this hilarious and heartfelt adventure from director Taika Waititi (What We Do In The Shadows). Cast: Julian Dennison, Sam Neill, Rima Te Wiata, Rachel House, Oscar Kightley, Rhys Darby, Stan Walker, Cohen Holloway, Mike Minogue, Troy Kingi
Morris from America
Director/Screenwriter: Chad Hartigan
Morris From America is an endearing, heartfelt coming-of-age comedy about Morris, a 13-year-old African-American boy who has just moved to Heidelberg, Germany with his caring but troubled single father. Cast: Markees Christmas, Craig Robinson, Carla Juri
Newtown
Director: Kim A. Snyder
Newtown documents the aftermath of the deadliest mass shooting of schoolchildren in American history. A cast of characters within Newtown and beyond interconnect to weave an intimate story of trauma, grief and community resilience.
Operation Avalanche
Director: Matt Johnson, Screenwriters: Matt Johnson, Josh Boles
In 1967, four undercover CIA agents were sent to NASA posing as a documentary film crew. What they discovered led to one of the biggest conspiracies in American history. Cast: Matt Johnson, Owen Williams, Josh Boles, Ray James
Presenting Princess Shaw (Israel)
Director: Ido Haar
Presenting Princess Shaw is the true story of the incredible Princess Shaw and the enigmatic composer Kutiman, who discovers her from the other side of the world.
Richard Linklater – dream is destiny
Directors: Louis Black, Karen Bernstein
Richard Linklater – dream is destiny is a feature-length documentary on the filmmaker Richard Linklater and an unusual look at a fiercely independent film style that emerged from Austin, Texas in the 1990s.
Sing Street (USA/Ireland)
Director/Screenwriter: John Carney
A boy growing up in Dublin during the 1980s escapes his strained family life by starting a band and moving to London. Cast: Ferdia Walsh-Peelo, Lucy Boynton, Jack Reynor, Aidan Gillen, Mark McKenna, Maria Doyle Kennedy
Trapped
Director: Dawn Porter, Screenwriters: Dawn Porter, Sari Gilman
Trapped follows the clinic workers, women, and lawyers on the frontlines of the battle as they fight to keep abortion safe and legal across the US for millions of poor and uninsured women caught in a political quagmire.
NARRATIVE SHORTS
Barry
Director/Screenwriter: Jay Rondot
A homespun cocaine dealer takes to social media to expand his operation, but things don't go as planned. (World Premiere)
Boys (Sweden)
Director: Isabella Carbonel, Screenwriters: Isabella Carbonell, Babak Najafi
Markus is in an institution for young sex offenders. His only friend inside is the unpredictable and violent Tobias. (North American Premiere)
Crooked 180 (Netherlands)
Director/Screenwriter: Kevin Boitelle
A young skateboarders summer with endless possibilities and an approaching ending. (World Premiere)
Dastaar
Director/Screenwriter: Javian Ashton Le
Harpreet and Emily drive to New York days after 9/11 (World Premiere)
Ernestine & Kit (UK)
Director: Simon Bird, Screenwriters: Simon Bird, Kevin Barry
A darkly comic fairytale about two elderly women who travel the countryside of rural Ireland, imagining the terrible, immoral lives people are living today. Their one consolation is the innocence of children… (World Premiere)
The First Men
Director/Screenwriter: Benjamin Kegan, Story by: Stacey Richter
An overextended teacher bumps into a troubled student while at the mall with her mom. (World Premiere)
Greener Grass
Director: Paul Briganti, Screenwriters: Jocelyn DeBoer, Dawn Luebbe
In this dark comedy of manners set in a surreal world, meticulously-coiffed soccer moms Jill and Lisa vie for perfect children, perfect husbands, and most importantly, perfect teeth. (North American Premiere)
Her Friend Adam (Canada)
Director/Screenwriter: Ben Petrie
A boyfriend's jealous impulse spirals out of control in 16 minutes of romantic doom.
Het Geluk (Belgium)
Director/Screenwriter: Jan Van Dyck
One evening, 38-year-old Frank returns to his quiet residential house where his family has organized a surprise birthday party. (North American Premiere)
Hip Hip Hooray
Director: Lizzy Sanford, Screenwriters: Lizzy Sanford, Anna Cordell
Harry breaks up with his girlfriend on his 30th birthday, moments before discovering she has thrown him a surprise birthday party.
Homebodies (Australia)
Director/Screenwriter: Yianni Warnock
Shannon cooks dinner whilst speaking to a perverted stranger online. Andrew takes a bath wrapped in seared Christmas lights. What could possibly shock this estranged couple from their malaise? (World Premiere)
How Was Your Day? (Ireland)
Director: Damien O'Donnell, Screenwriters: Nollaig Rowan, Damien O'Donnell
A woman is excited about the approaching birth of her first child. (North American Premiere)
Jumpers
Director/Screenwriter: Anonymous
One way or another, Paul is getting Cody off the roof.
Quelques Secondes (France)
Director: Nora El Hourch
The daily life of five girls living in a hosting center in Paris, and trying to move forward. (U.S. Premiere)
She Stoops To Conquer (Canada)
Director: Zack Russell, Screenwriters: Zack Russell, Kayla Lorette
A struggling performer stumbles upon a real-life version of the character she plays in this doppelgänger rom-com.
Thunder Road
Director/Screenwriter: Jim Cummings
Officer Arnaud loved his mom.
Too Legit
Director/Screenwriter: Frankie Shaw
After becoming pregnant from sexual assault on campus, a young woman goes on a journey to find out if the rape was 'legitimate.'
Victor XX (Spain)
Director/Screenwriter: Ian Garrido
What would happen if you didn't feel comfortable with your body? What if you decided to experiment with your gender?
Where You Are
Director/Screenwriter: Graham Parkes
When Jen's son disappears in a game of hide-and-seek, she unwittingly embarks on a journey through time in order to find him. (World Premiere)
Woman in Deep
Director/Screenwriter: Janicza Bravo
A woman struggles to make it through her birthday in one piece. (World Premiere)
Alive & Kicking: The Soccer Grannies of South Africa (South Africa/USA)
Director: Lara-Ann de Wet
A story that brings to life the struggle of grannies in South Africa through the game of soccer. (World Premiere)
Another Kind of Girl (Jordan)
Director/Screenwriter: Khaldiya Jibawi
17-year-old Khaldiya meditates on how the refugee camp has opened up new horizons and given her a sense of courage that she lacked in Syria.
Bacon & God's Wrath (Canada)
Director: Sol Friedman
A 90-year-old Jewish woman reflects on her life's experiences as she prepares to try bacon for the first time.
The Black Belt
Director: Margaret Brown
In September 2015, Alabama closed 31 DMVs, which largely impacted voters in Alabama's Black Belt. To combat these closures, the Secretary of State issued a Mobile Voter Registration unit, which traveled to every county to issue voter IDs. (World Premiere)
Dollhouse
Director: Terri Timely
An aesthetically lavish portrait of a "reborn" artist who strives for maximum verisimilitude in her creation of newborn baby dolls. (World Premiere)
Like
Director: Garrett Bradley
At the intersection of internet popularity and economic gain a booming industry grows in Bangladesh based on Likes. (World Premiere)
Love Bite: Laurie Lipton and her disturbing black & white drawings (UK)
Director: James Scott
No one on the planet has drawn more than Laurie Lipton. Armed with only a pencil, her haunting images seek answers to the most uncomfortable themes in our culture. But what compels her to live a life of isolation drawing is neither black nor white. (World Premiere)
Miss Me: The Artful Vandal
Director: Mohammad Gorjestani
Renowned Montreal street artist, "Miss Me", gives us an unprecedented inside view into her life and her quest for self-liberation and authenticity, as she uses her art to take aim at the objectification of women in advertising. (World Premiere)
Phil's Camino
Directors: Annie O'Neil, Jessica Lewis
Due to treatments for his stage 4 cancer, Phil can only dream of walking the Camino de Santiago in Spain. He does the next best thing: he builds a Camino behind his house and along the way he learns his true pilgrimage is the one he travels within. (World Premiere)
The Provider
Directors: Leah Galant, Maya Cueva
Restrictive laws, such as HB2 in Texas, threaten abortion providers and force clinics to shut down or hire out-of-state practitioners. Some abortion doctors, such as Dr. Shannon Carr, travel hundreds of miles to provide legal and safe abortions.
These C*cksucking Tears
Director: Dan Taberski
The gritty, fearless voice behind the world's first and only gay-themed country music album, 40 years after its release. (World Premiere)
The Vodou Healer
Director: Lucy Walker
In post-earthquake Haiti, Vodou healer Katy leads a captivating and cathartic all-night ceremony. (World Premiere)
Accidents, Blunders and Calamities (New Zealand)
Director/Screenwriter: James Cunningham
A father possum tells his kids a story about the most dangerous animal of all – humans! (World Premiere)
David Gilmour – "The Girl in the Yellow Dress" (UK/USA)
Director: Danny Madden
Paris, 1961–The "it" girl walks into a jazz club, imaginations run wild.
Deer Flower (Republic of Korea)
Director/Screenwriter: Kangmin Kim
Deer Flower is a stop motion and 3d printed film following elementary student, Dujung and his parents. Dujung drinks rare food and suffers side effects.
Edmond (UK)
Director/Screenwriter: Nina Gantz
A funny and dark story of a man with cannibalistic urges who travels back through his life, looking for the root of his unhappiness.
Geist (Ireland)
Directors: Alex Sherwood, Ben Harper, Sean Mullen
A shipwrecked fisherman is led to a dark secret within this short thriller. (World Premiere)
Glove
Directors: Alexa Lim Haas, Bernardo Britto
The true story of a glove that has been floating forever in space since 1968.
Heila Ormur
Director/Screenwriter: Rose Stark
A man, infected, runs for his life.
LOVE (Hungary)
Director/Screenwriter: Réka Bucsi
LOVE is a short film describing affection in 3 different chapters, through an impact on a distant solar system. (U.S. Premiere)
Pombo Loves You (UK)
Director: Steve Warne, Screenwriters: Josh Blaaberg, Steve Warne
A distant father is forced to confront a heroic but troubled past life as the 1980's TV show character Pombo.
Shiny
Directors: Daniel Cloud Campos, Spencer Susser
A damsel in distress gets undressed when a man from the Midwest puts to rest a world that's obsessed with "the priceless," also known as "the shiny."
Snowfall (Ireland)
Director: Conor Whelan
A story of fleeting love at a house party.
Things used to be hidden (Germany)
Director/Screenwriter: Tara Mercedes Wood
Things used to be hidden is a mockumentary about the aftermath of a disaster which caused everyone to loose their perception filters. Various characters tell us how they feel about their new lives. Is knowing it all really what we want? (North American Premiere)
Trash Cat
Director/Screenwriter: Kelsey Goldych
A cat that likes to knock over trashcans. (World Premiere)
Vocabulary 1
Director: Becky James
An oblivious Snake and his neighbor, Butterfly, come to life on a vocabulary worksheet. (World Premiere)
MIDNIGHT SHORTS
An Arms Length (UK)
Director/Screenwriter: Max Weiland
God couldn't be everywhere, so he created mothers.
Battlefield Casualties (UK)
Director: Price James, Screenwriters: Darren Cullen, Price James
Battlefield Casualties is a Veterans For Peace UK Film challenging the British Army's policy of recruiting 16-year-olds into the most dangerous army jobs.
Don't Tell Mom (Japan)
Director: Sawako Kabuki
A nocturnal education film, designed to help children develop their emotions and expressions as well as language and physical skills by enjoying singing and exercising with a big brother.
Eat My Shit (Spain)
Director/Screenwriter: Eduardo Casanova
Samantha has an anus instead of a mouth. Everyone picks on her but she just wants to be normal.
Gwilliam
Director: Brian Lonano, Screenwriters: Brian Lonano, Victoria Cook, Kevin Lonano
A disgusting love story between Man and Goblin.
MANOMAN (UK)
Director: Simon Cartwright
When Glen attends primal scream class, he releases something from deep within that knows no limits.
Night of the Slasher
Director/Screenwriter: Shant Hamassian
A 'shot-in-one-take' slasher film about a teenage girl who must commit horror movie sins by drinking alcohol, doing drugs, and having sex in order to lure a masked killer and exact revenge.
Night Stalker
Director: New Media Ltd , Screenwriters: Mike Anderson, Ryan Dickie, Abigail Horton
The Night Stalker gives you poisoned to go container of food and you turn to clay and go to another dimension!!!
The Procedure
Director/Screenwriter: Calvin Lee Reeder
An unassuming man is forced to endure a strange experiment.
A Reasonable Request
Director: Andrew Laurich, Screenwriters: Gabriel Miller, Andrew Laurich
A desperate son reconnects with his estranged father to ask an unspeakable favor that will change their lives forever.
Seth
Director/Screenwriter: Zach Lasry
There comes a point in every young man's life where he must rise to the occasion or admit defeat. For Seth, impressing his father is his only goal, his greatest test, his Everest. Today is the day.
The Smiling Man
Director/Screenwriter: A.J. Briones
A little girl home alone finds herself face-to-face with pure evil.
Snatchers
Directors: Stephen Cedars, Benji Kleiman, Screenwriters: Stephen Cedars, Benji Kleiman, Scott Yacyshyn
A teenager's trip to the clinic becomes freakier than usual when she learns that something supernatural is involved. (World Premiere)