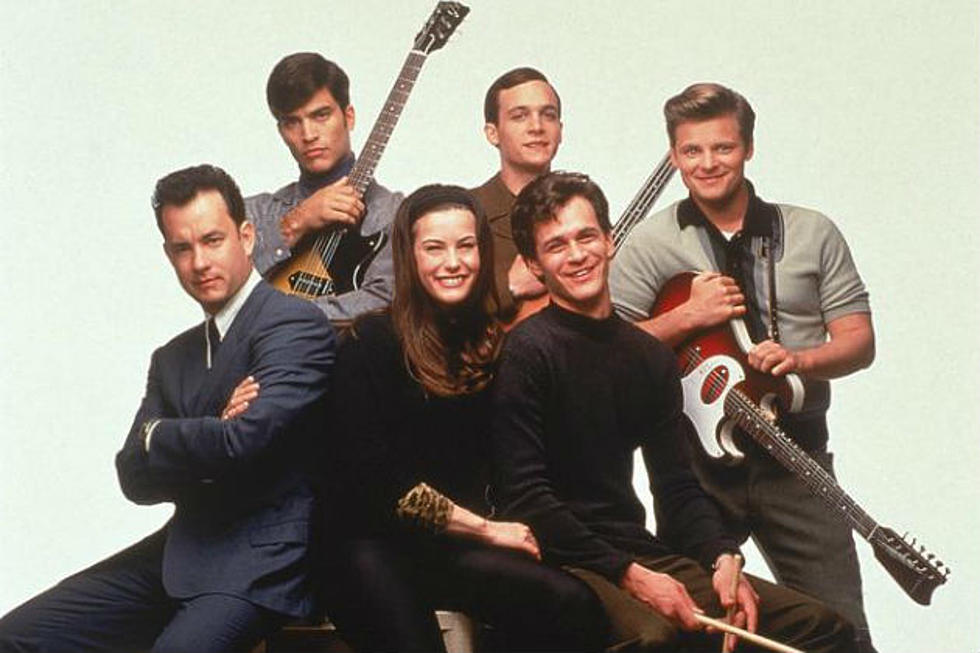 See the Cast of 'That Thing You Do!' Then and Now
20th Century Fox
In 1996, Tom Hanks made his directorial debut with the musical comedy 'That Thing You Do!' Set in 1964, it follows the quick rise and fall of the one-hit wonder pop band The Wonders and their trials and tribulations as they juggle their personal lives with abrupt stardom. Starring Hanks himself as the band's manager and a cast that included budding stars like Liv Tyler and Steve Zahn, the film was as vibrant as the fictional band's hit single. Seventeen years later, we revisit the cast of the film and see what they're up to now.
Tom Everett Scott, Guy "Shades" Patterson
Then: Tom Everett Scott made his film debut as Guy Patterson, the main protagonist and drummer later nicknamed "Shades" when the band's manager gives him a pair of signature sunglasses to wear on stage.
Now: Scott went on to star in the MTV film 'Dead Man on Campus' with former 'Saved by the Bell' star Mark-Paul Gosselaar and in 'Boiler Room' with Vin Diesel. He recently starred on the drama series 'Southland' and appeared in 'Parental Guidance' with Billy Crystal. He can be seen next in 'Enemies Closer' with Jean-Claude Van Damme.
Johnathon Schaech, James "Jimmy" Mattingly II
Then: Johnathon Schaech played Jimmy Mattingly II, the lead singer and guitarist of the band who lets the sudden stardom go to his head.
Now: In recent years, Schaech appeared in horror remakes, like 'Prom Night' and 'Quarantine,' and had recurring roles on seasons of 'Ray Donovan' and 'The Client List.' He can be seen next in 'The Legend of Hercules' with Kellan Lutz and 'The Prince' with Bruce Willis.
Steve Zahn, Leonard "Lenny" Haise
Then: Steve Zahn played Lenny Haise, the band's second guitarist, back-up singer, and the comic relief of the group. At the time, Zahn was known for roles in Gen-X flicks 'Reality Bites' and 'SubUrbia.'
Now: Zahn stars on the HBO series 'Treme,' and his diverse resume includes roles in the 'Diary of a Wimpy Kid' film series and 'Dallas Buyers Club' with Matthew McConaughey. His latest project, 'The Knights of Badassdom,' comes out on VOD and in theaters in early 2014, and also features Peter Dinklage, Summer Glau and Ryan Kwanten.
Ethan Embry, "T.B. Player," aka The Bass Player
Then: Ethan Embry played "T.B. Player," aka The Bass Player, whose name we never learn. Embry previously starred in the films 'Dutch' and 'Empire Records,' and remained a star in the late '90s with parts in 'Can't Hardly Wait' and 'Disturbing Behavior.'
Now: Embry flew under the radar for several years with small roles in 'Vacancy' and 'Eagle Eye.' He starred on the series 'Brotherhood' and made appearances on 'Grey's Anatomy' and 'Once Upon a Time.' You can see an almost unrecognizable Embry next in the upcoming dark comedy 'Cheap Thrills' (pictured above right).
Tom Hanks, Mr. White
Then: Tom Hanks played Mr. White, the band's (second) manager, who helps usher them up the ranks of the billboard charts and navigate the waters of stardom. Hanks also wrote and directed the film, and his wife, actress Rita Wilson, makes a cameo appearance as a waitress.
Now: Hanks recently appeared in the true-life drama film 'Captain Phillips' as the film's titular protagonist, and as Walt Disney in 'Saving Mr. Banks,' which chronicles the making of 'Mary Poppins.' Hanks was announced executive producer on HBO's miniseries 'Olive Kitteridge' (coming next year) and as a producer on the in-development 'American Gods' TV series. In addition, he'll also reprise his role as Robert Langdon in 'Inferno,' based on Dan Brown's novel.
Liv Tyler, Faye Dolan
Then: Liv Tyler played Faye Dolan, Jimmy's girlfriend when the film begins. Faye is kind and often makes excuses for Jimmy's increasingly pompous behavior. Tyler previously appeared in 'Empire Records' with Ethan Embry.
Now: Tyler went on to star in the films 'Inventing the Abbotts' and 'Armageddon,' and played Arwen the elf in the 'Lord of the Rings' films. More recently, she appeared in the indie film 'Robot and Frank,' and stars in the upcoming film 'Space Station 76' and HBO original series 'The Leftovers.'
Charlize Theron, Tina Powers
Then: One of Charlize Theron's earliest film roles was as Tina Powers, Guy's girlfriend in 'That Thing You Do!' It was only her third film credit after 'Children of the Corn III: Urban Harvest' and '2 Days in the Valley.' Her breakout role would come one year later with 'The Devil's Advocate.'
Now: Since then, she's garnered acclaim for roles in films like 'Monster' and 'Young Adult,' and more recently appeared in 'Snow White and the Huntsman' and 'Prometheus.' She can be seen next in 'Dark Places,' the adaptation of the Gillian Flynn novel of the same name, which she is also producing, and in 'Mad Max: Fury Road' with Tom Hardy.