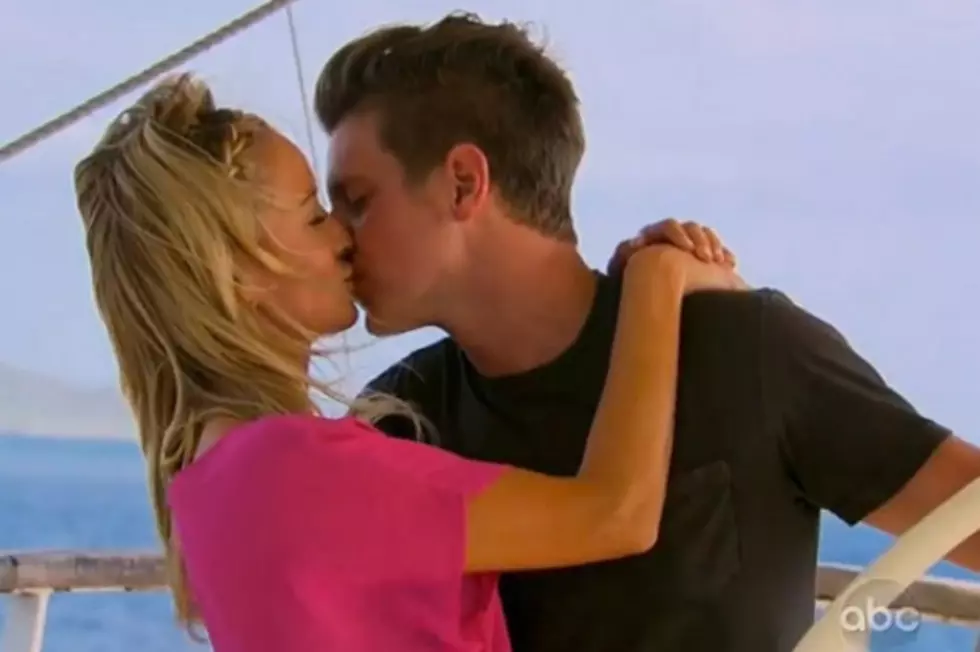 'The Bachelorette' Review: "Week Nine"
With just three dudes left, Emily and her trio of suitors are headed to the beautiful island of Curacao for dates, dolphins and more endless declarations of undying love on this week's edition of 'The Bachelorette.' So put on your bathing suit and slather on the sunscreen, we're headed to the Caribbean, ya'll!
First up for a date is Sean, who confidently tells us that Emily is the love of his life, that is if his life were nine weeks long. After last weeks' family visits, Em is more confused and torn up about the boys than ever. As for Sean, Emily tells us about her "immediate connection" with the Texan. She loves the fact that he's a muscular football player who is also vulnerable. The kinda guy who'll clothesline you on the fifty-yard line and then cry about it.
Emily senses that Sean only wants to get married once, like most of us. Speaking about Jef, Emily is charmed by his weird, quirky edge and thinks he could make going to the grocery store an adventure. Especially in the meat department. As for Arie, Em mentions her "immediate connection" with the Indy car racer, much like her "immediate connection" with Sean. Uh oh. This could get messy.
Em tears up talking about Arie, leading me to believe he's the one she'll end up with all the roses are given out. She knows he'll always be there for her and wants a fairy tale ending with him. The kind that ends up on the cover of US Weekly.
Sean and Emily begin their date with a helicopter tour of the island. Sean's yet to drop the "L word" but aboard a noisy chopper wearing headphones probably isn't the best scenario. Afterwards, Emily grills Sean about his exes and his feelings for her. Sean says everything but "I love you" and Emily's looking nervous. He appears to have finally built up the nerve as the two squint at each other in the sun while sitting on the beach. But then Sean tells Emily he forgot what he was going to say as women across America scream at their TVs, "I love you!!!! You idiot!" Then he suggests they go snorkling. Maybe he's not so vulnerable, after all.
Emily keeps telling Sean how perfect he is and he proves her right by reading a letter a producer he wrote to Ricki. Emily asks if Sean would want to get engaged and he tells if you love someone, it's only natural. Once again, Sean has found a way to say it without saying it. Then, to everyone's relief, most of all Emily, Sean says he's fallen in love with her.
This leads to Em handing Sean an invitation from host Chris Harrison to spend the night in the "Fantasy Suite." Let me make that clear, the invite is from Chris but it's for Em and Sean. Kinda weird to have a guy invite you to spend the night with a girl in a "Fantasy Suite," eh? Also kinda weird to marry someone you met on a TV dating show too, while we're at it.
Now that Emily and Sean are free to have sex in 'The Bachelorette's' equivalent of the "smush room" they head inside but Emily decides that getting it on with Sean probably isn't the best look for a single mom still in the throws of romance with two other dudes on TV. Good call, Em. Emily sends Sean home after they chill for a bit in the suite.
Next up is Jef-with-one-F. Emily tells Jef she's still nervous about what his parents will think of her but he assures her his siblings are pleading her case to the folks. Jef, in turn, is concerned about his relationship with Emily's daughter and wants to make sure he's a good fit. Emily tells him she pictured Jef with her and Ricki during her brief return to Charlotte.
After a day aboard a yacht touring the island, Em also invites Jef to the Fantasy Suite but to her  surprise (not ours), he turns her down based on the fact that she's a mom and this crap's gonna be on TV. While she admires his chivalry, Em is bummed she didn't get to turn him down first. Jef consoles her, telling Emily they'll spend every night in their own little fantasy suite in Utah. Not sure they have those there but ok.
Finally, it's Arie's turn. As soon as they see each other, Emily and Arie start making out. After spending a good amount of time on first base, they decide to get in the water and swim with dolphins, which apparently, Emily is terrified of. Arie convinces Em that Flipper won't bite and she's impressed with his fearlessness. It's a dolphin not Jaws.
At dinner, Emily wants to know what Arie does on an average Tuesday morning. He tells her gets up around 9AM, which is way too late for Emily who has a daughter to get off to school. He also eats just about every meal out and spends his nights hanging with friends. Still, Emily sees Arie as light at the end of this tunnel of random dudes she's traveling through and can't get over how good looking is. Thus, she doesn't even broach the topic of the Fantasy Suite, for fear of turning 'The Bachelorette' into a Vivid Entertainment production.
With the dates over with, Emily tells host, Chris Harrison she hasn't gained any additional clarity this week on who to send home. She sees a life with each of the guys and is falling for all three in different ways. Still, it's the last rose ceremony and one of these dogs is not getting a bone. After watching schmaltzy video messages (Jef wants to watch "a thousand sunsets" with Emily. Good lawd)  from the trio, she makes her choice.
Sean is left rose-less and says he feels stupid...now?! Emily tells Sean she really wanted to make it work with him and may regret her decision. Sean takes it on the chin and tells Emily he wants her to do whats best for her and then heads off in the car, lamenting his "sad" and "embarrassing" experience on the show.
But don't worry, we'll be seeing more of Sean, and old favorites, "trophy wifer" Ryan and kid-hater, Kalon in next week's reunion episode when the men tell all. Should be one heck of a rodeo, ya'll!