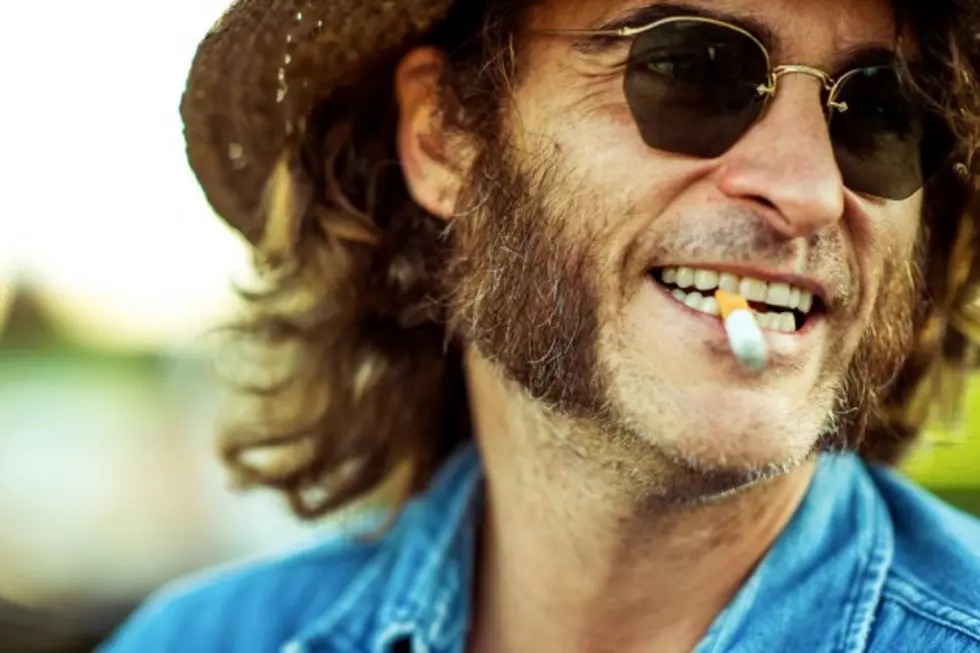 In Honor of 'Inherent Vice,' the Best Thomas Pynchon Character Names, Ranked
Warner Bros.
With Paul Thomas Anderson's 'Inherent Vice' ready to both wow and perplex audiences at the New York Film Festival, now is as good a time as any to drag that copy of 'Gravity's Rainbow' off the shelf and give it another try. Thomas Pynchon, the author of 'Inherent Vice,' is a towering figure of modern literature, but this is the first time the reclusive author's work has ever been put to film. While many of his books are massive ('Against the Day' clocks in at 1085 pages!) you shouldn't be afraid. They are rather hilarious once you get into them. With any luck, the new Joaquin Phoenix-led film will coax new readers his way.
In an effort to speed along the effort, we've taken it upon ourselves to list our eighteen favorite character names from Pynchon works. Why eighteen? Well, that's a hidden reference to a conspiracy that you need to argue about on message boards for years. Note: with the acres of episodic text that has poured from Pynchon's fingers, this is really just a drop in the bucket. We fully expect angry letters handwritten on graph paper to arrive via Thurn-und-Taxis post.
18

Driscoll Padgett

'Bleeding Edge'

A graphics designer for hwgaahwgh.com (Hey, We've Got Awesome and Hip Web Graphics, Here.)

17

Oedipa Mass

'The Crying of Lot 49'

The central figure in unspooling a conspiracy of, among other thing, underground postal services.

16

The owner of a farmhouse near the Mason-Dixon line who, at full moons, transforms into a were-beaver. Possibly a play on Zeppo Marx.

15

Shasta Fay Hepworth

'Inherent Vice'

The ex-girlfriend of the Joaquin Phoenix's stoner detective, who leads him into a new mystery. (Played by Katherine Waterston.)

14

Teddy Bloat

'Gravity's Rainbow'

Periphery comic relief figure bumbling through WWII. Literally makes his entry slipping on a banana peel.

13

A math professor who improbably becomes a pop culture sensation.

12

Cyprian Latewood

'Against The Day'

A bisexual spy who eventually becomes a monk.

11

Melanie L'Heuremaudit

'V.'

A ballerina (who may or may not have inspired a Stravinsky-esque riot) whose name is a play on "F**king Time."

10

Tyrone Slothrop

'Gravity's Rainbow'

At the center of the most important event of the 20th Century is a bewildered figure with a bewildering name.

9

Mike Fallopian

'The Crying of Lot 49'

Extreme right winger and member of the Peter Pinguid Society.

8

Meatball Mulligan

"Entropy" from 'Slow Learner'

Washington D.C. beatnik who throws one hell of a party.

7

Reverend Wicks Cherrycoke

'Mason & Dixon'

Narrator of tall tales who does not want to go back into the cold.

6

Pig Bodine

"Low-lands" from 'Slow Learner', 'V.' and 'Gravity's Rainbow'

5

Tortured expressionist artist working on 'Cheese Danish #35.'

4

Scarsdale Vibe

'Against the Day'

A vicious plutocrat and mine owner. Scarsdale, if you don't know, is a wealthy suburb of New York City.

3

A "human yo-yo" bouncing around a whole sick crew of gifted and talented weirdos in pre-hippie counter-culture New York.

2

Jazz musician based on both Thelonius Monk and Ornette Coleman, whose real names sound like Pynchon characters themselves!

1

Sauncho Smilax

'Inherent Vice'

Sauncho is a variant of the Latin word for Saint. Smilax are climbing vines with thorny spikes. This character is played by Benecio Del Toro in the film and, man, I just can't wait.